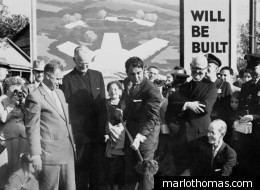 Today my father, Danny Thomas, would have been 100 years old. In years past, my sister, brother and I would call each other on this day, absorbed in memories of the past -- our childhood, Dad's great sense of humor and warm smile, and our last years together as a family.
But this is a special year -- one that requires not just looking back, but looking forward, as well.
Fate being as clever as it always is, not only is it Dad's 100th, this year is also the 50th anniversary of St. Jude Children's Research Hospital -- certainly the greatest achievement of my father's life. My dad had a simple philosophy about the two kinds of people in the world -- those who stop at a traffic accident to see if they can help, and those who just drive by. Clearly, Dad was one who always stopped.
And so I thought, this is a good time to look around and recognize fellow entertainers like Dad, who have spent a good part of their lives stopping to help.
There came a moment in my father's career when he said to himself, "I've made it. I've got everything I need. Now it's time to give back." This would eventually come to mean years of tirelessly building his dream -- a research hospital dedicated to the study of cancer in children, where no child would ever be turned away for a family's inability to pay. And what a reality that dream has become. Fifty years after its launch, St. Jude is the premier research and treatment center in the country for children stricken with cancer.
Today there are many front line fighters among us who use their spotlight to focus on causes and passions of their own. One of the finest examples is my friend Michael J. Fox, whose midlife collision with Parkinson's Disease inspired him to launch a relentless drive to find a cure for that illness once and for all. I believe he will win that fight. Then there's Bono's crusade to fight extreme poverty and preventable disease in Africa and around the world; Angelina Jolie and Brad Pitt's conscientious devotion to protecting children, families and wildlife in endangered regions in Asia; and the work of heroes like Robert Redford, who have changed the world with their environmental activism.
In honor of my Dad's 100th birthday, I thought I would take a page out of his book by refusing to be daunted by what many call "the impossible," and look forward -- with hope -- at all that is being achieved by those who boldly choose to dream. So I've made a slide show that honors some of those entertainers -- the ones who don't just drive by the world's "accidents," but who actively bring help to the victims. If I've missed a few that you'd like to honor, I hope that you'll chime in.
In the coming months, I want to keep this conversation going, using this space to profile some of the remarkable women and men who are cutting through the underbrush of the world's ills, and clearing a brighter path to our future. I've asked Michael J. Fox to be the first, and I look forward to sharing my conversation with him later this month. I know it will inspire all of us.
But for today, Happy Birthday, Dad.
Marlo xxoo
Danny Thomas At 100: Who's Next?
In 1958, television and and nightclub star Danny Thomas broke ground for St. Jude Children's Research Hospital in Memphis, Tennessee, which would eventually become the largest and most successful pediatric research hospital in the world. From the moment of its conception, Thomas was more than just a champion of the hospital; he was an ardent founder and hands-on activist, who was involved in every aspect of its creation -- from the city-to-city fund raising required to open its doors, to the worldwide search for the finest doctors and scientists, who would go on to pioneer landmark treatments that would save the lives of children everywhere. Which celebrities today continue this bold tradition of passionate, front-line philanthropy? Take a look.

Just 30 years old when he was diagnosed with Parkinson's Disease, film and TV star Michael J. Fox did not permit the ravages of disease to extinguish his spirit, but, rather, he chose to fight back. In 2000, Fox testified before a Senate subcommittee, calling himself "one of a million involuntary experts on Parkinson's disease" and urging immediate federal funding of stem cell research as a way of battling the disease. To date, the Michael J. Fox Foundation for Parkinson's Research, celebrating its 12th year, has funded more than $270 million in aggressively pursued research, with the hope of eradicating Parkinson's once and for all.

As Goodwill Ambassador for the United Nations High Commissioner for Refugees, Angelina Jolie has lent her voice -- and made personal donations of $5 million -- toward ensuring the protection of imperiled refugees around the world. Her Maddox Jolie-Pitt Foundation, meanwhile, continues to work for the conservation of Cambodia's endangered Cardamom Mountains, the eradication of rural poverty, and the preservation of wildlife, forests and communities in that region. Her humanitarian work has also earned her a reputation for fearlessness: She traveled to the Darfur area of Sudan during that region's 2004 conflict; to Chad during its 2007 civil war, to Iraq and Afghanistan during their recent uprisings; and to Libya during its 2011 revolution.

Like his fellow actor -- and life partner -- Angelina Jolie, Brad Pitt remains at the forefront of a host of pressing domestic and global issues. He has participated in listening tours of South Africa and Ethiopia with the ONE Campaign Against AIDS; fought for the legalization of same-sex marriages; and, on behalf of his Make It Right Foundation, continues to raise awareness about the devastation wrought by Hurricane Katrina on New Orleans. In 2009, he met with President Barack Obama and House Speaker Nancy Pelosi to discuss potential federal funding of a "green housing" project that would create safe and inexpensive homes in New Orleans as a national model. Above, Pitt proudly promotes the Pink Project, an art installation that has raised awareness about New Orleans' ravaged Lower Ninth Ward.

Arguably the godfather of the green movement, Robert Redford (above, speaking to reporters on the banks of the polluted Calumet River in 1988) has been on the front lines of countless environmental projects for nearly four decades. From 1975 to 1996, he built a collation to fight for the preservation of the 1.7-million-acre Grand Staircase-Escalante in Utah, until President Clinton declared it a U.S. National Monument in 1996. He sits on the board of trustees for the Natural Resources Defense Council, was named one of Time magazine's Heroes of the Environment, supported the work of The American Wild Horses Preservation Campaign and has spoken out on behalf of the Arctic National Wildlife Refuge in Alaska. This year, his landmark Sundance Institute for filmmakers celebrates its 32nd birthday.

Thanks to a $5 million endowment to Cedars-Sinai Medical Center in Los Angeles, The Barbra Streisand Women's Cardiovascular Research and Education Program continues to help women reduce their chances of heart disease through a preventative approach. Streisand (pictured above with Noel Bairey Merz, Director of the Cedars-Sinai Women's Heart Center) has been active in social issues for most of her career. Her 25-year-old Streisand Foundation has contributed more than $16 million to causes as varied as the preservation of the environment, civil rights protection, women's issues, voter education and nuclear disarmament.

After surviving his bout with testicular cancer in 1996, champion cyclist Lance Armstrong was determined to spare others the physical and emotional ravages of the disease. In 1997, he established The Lance Armstrong Foundation, which raises awareness and funds for the fight against the cancer, focusing its efforts on cancer prevention, research, access to screening and care, and quality of life for survivors. The LAF's yellow, silicon-gel "Livestrong" bracelet, has become a cultural touchstone, and Armstrong (pictured above at the 2003 Ride for the Roses) continues to travel country on behalf of the foundation. To date, the LAF has raised more than $250 million toward the fight against cancer.

Over the course of his career, Bill Cosby has worked tirelessly toward the betterment of children and families everywhere. His Hello Friend/Ennis William Cosby Foundation (founded in 1997, and named for his late son, who was dyslexic) is dedicated to the vision that "no one ...should be denied the lifelong joy and fulfillment of learning." Cosby (above, with students at a San Francisco "Dream School" in 2004) has also served as celebrity ambassador of Children's Miracle Network Hospitals, which, among other achievements, purchased the pills needed to fight HIV/AIDS in Africa and India); and Jumpstart, which brings together college and low-income pre-school students to help the younger children develop language and literacy skills.

Throughout the life of her landmark TV show, Oprah Winfrey's millions of fans became accustomed to learning about the many philanthropic endeavors supported by the legendary talk show host. So in 1998, Oprah launched The Angel Network, which enabled viewers to make donations to these charities. By 2011, more than 150,000 people had given $80 million toward, among other causes, autism awareness, Gulf Coast reconstruction, veteran's aid, and the building of 55 rural schools in 12 different countries. Above, Oprah and students celebrate the ribbon-cutting of a new school for girls in South Africa in 2007.

In 1991, NBA star Magic Johnson publicly announced that he was infected with HIV. Shining a light on the danger HIV/AIDS posed to all populations, and vowing to dedicate his life to battling it, he established The Magic Johnson Foundation's HIV/AIDS program, which, working in tandem with the Los Angeles-based AIDS Healthcare Foundation, has become the nation's largest provider of HIV/AIDS medical care. Throughout it all, Johnson (above, at a 1996 Pediatric Aids Picnic in Brentwood, California) has remained a visible leader of the cause: He was a featured speaker at the United Nations World AIDS Day Conference in 1999, has served as a United Nations Messenger of Peace, and has worked in partnership with drug firms toward the goal of cutting AIDS rates among African-Americans by 50 percent by the year 2014.

In 1995, Bette Midler got fed up with seeing garbage strewn about her beloved New York streets and parks. "I was so upset, I didn't sleep for weeks," she told Good Housekeeping magazine. "Finally, I realized I needed to actually do something -- even if it meant picking up trash with my own two hands." Enlisting friends and family to help her in her efforts -- then pulling others into the fold -- she founded the New York Restoration Project, a non-profit organization devoted to creating a greener and more sustainable New York City by protecting and preserving open space in under-served communities. In partnership with the City of New York, NYRP is currently leading an initiative to plant and care for one million new trees throughout New York City's five boroughs by 2017. Above: Disney "voluntEAR" Michael Eisner digs in with Bette at the East Harlem Community Garden and Park in 2004.

Two things convinced Matt Damon to devote his time and energy to battling the planet's water crisis: "One," he says, "was the enormity of the problem. And, two, was the availability of solutions." So in 2009, Damon and environmental entrepreneur Gary White co-founded Water.org, a nonprofit organization that has transformed hundreds of communities in Africa, South Asia and Central America by providing access to safe water and sanitation. Damon (above, bringing clean water to children in Ethiopia in 2009) is also a co-founder of Not on Our Watch, a humanitarian program that provides lifesaving protection in crisis areas around the globe, and generates robust international advocacy and assistance to victims of atrocities.

Billie Jean King did not wait until the end of her glowing tennis career to begin embracing public activism. In 1974, while still on the circuit, she founded The Women's Sport's Foundation, which advances the lives of girls and women through sports and physical activity by dedicating funds to scholarships, grants and public awareness campaigns. She also remains a passionate champion of Title IX of the 1964 Civil Rights Act, which forbids discrimination on the basis of sex in any federally-assisted education program. Above, Billie Jean instructs a new generation of tennis enthusiasts at her mentoring clinic in Dohar, Qatar (2008).

Once dubbed "the face of fusion philanthropy" by The New York Times, musician and U2 front man Bono (Paul David Hewson) has actively aligned himself with so many causes that The National Journal named him "the most politically effective celebrity of all time." While his hands-on activism has sent him to all corners of the globe -- from his famous six-month stay in Northern Ethiopia after the 1985 Live Aid concert, to his annual presence at the G8 summit -- his specialty has been his ability to obtain face time with world leaders and captains of global industry. Since 2000, much of his time has been devoted to campaigning for third-world debt relief; raising awareness of the AIDS plight in Africa; and his ongoing work for One, a grassroots advocacy organization that fights extreme poverty and preventable disease, particularly in Africa. Above, Bono visits a center for young single mothers in South Africa, in 2003.

Ellen DeGeneres has been associated with an ongoing list of causes throughout her career, from animal protection and domestic hunger to her recent appointment by Secretary of State Hillary Rodham Clinton as a Special Envoy for Global AIDS Awareness (above). But it is her work on behalf of the LGBT community that has drawn the most attention. In 2010, the suicide of 18-year-old Rutger's University student Tyler Clementi compelled Degeneres to make an impassioned public statement about the crisis among gay youth; and her subsequent alliance with such organizations as The Trevor Project and the It Gets Better Project has succeeded in bringing the issues of bullying and gay discrimination to the forefront of the pubic consciousness.

Since 2006, George Clooney has been a passionate public face of the Darfur conflict in Sudan, raising awareness about the tribal and guerilla wars that have dominated the lives of more than 5 million people that region. This effort has taken him around the globe: he has spoken at a Save Darfur rally in Washington, D.C.; sent an open letter to German chancellor Angela Merkel, calling on the European Union to take "decisive action" in the region; spent ten days in Chad and Sudan (above) with his father, making a film that focused on the imperiled lives of Darfur's refugees; and spoken in front of the Security Council of the U.N. with Nobel Prize-winner Elie Wiesel, imploring that governing body to find a solution to the conflict.

Rosie O'Donnell likes children -- a lot. When Warner Books gave her $3 million in 1996 to write a memoir, she immediately used the funds to establish the Rosie's For All Kids Foundation, which, to date, has awarded more than $22 million in early childhood care and education program grants to 1400 nonprofit organizations. She is also the founder of Rosie's Broadway Kids, which provides free instruction in music and dance to New York City public schools students, serving more than 4500 teachers, students and their family members at 21 area schools. Above, Rosie enlists her Broadway Kids to help her cut the ribbon for her performing arts school at the Maravel Arts Center in New York City, in 2009.

Although she is best known for her fiery film roles, Sharon Stone's on-screen dynamism is nothing compared to the passion she pours into her wide-ranging philanthropy. She has been a dominant spokesperson for AmFar, the global AIDS research and treatment organization, since 1995; raised more than $1 million for malaria-related health efforts at the 2005 World Economic Forum; presided over auctions benefiting Lupus LA and ovarian cancer research; and in 2006, convinced the CEO of the Burlington Coat Factory to donate winter coats to disadvantaged children. Above, Stone takes her activism to Jerusalem's Old City in 2006, where she was on a tour of Israel to promote peace.

In 2003, Whoopi Goldberg was appointed UNICEF Goodwill Ambassador as a result of her tireless work on behalf of disadvantaged children, human rights, education, and the ongoing fights against substance abuse and HIV/AIDS. But philanthropic endeavors are nothing new to Whoopi. From 1986 to 1998, she was a founding co-host (along with Robin Williams and Billy Crystal) of the legendary Comic Relief program, which over the course of its celebrated run raised and distributed nearly $50 million toward providing assistance and health care services to America's homeless. Above, Whoopi, Robin and Billy raise yuks (and bucks) at a special 2006 return engagement of Comic Relief, which benefited survivors of Hurricane Katrina.

When Willie Nelson strummed his opening chord at the very first Farm Aid concert in 1985, America's current president was a 24-year-old kid doing community organizing in Chicago. That's how long Willie's been at it -- and he's still going strong. Since its heady debut, Farm Aid has succeeded in raising more than $39 million to promote a strong and resilient family farm system of agriculture throughout America, and Nelson (along with fellow board members Neil Young, John Mellencamp and Dave Matthews) remains a passionate standard-bearer. "Family farmers and ranchers make this country strong," Nelson said before last year's Farm Aid blowout in Kansas City, Kansas, "and we know we can only fix the challenges our country faces with the know-how of family farmers." Above, Willie takes the stage at Farm Aid II in Mano, Texas, in 1986.

Like everything else Elton John has done, his philanthropy has been big, brassy and bold. An avid supporter of AIDS charities since the death of his friends Freddie Mercury and Ryan White, Sir Elton established his own organization, The Elton John AIDS Foundation, in 1992, which has to date raised more than $225 million in 55 countries around the world. Dedicated to fostering HIV/AIDS prevention and care service programs, while striving to eliminate the stigma associated with the disease, the Foundation's work remains as innovative as it is successful: Fund raising projects have run the gamut from a simple eBay auction of one of John's bright red pianos, to the lavish (and celebrity-studded) annual White Tie and Tiara Ball. Above, John gratefully accepts a check for EJAF from the Hard Rock Café in 1995.

Anyone who read tennis champ Andre Agassi's heartfelt 2009 memoir, Open, knows that the hard-hitting former grand slammer has a deep sensitivity for the vulnerability of childhood. Fittingly, his many charities have been decidedly kid-centric: In 1994, he created The Andre Agassi Foundation to enrich the lives of children through recreation, education and social service programs; and seven years later, he opened the Andre Agassi College Preparatory Academy, a tuition-free charter school in Las Vegas designed to instill character, respect and self-discipline in at-risk children. Along the way, he also established the Agassi Center for Education for abused and neglected youth, and the Agassi Cottage, a 20-bed facility for medically fragile children. Above: Andre kicks back with some of the many kids in his life.

Seven years after surviving uterine cancer -- an emotionally battering experience in which she was initially misdiagnosed by eight different doctors -- Fran Drescher decided to share her story with women everywhere as a way a helping them avert the arduous ordeal she'd endured. Cancer Schmancer (first a book, then a movement, then a foundation) implores women to "become medical consumers" by listening to their bodies, asking the right questions of their doctors, and educating themselves about cancer prevention and early detection. "I got famous, then I got cancer, and now I live to talk about it.," says Drescher. "Sometimes the best gifts come in the ugliest packages." Above, Fran mugs at a 2009 Cancer Schmancer benefit in California.
Follow Marlo Thomas on Twitter: www.twitter.com/MarloThomas