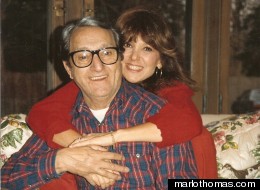 Sometimes in the wee hours of the morning I'd hear that funny sound of an audiotape being rewound. Running backwards it sounded like a Swedish movie. I'd get out of bed and go into Dad's study. And there he'd be -- listening, taking notes, going over his act from his last nightclub engagement and getting it ready for the next.
"You hear that, Mugs?" he'd say. "That's a big laugh, but the one after it is weak. You have to pace the laughs. I'm gonna put a song in there." He had an ear for the rhythm, the music of the comedy.
My father's respect for the audience was his compass. When he hunched over the tape recorder like that, he was shaping the act for them -- not for himself, not for the critics. And when I went to Las Vegas and saw the act working the way I had watched him put it together, it was exciting. I felt like a co-conspirator, a rooting section.
But first and foremost, I was a daughter. And though he may not have known it, I was learning at his knee -- about the love of work, and the integrity of professionalism.
Not all kids go into their dad's professions, but for those of us who did, there was a wide array of reasons.
For the Kennedys, the children were instilled with leadership by their patriarch, Joe, and each assumed that role when it was his or turn, almost as an obligation. For the Ripken men of the Baltimore Orioles -- now celebrating a third-generation wearing black and orange -- it was a more natural kind of inheritance, one that began with something as simple as playing catch in the backyard and then grew into a beloved legacy. For Nat and Natalie Cole, it was all about continuity -- keeping that beautiful music playing.
I wasn't expected to go into show business. In fact, my father was very much against the idea. He knew firsthand how bruising the business can be, and he wanted to spare me the pain. He was also very practical. Already a star himself, he told me point-blank that it was a long shot that lightning would strike twice in the same family, and that I should rethink what I wanted to do with my life.
But by then, I was already a goner. Maybe it's fate, maybe it's DNA -- but I'd like to believe that, when we were young, our fathers gave us more than just guidance, or advice, or an allowance, or help with our homework. They taught us life by example. And when we watched them in their careers, we got to see their triumphs and their failures up close. And if we watched them close enough -- and we were lucky -- we sometimes got to witness the deep satisfaction and unchecked joy that comes from doing what you love.
And so on this Father's Day, I once again look heavenward and thank my sweet ol' dad for giving his oldest kid the space to defy his wishes about becoming a teacher or a housewife or the junior Senator from California -- because she decided she liked what she saw in her Pop, and she went with that. And by the way, Daddy, she's very, very happy.
We've compiled a slideshow of some other celebrated dads, along with the children who followed in their footsteps. I can't think of a better way to honor Father's Day. I hope you enjoy it.
In Their Father's Footsteps
My father, actor/comedian Danny Thomas, is best known for his successful television career and as the founder of St. Jude Children's Research Hospital. I learned so much from him about the love of performing and followed his lead into my own acting career. His untiring caring for others was a great example to my sister, brother and me. And to this day, we are all passionate about raising funds for the children of St. Jude.

Known as one of today's most influential Hollywood directors, it's no wonder that Francis Ford Coppola's daughter, Sophia Coppola, grew up to be the first American woman nominated for the Academy Award for Directing.

Though it initially worried boxing legend Muhammad Ali, his daughter Laila Ali followed in his footsteps and had a successful career in women's boxing, winning two Super Middleweight Champion titles.

Two generations of Kornbergs have won Nobel Prizes. Father Arthur Kornberg was a biochemist who won the Nobel Prize in Physiology or Medicine and son Roger Kornberg is a biochemist and professor at Stanford University who won the Nobel Prize in Chemistry.

Funny man Jerry Stiller passed the gift of comedy down to his son Ben Stiller. While the elder Stiller is best known for his television roles, Ben has been most successful in films.

Princes William and Harry were born into royalty and mirror their father's efforts to serve their country. Aside from their royal duties, both princes pursued military careers and Prince William supports various humanitarian causes.

Country star Billy Ray Cyrus passed his love for performing on to daughter Miley Cyrus, a pop singer and actress who is best known for her role in the Disney Channel's TV show "Hannah Montana".

British writer and poet Kingsley Amis has been noted as one of the chief comic novelists in Britain. His son, Martin Amis is equally accomplished, and has penned some of Britain's best-known novels, including "Money" and "London Fields".

Despite a rocky relationship with her father, actress Angelina Jolie pursued the same career as award-winning actor Jon Voight, who became a star in the 1960s and 70s after acting in films like "Deliverance", "Midnight Cowboy" and "The Champ".

Legendary civil rights leader Jesse Jackson inspired his namesake, Jesse Jackson Jr., to pursue a career in politics and activism. Jesse Jackson Jr. currently serves as a U.S. Representative for Illinois'' 2nd congressional district.

A love of speed runs in the Unser family. Race car driver Al Unser influenced his son, Al Unser Jr. to continue the family's racing legacy. Both men have won the Indianapolis 500.

Popular actor Tom Hanks' eldest son, Colin Hanks, is also an actor who has had several major roles in film and on TV.

George H.W. Bush, who served as 41st President of the United States, paved the way for his son, who served two terms as president only eight years later.

Theatrical and film actor Robert Alda was featured in a number of Broadway productions and films in both Europe and the United States in the 40s, 50s and 60s. His son, Alan Alda, is an Emmy and Golden Globe Award-winning actor best known for his role in the TV series "M*A*S*H".

Kirk Douglas is an American screen legend whose son, Michael Douglas, grew up to become a prolific actor in his own right.

Mario Cuomo, who served as the Governor of New York from 1983 - 1994 raised a second governor - his son, Andrew Cuomo, who currently serves in his father's former position.

Actor Lloyd Bridges is father to Beau Bridges and Jeff Bridges, both successful actors who have impressive filmographies under their belts.

Famous suspense author Stephen King is one of the best-known writers today. His talent for producing gripping novels was passed down to his son Joe King, who is commonly known by his pen name "Joe Hill," and is an established author and comic book writer.

Natalie Cole was only 15 years old when her father, Nat King Cole, passed away, but she was always a daddy's girl. At only six years old, she performed his Christmas album and in the 1990s, she re-recorded some of his classic songs, which won her several Grammy awards.

Quarterback Archie Manning must have had a knack for teaching others about his position, because two of his sons grew up to be quarterbacks in the NFL - Peyton Manning plays for the Denver Broncos and Eli Manning for the New York Giants.

Although civil rights leader Martin Luther King Jr. was assassinated when his son Martin Luther King III was only 10 years old, he inspired his namesake to carry on his tradition of human rights advocacy. Martin Luther King III keeps his father's dream alive by serving as a community advocate and furthering his message of equality.

Though Luke Russert does not seek to replace his father who died from a tragic heart attack at age 58, he has chosen to follow in the footsteps of the late journalist and host of "Meet the Press". Luke reported on youth issues during the 2008 election and currently covers Capitol Hill for NBC News.

King George VI served as King of the United Kingdom for nearly 16 years. His oldest daughter, Queen Elizabeth II has reigned over Great Britain for over 60 years, far outlasting her father's rule.

Kelly Osbourne, daughter of heavy metal legend Ozzy Osbourne, has become a jack-of-all-trades in the world of showbiz, working as a TV personality, actress and singer.

Power hitter Cecil Fielder played baseball with a number of MLB teams and spent six years with the Detroit Tigers. His son, Prince Fielder, is now first baseman on the Tigers.

Henry Fonda began as a Broadway actor and transitioned to Hollywood, acting in classic films like "12 Angry Men" and "The Grapes of Wrath". His daughter, writer and fitness instructor Jane Fonda inherited his love for performing and achieved success in showbiz.

Influential Democratic Senator Ted Kennedy inspired his son, Patrick Kennedy to pursue a career in politics which led him to serve as a U.S. representative for Rhode Island's first congressional district for over 15 years.

John D. Rockefeller, founder of the Standard Oil Company, passed his passion for business and philanthropy on to his son, John Rockefeller Jr. "Junior" took over the family business and donated to a variety of social causes, including cancer research, art, social sciences and education.

Ken Griffey Sr. was a professional baseball outfielder who spent a great deal of his career playing for the Cincinnati Reds. His son, Ken Griffey Jr., also chose a career in baseball, playing as an outfielder and designated hitter primarily on the Seattle Mariners and Cincinnati Reds.

Mike Wallace was a journalist, actor and media personality who interviewed many major newsmakers during his long career. Son Chris Wallace also joined the press when he grew up - he is currently the host of "Fox News Sunday" and had previously been a moderator on "Meet the Press".
Follow Marlo Thomas on Twitter: www.twitter.com/MarloThomas