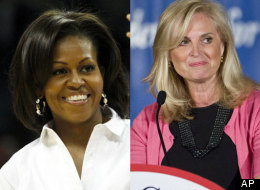 As we head into the presidential election this fall, both Barack Obama and Mitt Romney are already under intense and relentless scrutiny. But a tremendous amount of media attention and press coverage is being focused on Michelle Obama and Ann Romney as well. And while opinions may differ as to whether a First Lady (presiding or aspiring) deserves such levels of scrutiny, there is no denying that the position itself requires a tremendous amount of strength, dignity and resolve.
In fact, despite their husbands battling it out on the campaign trail, Ann Romney recently praised Michelle Obama acknowledging the challenges a modern First Lady faces. "I think she's lovely, and everyone can appreciate that it's a very difficult position to be in, where your husband is under enormous scrutiny all the time and attacks from one side or the other, and to be able to keep your calm and composure -- we appreciate that and see that in her." It was a welcome note of kindness and respect during a presidential campaign when such things are often cast aside.
Of course, a First Lady doesn't have any official powers, but that does not mean she doesn't carry considerable influence. If she chooses to, a First Lady can influence minds, hearts and even policy. And, throughout history, there have been many First Ladies who moved beyond the traditional expectations of their day. Showing tremendous grace under fire, some helped to steady the nation in difficult times, while others worked behind the scenes or out in front to make a difference for our country.
Here are some of the women who left an indelible mark during their time in the White House.
First Ladies: Grace Under Fire
Hillary Rodham Clinton found herself in hot water early in her husband's first presidential bid when she declared that she chose to work when she could have "stayed home and baked cookies." Her early attempts at healthcare reform caused controversy and she and the President had to endure the very public Whitewater scandal. But it was her husband's subsequent sex scandal that threatened not only their marriage, but his presidency as well. Through it all, Hillary held her head high and emerged stronger and more determined than ever. She went on to carve out her own political career as a US Senator from New York, a presidential candidate and now Secretary of State under President Barack Obama and she is consistently listed as one of America's most admired women.

Well-known for making much needed renovations and refurbishments to the White House using private donations, First Lady Nancy Reagan is also remembered for her role as her husband's protector. After an attempted assassination on President Reagan's life, the First Lady made it her personal responsibility to be her husband's chief protector and required that she know her husband's schedule every day. Eventually, Mrs. Reagan began consulting an astrologer, who would inform the First Lady as to which days were optimal for the president's safety, advice that Mrs. Reagan was known to use in determining the President's schedule. Although the First Lady's protective practices caused serious tensions between Mrs. Reagan and the White House Chief of Staff, she claimed that it was one of the few ways she could cope with the fear she had felt after her husband's attempted assassination.

As the First Lady, Rosalynn Carter worked hand-in-hand with her husband, even sitting in on Cabinet meetings with her him as well as representing the President in meetings with foreign and domestic leaders. During her term as First Lady, Mrs. Carter served as an active honorary chair of the President's Commission on Mental Health, and in 1980 her post led her to testify before a Senate committee on behalf of the Mental Health System Bill, making her the second First Lady to appear before Congress. Following her time in the White House, Mrs. Carter continued to her advocacy of mental health research, creating The Carter Center Mental Health Task Force, which is an advisory board of experts, consumers and advocates that works to promote positive change in the mental health field.

Known for her candor and honesty, Betty Ford was an outspoken advocate of women's rights and an influential force in the Women's Movement of the 1970s. During her time as First Lady she argued passionately for equal rights for women, and spoke openly about her thoughts on abortion and premarital sex. In 1975, "Time" magazine deemed her the "Fighting First Lady " and named her Woman of the Year, for her role in representing American women. But there was a softer side to her as well, and the Fords were known to be one of the most romantic couples to ever live in the White House. In her post-White House years, Mrs. Ford continued her practice of public openness by disclosing her addiction to alcohol and prescription drugs in 1978, making her one of the first public figures to publically disclose such a personal issue. And following her journey through rehabilitation and recovery, Mrs. Ford established the Betty Ford Center, a world-renowned live-in treatment program for alcoholics and drug abusers.

Known for her lifelong commitment to beautifying the nation, Mrs. Lady Bird Johnson became the first president's wife to advocate actively for legislation when she spoke out about creating the Highway Beautification Act, which sought to beautify the nation's highways. During her term as the First Lady, Mrs. Johnson also broke new ground in establishing the First Lady's office as a modern and independent role, as she was the first to have her own press secretary and chief of staff of her own, as well as her own liaison with Congress. In fact, Mrs. Johnson's term as First Lady marked the beginning of the hiring of employees specifically for the First Lady's projects.

Jacqueline Bouvier worked as an "Inquiring Photographer" at the Washington Times-Herald before meeting and marrying the future President John F. Kennedy in 1953. Her first major project as First Lady was the restoration of the White House, which was in a state of deterioration. And in the two short years she lived there, she brought elegance, style and culture to the White House - our finest poets and musicians performed for her guests. She also quickly became an international fashion icon with women around the world emulating her style. Her greatest test occurred in 1963, when just hours after the President was assassinated, Jackie Kennedy stood by as Vice-President Lyndon Johnson was sworn in on Air Force One. She would later set a national example of grace and strength when she attended his funeral with her two small children. Her composure and dignity throughout the terrible ordeal inspired the nation.

One of the most influential First Ladies of all time, Eleanor Roosevelt was well known as a tireless campaigner for civil rights. But one of her finest moments occurred during World War II. President Franklin D. Roosevelt ordered the "Tuskegee Experiment" to determine whether an all African-American flying unit could be developed to aid in the war effort. Southern legislators argued that the program was a waste of funds because "Negroes" did not have the intelligence to learn to fly. That's when Eleanor paid a visit to the squadron to praise their efforts, and despite protests from Secret Service agents, she asked one of the pilots, Charles "Chief" Anderson, to take her for a flight around the area. The next day, photos of the First Lady squeezed into the backseat with a smiling black pilot at the controls appeared in newspapers across the nation. The program was saved and the Tuskegee Airmen succeeded beyond all expectations.

Edith Bolling Galt was a widow when she was invited to a tea where she met the recently widowed President Woodrow Wilson in 1914. Within three months, she became his wife and First Lady. Edith was always very close with her husband and after the U.S. entered World War I in 1917 she was given access to classified information. She also took an active role in fundraising by selling the wool of sheep shorn on the White House lawn, she volunteered with the Red Cross and she made public service statements warning soldiers about venereal diseases. But it was in 1919, when the President suffered a debilitating stroke, that Edith began what she would eventually call her "stewardship" of the United States. Edith decided to keep the Administration going by misleading both the Congress and the public into believing that her husband was merely suffering from temporary exhaustion. She became the sole conduit between the President and his cabinet by requiring that all correspondence, requests and questions be sent directly to her. She maintained the business of the presidency until Wilson's term ended and she continued to screen his visitors and guard his privacy until his death in 1924.

Although she admittedly resented and avoided the typical social duties of a First Lady, Abigail Fillmore remained an advisor to her husband, President Millard Fillmore. Often persuading her husband to endorse certain political agendas and becoming his political confidant, Mrs. Fillmore was instrumental in shaping the man in office. Although she is often cited for creating the White House library, little factual evidence exists to prove this. However, given her love for books, art, music and all things educational it can be assumed she was a huge factor in the development, which came during her term in office.

Known for her intellect and charm, First Lady Sarah Polk took an active role in her husband's political life during her husband's presidential term. She was cited as having helped President James K. Polk with his speeches and even gave him advice on policy matters. At a time when women were expected to remain silent on political issues, First Lady Sarah Polk was ultimately remembered for her ability to blend her political interest with her well-defined domestic skills.

Often referred to as "Queen Dolley" for her extravagant dress and love of entertaining, Dolley Madison was the wife of President James Madison, and she presided over the White house for the eight years he was in office. But during the War of 1812, her strength of character and determination was revealed. The British were advancing on Washington, and the President ordered that the Capitol be abandoned and the city evacuated. After he left the White House to join his generals, Dolley stepped into action. Convinced that the British would burn the White House to the ground, she asserted her authority and organized the removal and preservation of many early treasures of the U.S. before she herself fled to meet her husband at a prearranged location. If it weren't for her cool head in a time of great crisis, the famed portrait of George Washington and many other treasures would have been engulfed in flames and lost forever.

Our second first lady, Abigail Adams, was the wife of President John Adams, but she also became the First Mother when her son John Quincy Adams took office. Abigail was a very forward-thinking woman and was seen as somewhat revolutionary for her intelligence and business savvy in an age when women had little to no control of household finances. She was also an outspoken advocate of equal public education for women and the emancipation of African-American slaves.
Follow Marlo Thomas on Twitter: www.twitter.com/MarloThomas