Memo to gods of doom everywhere: You don't scare me today, even though it's Friday the 13th.
I can't say for sure why I've never been a 13th-o-phobe. Maybe it's because I grew up Catholic and celebrated "Good" Fridays every year -- even when they fell on the 13th. Or maybe it's because I now live in New York City, where the only bad luck you'll typically encounter -- like a Con Ed blackout or a cabbies' strike -- happen whenever they damn well please.
So if I cross paths with a black cat today, I'll probably say, "Nice kitty." Or if I accidentally break a mirror, I'll just find another one. I can be practical that way.
This doesn't mean I'm not superstitious. As an actor, I faithfully abide by three enduring myths of our profession:
One is never supposed to say "good luck" to a fellow actor before the opening of a play because, ironically, that will ensure bad luck. Instead, you're supposed to say, "Break a leg!" which is traced to an archaic reference to curtsying or bowing -- both of which require the bending of the leg at the knee.
It is absolutely forbidden to utter the name Macbeth when you are inside a theatre (unless you're performing in the play, of course). That's because the Shakespeare classic is allegedly cursed. Instead, you're supposed to refer to the drama as "The Scottish Play" -- and if you forget and accidentally say Macbeth's name, you have to immediately "leave the theatre building, spin around three times, spit, curse, and then knock to be allowed back in." Quite an ordeal. Better to just say "the Scottish play."
You know how you always see pictures of a darkened theatre stage at night, illuminated by a single lamp with a bare bulb? That's because every theatre is believed to be haunted, and the lone "ghost light" is left on stage as a courtesy to any lingering ghouls. At one point, the Actors Equity union even mandated the presence of such a lamp in every theatre.
So now you know for sure: actors are truly crazy.
But don't let my personal fearlessness of today's spookiness dampen your (evil) spirits. In honor of Friday the 13th, here's a roundup of 13 of the zanier superstitions from around the globe. If you're squeamish about things like goats, witches and bird poop, good luck getting through them. I mean...break a leg!
Friday The 13th: 13 Wacky Superstitions From Around The World
Centuries ago in Britain, women would keep acorns in their pockets with the belief that doing so would help them maintain a youthful appearance. According to the Encyclopedia of Superstitions, the oak tree symbolized longevity and health because of its incredibly long life-cycle and sturdiness.

For thousands of years, the goat has been negatively associated with debauchery, lust and sin. However, it is also believed to absorb -- and ward off -- any evil or harm that a human may encounter. So next time you and a goat cross paths, consider yourself lucky.

Not everyone in the world makes champagne toasts or kisses a sweetheart when the clock strikes twelve on New Year's Eve. In Spain, the superstitious eat twelve grapes at midnight in order to guarantee a year of good luck.

You might want to think twice about grabbing that stick of Trident after sundown. According to Turkish folklore, many believe that chewing gum at night symbolizes chomping on the flesh of the dead. Not so minty fresh after all.

According to folklore in Japan, if you walk by a graveyard -- or if a hearse passes you on the street -- you must immediately tuck your thumbs in to safeguard your parents' well-being. The reason behind the superstition: the Japanese word for thumb literally translates to "parent-finger," so by concealing your thumbs, you are therefore protecting Mom and Dad from harm or death.

In India, people stay indoors for the duration of a solar eclipse due to the widely believed myth that the sun's rays during the celestial event are toxic and dangerous. All manner of activity in the country slows down -- from road traffic to business affairs -- since so many citizens fear the harmful affects from the eerily altered sun exposure.

According to ancient legend in Nigeria, kissing an infant on the lips is a bad omen, in that this gesture will allegedly cause the baby to drool once it grows into adulthood. Better to plant those pecks on the baby's cheek or button-nose.

For most folks, a bird defecating on you (or anywhere near you) is a certified bummer. In Russia, however, if a bird lets loose on you or your property, it is commonly held as a sign of good fortune. One theory behind this superstition: the belief that when you suffer an inconvenience (like, um, getting pooped on by a bird), it's an indication of heavenly wealth and balance, and you'll have good fortune in return.

In Serbia, friends and family will spill water behind a person who is about to embark on a journey or a major endeavor, as the movement of the liquid is widely believed to symbolize fluidity, motion and good fortune.

In Iceland, an old wives tale dictates that knitting on your doorstep during the later months of the calendar year is forbidden, "as that is known to lengthen the winter."

In Vermont farmhouses dating back to the 19th century, many homes still have diagonally installed windows known as "witch windows," due to an old superstition that witches did not have the ability to fly through such slanted openings.

According to The Oxford Dictionary of Superstitions, in 19th century England, men avoided salads not because they didn't like their veggies, but because lettuce was commonly believed to be a "sterile plant," detrimental to childbearing.

In "Portrait of the Artist," Dylan Thomas wrote, "A host of angels must be passing by… what a silence there is!" Many people have continued to attribute a lull in conversation to this same spiritual phenomenon, including the French, who use the phrase "ange passe" whenever there is an unexpected silence during chitchat.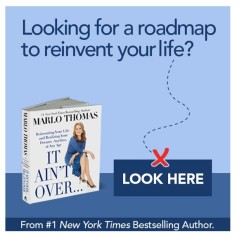 Add Marlo On Facebook:
Follow Marlo on Twitter:

Weekly Newsletter

Sign up to receive my email newsletter each week - It will keep you up-to-date on upcoming articles, Mondays with Marlo guests, videos, and more!

Sign up here
Follow Marlo Thomas on Twitter: www.twitter.com/MarloThomas