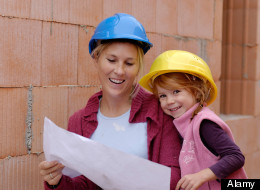 It's that time again.
This Thursday, parents, children and caregivers around the country will participate in -- and celebrate -- another Take Our Daughters and Sons to Work Day, and it never stops being inspiring to me. For those of us in the Ms Foundation who founded the annual tradition thirty years ago, the day starts out pretty normally, but by mid-morning, the excitement is in the air. Then reporters inevitably begin calling to ask about the day's origins -- and all of us eagerly retell its amazing story:
How the dream -- and the goal -- of the program was to help raise girls' confidence, academic aggressiveness and future employability to the same levels as those of their male classmates.
How ten years later we expanded the day to include boys -- somewhat reluctantly, at first -- and Gloria Steinem's memorable observation about that transformation: that "it was the first thing girls had that boys wanted -- so you know it's good when the boys want in."
And how, each year, we thrill at witnessing kids across the country getting a taste of the real world in places as varied as office skyscrapers, firehouses and ferry boats, and even on the sets of Hollywood movies.
But beyond the fun and excitement, Take Our Daughters and Sons to Work Day is really a mentoring day for girls and boys -- a chance for parents and caregivers to model adult relationships. Kids learn by example as well as by words. We need to give them a front row look at how women and men come together and share the workplace. We need to talk about our respect for each other. Maybe we even put girls and boys on a project together at our places of work, and monitor how they get along.
Sadly, this year, these lessons are more important than ever -- perhaps even a matter of life and death. That's because it has been a tragic spring for several young girls -- and one that will forever haunt the boys involved.
On April 4, 17-year-old Rehtaeh Parson hanged herself in her Canadian home, lapsed into a coma and died three days later. Her despondency has been linked to her alleged gang rape by four boys in November of 2011, and the online distribution of photos of that horrible event.

On April 11, three teenage California boys were arrested for sexually assaulting Audrie Pott, a 15-year-old who'd suffered an almost identical tragedy as Rehtaeh last September: a drunken gang rape at a party, humiliating photos shared on social media, and suicide by hanging. "The whole school knows," Audrie wrote on her Facebook page just days before her death. "My life is ruined."

And last month, two 16-year-old high school football players from Ohio were convicted of raping a Steubenville girl last August while she was unconscious from alcohol and possibly drugs. Thankfully, she survived the assault and testified at the boys' trial. But the scars from that awful evening will undoubtedly last a lifetime.
We have been talking about the scourge of bullying on this site for nearly two years, but this latest wave of tragedies -- boy against girl, sexual violence, mortification on social media, suicide -- points to a frightening escalation of the crisis. It also poses endless questions: Is technology to blame? Are kids growing up too fast and, as a result, growing up wrong? Has the economic climate -- adults out of work, feelings of rage and helplessness -- setting off a chain reaction within the family?
I'm hoping that this year's Take Our Daughters and Sons to Work Day will open up a whole new conversation between parents and children.
I hope the parents and caregivers who participate in the day's events will focus on setting examples for their children, so that kids not only feel comfortable in the workplace -- and even picture themselves in it someday in the future -- but also understand how grownup women and men interact in a healthy and positive way.
I want kids to witness how colleagues lend support to one another on the job, sharing in each other's victories and propping each other up in times of failure. I want them to see how conflicts are addressed, not by singling out -- or mocking -- those who are different but instead by finding common ground.
We need to help them learn this invaluable life lesson at this most crucial juncture in their lives -- the moment when girls and boys become men and women -- and that at the workplace, they should see themselves as friends and partners, not as victims and bullies.
No young woman should have to suffer the heartbreaking fates of Rehtaeh and Audrie and the brave survivor from Ohio. And no young man should make such tragically wrong choices as those boys who chose to torment and assault -- mistakes that will affect them for the rest of their lives. It is all of our responsibility to help shepherd all of our children -- safely and carefully -- into adulthood, and we can begin doing that this Thursday, at the workplace.
I hope you'll take a look at the slide show below, which offers some tips on how to make this year's Take Our Daughters and Sons to Work Day a productive one for you and your child. Here's wishing us all a memorable and enriching day.
Make "Take Our Daughters And Sons To Work Day" A Success
Don't expect to get the same amount of work done that you normally do with your child around. Plan ahead and make time to introduce your child to coworkers, give him or her a tour of your workplace and answer questions about your profession.

Base the length of your child's visit on their age and maturity level. Younger children may grow bored quickly at an office job, and should be given their own "duties" to take care of while you work. Another alternative is having a friend or family member bring your child by for a short visit.

What does your child want to be when he or she grows up? What kind of career do they imagine themselves doing? If they would like to learn about something other than your profession, recruit a family member or friend to bring them along for the day.

Before bringing your child to work, you'll want to let your boss know. Your company may have special activities planned for the day – many companies even round up a committee to plan it. If you're ambitious, you can gather your coworkers and spearhead your own committee. The Take Our Daughters and Sons to Work Day Foundation provides some helpful tips for becoming a workplace coordinator on their website.

Your child may have no idea what to expect when you step into your office, so debrief them the day before. Let them know what is expected of them and what they will be doing during their visit. Set clear ground rules and reward them for good behavior.

Networking is key in the professional world – so give your child the opportunity to begin honing skill early! Introduce your son or daughter to colleagues and demonstrate the power of face-to-face communication when they visit your workplace.

Even if you're having an awful day at work, stay positive for your child. The attitude you portray about your workplace will help shape your child's ideas about work. Help them see that going to school and working to build a successful career can be hard work, but it can also be enjoyable.

Kids love technology, and often they're even more adept at learning to use it than their parents. Take some time during the day to show your kids the technology that you use to do your job. Let them try to test out a computer program you use daily or sit in on a conference call (as long as they promise to keep quiet).

Take Your Daughters and Sons to Work Day doesn't have to be limited to your own children. Consider bringing your nieces, nephews, grandchildren or the children of family friends to your place of employment. You may also want propose inviting a local school, housing authority or scout group to join in on the activities.

Let your child's teachers know that he or she will be spending the day at your workplace. Ask for supplemental activities that will help your child make the most of their learning experience. You may also want your child to keep a list of things they have done throughout the day for future reference.

At the end of the day, sit down with your child and discuss everything that transpired during their visit. What did they learn? Write down a few points together, so they have something to present to their class the next day.

When bringing children into the workplace, be especially conscious of any safety concerns associated with your job. Find ways to engage your child with your profession without putting them in the line of danger. Even if they can't get fully involved, they'll be thrilled for the chance to participate.
To support the annual Take Our Daughters and Sons to Work Day, log on at www.DaughtersAndSonsToWork.org and find out how you can bring the program to your community and help with fundraising efforts.
Follow Marlo Thomas on Twitter: www.twitter.com/MarloThomas