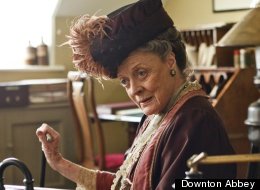 I'll never forget Jean Stapleton's first appearance as Edith Bunker on the classic TV series, "All in the Family." I was watching the premiere episode and was captivated. Here was a character who was constantly being belittled by her bigoted husband, Archie -- and, frankly, she didn't seem very smart. Yet the more Edith appeared on screen, the more it dawned on me that not only was she smarter than Archie -- she was wiser. And she was consistently, pitch-perfectly, funny.
Stapleton would go on to win three Emmys and two Golden Globes during the show's seven-year run, and along with that, the hearts of TV fans across the country. It was one of those rare acting jobs in which the actor beautifully, almost miraculously, aligned with the role -- the same kind of magic that made us eternally love Lucy. And Laverne and Shirley. And all four of the Golden Girls.
As we approach this week's Emmy Awards telecast, I am delighted to see this kind of lightning-in-a-bottle alignment being celebrated again -- and, amazingly, it's not just for one show or one role. Across the entire Best Actress and Supporting Actress categories, from drama to comedy to miniseries, we are witnessing some of the most outstanding performances television has seen in years -- so dynamic, in fact, that predicting a winner in some of the categories has become almost impossible.
The immeasurably talented Maggie Smith is going for her second consecutive Supporting Actress Emmy for her turn as Violet, Dowager Countess of Grantham in "Downton Abbey" -- and no one would be surprised if she scored the repeat win. Her exquisite combination of haughtiness and heart -- no small feat to pull off -- is one for the record books.
Then there's Julianne Moore as Sarah Palin in the TV movie "Game Change." Like everyone else in America, I witnessed the wild pyrotechnics that accompanied the real-life Palin's emergence in our political culture -- from the nightly news clips to Tina Fey's hilarious send-up. So I wondered how Moore's spin as the former Veep candidate was going to make us forget Fey's parody, and give us an inside peek into Palin herself -- from her signature dauntlessness to her secret insecurities. Moore did just that, logging in a performance that is truly Emmy-worthy.
Julianne isn't the only film veteran vying for TV's golden statuette this year: Glenn Close ("Damages") and Kathy Bates ("Harry's Law") are facing off for the Best Dramatic Actress Emmy, while Jessica Lange ("American Horror Story") and Judy Davis ("Page Eight") are competing in the Supporting Actress in a Miniseries category. All four performances remind us of why these actresses are regularly in the audience at the annual Oscar awards.
The comedy category, meanwhile, is dear to my heart -- and this year, it's got a great field. From previous winners Tina Fey ("30 Rock"), Edie Falco ("Nurse Jackie") and Melissa McCarthy ("Mike & Molly"), to first-time-hopefuls Amy Poehler ("Parks and Recreation"), Zooey Deschanel ("New Girl") and Lena Dunham ("Girls") -- to the comedic maestro herself, Julia Louis-Dreyfus ("Veep") -- these women have provided TV viewers so many laughs over the years that it's almost a shame to have to pick a single winner.
But regardless of who you're rooting for, let's give three cheers to this unprecedented pack of terrific actresses in killer roles. Like the Ediths and Lucys and Golden Girls before them, they are not likely to fade from our memory.
Here's a look at some of this year's hopefuls -- along with a few actresses we wish had been nominated (Kyra Sedgwick? Hello? She's our female Columbo!). I'm sure you'll agree that, the envelope notwithstanding, all of the nominees have already proven themselves winners. Enjoy!
"Downton Abbey" has become an international sensation, and Maggie Smith's hilariously dry portrayal of Violet, the Dowager Countess of Grantham, has made her one of the most delicious characters on the show. Hilariously out of touch, always quick with a quip and sometimes very wise, Smith's Violet is a true jewel.

Edie Falco's portrayal of outspoken, pill-popping nurse Jackie Peyton is wonderfully multidimensional. She has a tough exterior and a laundry list of secrets, but she also reveals her softer side at times and truly wants the best for her patients.

In "Damages," Glenn Close brilliantly captures the complexities of ruthless lawyer Patty Hewes - a shrewd and ruthless character who will stop at nothing (including bribery and threats) to win her cases. There's no doubt that Glenn's dark, charismatic portrayal of Patty has played a large part in the show's success.

The character of Alicia Florrick was inspired by a bevy of sex scandals in the political arena. In the title role, Julianna Margulies perfectly captures all the subtle nuances of Alicia's transformation from scorned, stay-at-home mom to a powerful woman with a voice.

As Harriet Korn, Kathy Bates is burnt out on her job as a patent lawyer and decides to reinvent herself by setting up a criminal defense office in a shoe store. Bates plays this multi-faceted character with ease and great humor, making Harriet both believable and inspirational to anyone who might be starting over in midlife.

Julianna Margulies' Alicia Florrick isn't the only notable character on "The Good Wife." Christine Baranski plays top litigator Diane Lockhart on the show, a character who is a confident and powerful professional and a refreshing example of a whip-smart, modern woman in the workplace.

As Sarah Palin in "Game Change," Julianne Moore delivers a heartfelt performance as an ill-prepared politician who has been thrown into the spotlight. And while both Palin and John McCain have disputed the accuracy of the film, Moore explores a side of Palin that even her harshest critics can empathize with.

Tangled up in a web of live and ghostly characters, Constance Langdon murders, steals and does whatever it takes to get by. Jessica Lange has described her character as "iron-willed" and in "American Horror Story," that seems to be a necessity for survival.

Judy Davis is not to be trusted as Jill Tankard in "Page Eight." Posing as a senior M15 officer, she is secretly running an intelligence operation for the British Prime Minister and seeks to keep incriminating documents under wraps. Her character -- like Davis herself -- never misses a single beat.

In HBO's "Veep," Julia Louis-Dreyfus portrays the always-entertaining, fictional Vice President of the United States, Selina Meyer. Though Selina often fumbles her words and regularly offends her colleagues, Julia commits completely to her character's haphazard method of holding office, leaving viewers laughing and simultaneously shaking their heads.

Molly Flynn is a lovable fourth-grade teacher juggling her work with a new husband, a very nutty family and her own ongoing struggle with her weight. But Melissa McCarthy steers clear of the cliches, and portrays Molly as a very real character with lots of humor that the average American woman can relate to. And, chances are, that's why viewers keep tuning in.

As Leslie Knope on the brilliant comedy "Parks and Recreation," Amy Poehler plays the idealistic Deputy Parks Director of an obscure community in Indiana. Leslie's delusions of grandeur and quirky habits humanize her character, but she's not just a ditzy public official. Critics have called Leslie Knope one of the most relatable and admirable characters on TV.

Zooey Deschanel's portrayal of bubbly elementary school teacher Jessica Day is marked by a signature giggle and penchant for finding herself in hilariously awkward situations. As the quirky, optimistic roommate to three guys, Deschanel's character captures hearts and presents a new type of female TV protagonist.

People can't stop talking about Lena Dunham, and it's plain to see why when you tune into "Girls." Protagonist Hannah Horvath provides realistic insight into the life of a modern 20-something struggling with finances, relationships and the insecurities that occur during quarter life.

Kyra Sedgwick didn't make the cut in this year's Emmy nominations, though she's taken home the golden lady once before. Audiences are going to miss her Brenda Leigh Johnson whose not only smart as a whip and tough as nails but the first female to carry on the ironic detective style first seen in Peter Falk's Columbo.
Follow Marlo Thomas on Twitter: www.twitter.com/MarloThomas