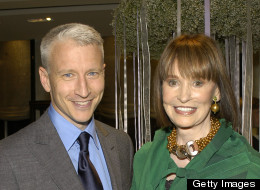 I've always said that my mother had the voice of an angel and the guts of a prizefighter, and she brought that unique combination of qualities to her parenting. Our house was always filled with music -- from the moment we woke up. And whenever she threw a dinner party, you could be sure that at some point, Nat Cole or Sammy Cahn would be at the piano, accompanying Frank Sinatra or Sammy Davis or Sophie Tucker. And Mom was never afraid to follow any of them. She'd get up, belt out a tune and command the room.
That's because she had been a professional singer. At 19, Rose Marie Cassaniti had a fifteen-minute radio show called "The Sweet Singer of Sweet Songs." She was on the road to stardom.
Then one day, it was decided that her show needed to hire an announcer, and in walked a tall, handsome, Lebanese nightclub performer to audition for the gig. He was a struggling comic who needed the job. Mom watched his tryout, then urged the producer to hire him because he had "such sad eyes." The show was renamed "Sweethearts On Parade" and Mom and Dad became sweethearts away from the parade as well. So when Dad decided he needed to move to Chicago and take his shot at the big-time nightclubs, Mother packed up her things, left Detroit and the radio show behind to follow the love of her life.
Within a decade, Dad had become a big star, and was living in Beverly Hills with his wife and three children, the oldest of them writing these memories to you now.
Story Continues Below
The Thing About my Mother...
"My mother is amazing, and I know all daughters or children will say this, it sounds very biased, but she is very unique. She's saved my life many times."

"There is no one I know who is so open to the new: new experiences, new opportunities, new love, even if it means new loss. She truly believes the best is yet to come, that great adventures are out there, just around the corner. She may have been born into a world that no longer exists, but she lives in a place about to happen."

"A while ago we were having our pictures taken with President Obama and when he saw her he just couldn't believe that she's 86. I think he almost passed out. He was going, "Okay, I want to know everything you do! What you eat, your exercise regime, everything!" And, of course, my mother started flirting with him - shamelessly! I thought I was gonna die."

"When I was a kid, my mother told me that if you could not be a good loser, then there's no way you could be a good winner."

"She is an exceptional woman. She has been my role model. She was a really attentive, loving mother and she always made it clear growing up that there is a right way and a wrong way to treat people and that they are not here to tend to my whims and desires."

"My mom had some really bad things happen in her life, and she's a trouper. She's tougher than I am, I'd say. When my parents divorced, it was my mother and me, by ourselves in an apartment. At that point, we kind of became roommates. I was 13 years old. She'd been married for almost 20 years, and I watched her go through a tough time, trying to date, trying to figure things out... It made me go, 'Oh, you're my mom, but you're just a human being.'"

"Even at 51, I still turn to her for advice. One thing I've done ever since I got my first apartment is whenever I go out with friends or to an event, I stop by my mom's apartment afterward. It'll be one in the morning and I'll be in a ball gown and I can't resist going to do the postmortem with her. She keeps very late hours like I do, so I'll knock on the door and she'll have a glass of wine and we'll talk and laugh until three in the morning."

"I grew up in a family of strong women and I owe any capacity I have to understand women to my mother and big sister. They taught me to respect women in a way where I've always felt a strong emotional connection to women, which has also helped me in the way I approach my work as an actor."

"My mother was outrageously funny... She wasn't afraid of the physical stuff either. She had this bit where she'd pull a rubber band out of her nose. She also wasn't averse to taking the occasional fashion risk. She'd put on hot pants and a Harpo wig if the mood was right. The cowboy hat and evening gown was not out of her repertoire, either."

"My mother's great. She has the major looks. She could stop you from doing anything, through a closed door even, with a single look. Without saying a word, she has that power to rip out your tonsils."

"For her, cooking wasn't only about filling stomachs. "Food is love," she always told me, and Mama shared her food, and love, with others in our neighborhood. The Rosary Society wasn't exactly the place a restless kid like me wanted to be, but where Mama and her food went, I went."

"The thing about my mom, she was so adventurous and when she retired she traveled all over the world with me. When the books came out she did every book-signing, even when she was going through chemo, and people loved her. She got to be on a lot of TV shows and I feel like she got to experience so much. I feel her with me in spirit, so I know she's getting to be a part of the show even though she's not here."
It's funny, we grow up with our parents but don't often get a glimpse into their lives -- their real lives -- until we're grownups ourselves. That happened to me 13 years ago, when Mom died. I was sorting through her things and found a letter she'd saved that Daddy had written to her from London, while he was performing at the Palladium. Reading his words, I began to grasp the true arc of their lives, and the high cost their marriage paid so that my father could support our family. I could also feel the pain they felt in being apart.
"I hope some day," Dad wrote at the end of his letter, "our children will appreciate how much we've sacrificed for them."
That made me cry. Because as children we didn't appreciate the sacrifices they made for us - not in their marriage and not about our mother and what she had given up to create a happy and healthy family. Dad really missed mom, he missed all of us, but at least he had the work he loved and a career -- a huge one at that. But the more I thought about Mom, the more I realized that she'd given her whole life to us. And every now and then, I wish I could turn the clock back and say to her, "Darling Mommie, we could have made it on half! "
Which is not to say Mom ever lost her love of the spotlight. She held tight to it, even in her final years. I'll never forget, a few months after my father died, I brought Mom to New York to stay with me and Phil for a while, and asked her to invite her dear friend, Marge Durante, the widow of legendary comedian Jimmy Durante. While they were here, Phil invited Mother and Marge to a taping of his show. He said he'd like to introduce them in the audience. Mother was against the idea. She didn't want a fuss -- she just didn't feel up to it.
Phil argued his case by telling her that people would love to see her and Marge -- they had been married to men who were remembered with great affection. But Mother remained reluctant, so I told Phil not to push her.
When they returned home that evening, Phil gave me the lowdown. Once they'd gotten to the studio, Mom and Marge felt all the excitement of the audience and decided that it was all right for Phil to introduce them. I was delighted.
"So how was it?" I asked my mother.
Mom smiled proudly. "They stood!" she said
You can take the girl out of the club...
Happy Mother's Day, Mommie. I want you to know that I remember what you gave to keep our family together and I am eternally grateful for your love.
And for all of you out there celebrating your mothers on this wonderful day, here are some terrific thoughts and memories from some famous friends and celebrities about their own mothers. Enjoy!
Follow Marlo Thomas on Twitter: www.twitter.com/MarloThomas