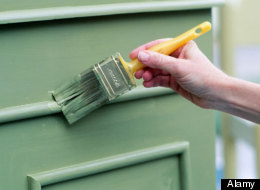 Winter time can be wonderful. We get to spend time with family, catch up with old friends and enjoy delicious food. But when the sun has been hiding for weeks on end and you're cooped up in the house wondering how you'll survive until spring, it's easy to go stir crazy - I know I do.
Rather than slipping into a winter funk, use these dark days as an opportunity to get organized, get motivated and try your hand at something new. Why wait until spring to clean out your closet, update your décor or test out a new style? These cold months provide the perfect excuse to start the new year on the right foot.
Try our 12 easy, inexpensive tips to make the most out of being indoors - and have extra time to spend outside when spring finally rolls around.
12 Things To Do When It's Cold Outside
Free up space in your room and get some new pieces, too. Clean out your closet and separate clothing into three piles: keep, donate and swap. Have your friends do the same, and then invite everyone over with their own swap items. It's a perfect time to bond with friends, get rid of that ugly dress you received as a gift and score some new pieces without spending a penny.

Making a few easy changes can help you accentuate your home's best features and give it a fresh look without breaking the bank. Change your couch's throw pillow. Try a different color scheme for bedding. Add candles to create a cozy atmosphere. You can even paint an accent wall to add a splash of color to a tired space.

Maybe it's a multi-course dinner or a tricky dessert. But if you have some recipes you've wanted to tackle, now is the time. Invite a friend over to be a guinea pig, and test out the dish with no pressure; if it turns out badly, you can always order takeout!

Start 2013 looking your best. Gather your pals, a glass of wine and pamper yourselves by having an at-home spa day. Try a new face mask, experiment with different nail polish colors, test out a new hairstyle – whatever needs a little refresher. You'll have fun and look great without spending a lot of money.

If you haven't peeked deep into your cabinets in a while, you might be surprised by what you find. Most items have a shelf life – and it isn't very long. Did you know that flour only keeps for 6-12 months? Brown sugar is good for only 6 months while seasonings and herbs last for only 1-2 years. Throw out things that have overstayed their welcome, and clear up valuable cupboard space.

Loose photos stashed in shoeboxes, picture frames with photos from several decades ago – sound familiar? Now is a good time to preserve your memories, and organize your snapshots for easy viewing. Store photos in an album or frame your favorites and create a photo wall. For digital prints, make an online photo album and email the links to family and friends.

Tidy up your home and make money? It's possible. For things your family no longer needs but are still in good condition, consider selling them on eBay or Craigslist. It'll clear out some clutter, and you'll have a few extra dollars – the garage and attic are great places to start. Also consider donating items to a local charity for a feel-good boost and a tax deduction.

Disconnect from all your gadgets and spend real-life quality time with loved ones – and yourself. Whether it's catching up over coffee with a friend you haven't seen in some time, playing a family board game or finally cracking open that novel on your nightstand, challenge yourself to keep the cell phone (and iPad and television) off and enjoy the present.

If you've got an old dresser or a tired-looking bookcase hiding in the basement, now's the time to give it a facelift. Get a bucket of paint, crack a window and go to town for a new color, or get a vintage look by distressing it. Have an old seat reupholstered to give it a fresh feel. Switch out knobs to update your favorite piece. The possibilities are endless.

Being stuck indoors is a great time to refresh your high school language skills, or get your feet wet in a completely different language. There are tons of free language websites to get you started. Bonus points if you can do this on the sly and impress everyone on your next vacation!

It might not be sexy, but a balanced budget sure is useful. Use an online budget planner like LearnVest or Mint to gather all your financial information in one place so you can see where money is going each month, set budgets for certain categories and never miss a bill payment.

Anything is possible if you plan ahead and commit. So don't just dream about what you've wanted to do – make this the year it happens! Always wanted to take a trip to Paris? Been thinking about returning to school? Maybe you're finally ready to meet that special someone. Take the time to really reflect and figure out what you truly want, then start planning the steps to make it happen. Make 2013 your year.
Follow Marlo Thomas on Twitter: www.twitter.com/MarloThomas