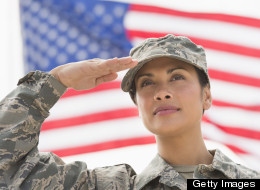 When I was a child, the only women you were likely to encounter on the front lines of America's military didn't wear uniforms. Instead, they wore high heels, hose and sequins. That's because these women -- such as Lucille Ball, Lena Horne and the Rockettes -- were not among our soldiers but, instead, part of the U.S.O. Each year, they and an endless cavalcade of stars entertained our troops on all corners of the globe, alongside such headliners as Bob Hope, Bing Crosby and my father.
I've always been a huge fan of the U.S.O. -- it has brought laughter and entertainment to those who need it most. But I am even more inspired by the women who, today, have become so fundamental to our nation's modern military force -- from the battlefield to submarines to corner offices at the Pentagon.
More than 200,000 women are currently in the nation's active-duty military (including scores of generals and admirals), while 600,000 more serve in the reserves and National Guard, and nearly 2,000,000 women are proud veterans.
Such numbers make it almost impossible to imagine that only 150 years ago, a woman's role in the military was limited largely to that of nurse, cook or laundress. (And those who actually wanted to fight had to disguise themselves as men.) Much of this turnaround has happened in recent years. Beginning at the dawn of the 21st century, the U.S. Department of Defense and the United States Armed Forces began loosening (or overturning) bans that have previously kept women out of combat -- from front-line fighters to elite commando teams. And, no surprise here, women have seized those freedoms and triumphed.
Article continues below
Anna Mae Hays joined the Army Nurse Corps in 1942 to serve her country during World War II -- but that was just the beginning of her illustrious career. She served overseas in India, Korea and Japan, and on June 11, 1970, became the first woman -- and the first nurse -- in American military history promoted to general officer rank.

Their hands forced by Congressional legislation, U.S. military academies admit women in 1976. More than 300 females enrolled that first year at the prestigious military academies, including the U.S. Military Academy at West Point and the U.S. Naval Academy.

Congress repeals the Combat Exclusion Law, lifting a ban prohibiting women from serving on Navy ships involved in combat missions.

Sgt. Leigh Ann Hester becomes the first female soldier since World War II to be awarded the Silver Star, the Army's third-highest award for gallantry, for her service in Iraq. Twenty three years old at the time, she led her team of military police soldiers in a counterattack during an Iraqi insurgent ambush.

Army General Ann Dunwoody becomes the first female in U.S. history to join the exclusive four-star officer club, the pinnacle of a military career. There are about 1.4 million men and women in the military today -- but only 36 active duty four-star officers.

"Don't ask, don't tell," the official U.S. policy on homosexuals in the military, is repealed. The policy barred openly gay, lesbian and bisexual servicemembers from serving their country in the military.

While being promoted to brigadier general, Army officer Tammy Smith had her wife pin her star to her uniform. With that, Tammy becomes the first openly gay flag-rank officer in the U.S. military.

As a captain in the Illinois National Guard, Tammy Duckworth becomes the first double amputee from the Iraq War in 2004. She has several other "firsts" under her belt: she was the first Asian-American elected to Congress in Illinois, and in 2012 became the first disabled woman elected to the U.S. House of Representatives.

Sara "Clutch" Joyner is chosen to command a carrier air wing, the first woman to do so. She'll be responsible for all of the planes, pilots and support staff that deploy with the Carrier Air Wing 3.

Citing the reality of 21st century military operations, the Pentagon lifts a ban on women serving in combat positions. Removing the ban opens up hundreds of thousands of front-line and elite positions to women.
In 2005, Sgt. Leigh Ann Hester from the Kentucky Army National Guard was the first woman in history to be awarded the Silver Star for combat action. Two years later, Capt. Sara ("Clutch") Joyner, of Maryland became the first woman in U.S. Naval history to take command of an operational fighter squadron. And just five years ago, Virginia native Gen. Ann E. Dunwoody became the first woman in the history of the U.S. military to rise to the rank of four-star general.
These women -- and countless others -- have changed the face of the modern military.
"Right now, America doesn't have a military without women," says Kathy Roth-Douquet, CEO and co-founder of Blue Star Families, a national non-profit organization that supports troops and military families around the world. "Women are so central to our armed forces in their numbers, in the jobs they do, and in their leadership positions that, without them, we wouldn't have a functioning military."
I asked Kathy what was behind the rapid transformation, and she told me it's all about skill.
"Today's military is a skilled, volunteer force," Kathy explained, "and these skills go beyond just the physical strength needed for combat, which makes up only a small percentage of skills required for the military. These women are trained in a whole range of specialties that make them indispensable to our fighting forces -- from intelligence to legal aid to health care to communications. Without them, we wouldn't have a full-bodied institution."
Of course, despite the strides women are making in the military, the numbers could still improve. Women currently represent only 20% of our military -- from the back office to front line. Tragically, women also continue to suffer unconscionable sexual assaults in the armed forces, as reported last week by the Department of Veterans Affairs, which calculated that more than 85,000 veterans were treated in 2012 for injuries or illness linked to the abuse, and 4,000 more sought disability benefits. (More than 60 percent of the victims were women.)
Yet as Susan Milligan persuasively argues in U.S. News, this is precisely why we need more women in the military: to change the culture.
Defense Secretary Chuck Hagel ... has ordered the armed forces to "retrain, re-credential and re-screen" recruiters and sexual assault prevention officers. That is admirable and obviously necessary, but ... this isn't about sensitivity training. What adult with a basic education needs to be "trained" not to sexually assault women? It's reminiscent of those idiotic training sessions at workplaces, where workers are shown videos on acceptable and unacceptable comments. No one who works in an office needs to be trained to understand the difference between "nice dress" and "nice breasts." And no one in the military needs to be sat down and taught not to sexually harass or attack their colleagues and subordinates. Everyone knows it is wrong, but as long as it goes unpunished, it will continue ... The reason the harassment and assaults are occurring is not because people have been insufficiently trained; it's because an ongoing threat of harassment or even violence creates an environment that will discourage women from joining the military ... That's what the sexual predators and their protectors are hoping. And only strong recruitment and retention of women in the military will change it.
Of course, history has shown us that change is rarely easy and often it requires great struggle and sacrifice. But the fact that progress is underway is something to celebrate.
So, this Monday, as we spend another Memorial Day remembering those who have served our nation proudly, let's also take time to remember all the heroic women and men who are protecting our freedoms today.
Happy Memorial Day.
Follow Marlo Thomas on Twitter: www.twitter.com/MarloThomas