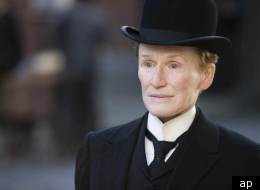 It's a ritual I love. As a member of the Academy of Motion Picture Arts and Sciences, I look forward to just before Thanksgiving when all the year's best movies land in my mail box. And I get to watch them at home and then cast my votes for the great performances of the year in movies. Growing up in Hollywood, and working as an actor most of my life, I take this ritual seriously because I know well the work that goes into creating these amazing performances.
What is fresh about this year's movies is the range of choices the actresses had. I was struck by the fact that this year's crop of women have moved into areas previously inhabited by male actors -- and, wow, were they good.
Here's what I mean:
Role reversal. Historically, men love to play women, but rarely do women do the reverse. We've seen Robin Williams as Mrs. Doubtfire, Dustin Hoffman in "Tootsie" even Adam Sandler playing both the brother and sister in his film "Jack and Jill" this year and who could forget Jack Lemmon and Tony Curtis as the jazz era floozies in "Some Like it Hot." But you must see Glenn Close and Janet McTeer knock it out of the park - and not for laughs , but very real - in their gender bending performances in "Albert Nobbs."
Buddy movie/gal pals. There have been so many great guy ensemble films, but they're scarce for women. "Bridesmaids" had it all - from the good buddies to the gross-out comedy. And Melissa McCarthy was so brilliantly funny as she moved in on the wild turf once Monopolized by guys like John Belushi and Will Ferrell.
Action. What is also exciting this year is women's effective portrayal of brave, independent-minded characters - and, yes, in the case of Rooney Mara in "Girl with a Dragon Tattoo," not afraid to kick a little ass, too.
So here is a salute to an exceptional group of women who are competing for this year's Oscars. Good work! And good luck!
I can't wait to see the great debate in the comments below. The other thing I love about the movies - everyone is an expert!
Robin Williams had one of his greatest successes dressing in drag in 1993 as Mrs. Doubtfire.

It was no easy task making Mr. Williams look like a lady.

Dustin Hoffman scored big box office and critical acclaim for his role in 1982's "Tootsie."

Hoffman's character Dorothy Michaels in her signature red dress - but it was the performance, not the dress, that made the woman.

The two sides of Adam Sandler enjoying a film within a film.

Adam Sandler brought the cross-dressing tradition to a new generation of movie-goers in 2011's "Jack and Jill."

The landmark film "Some Like It Hot" was both groundbreaking and hilarious when it was released in 1959.

Tony Curtis, Marilyn Monroe and Jack Lemon vamp it up in "Some Like It Hot."

It's amazing what can be accomplished with makeup. Can you imagine these two lovely ladies as men?

Glenn Close campaigned for years to bring the story of Albert Nobbs to the big screen. It was a role she was born to play.

Glenn Close and Janet McTeer play two women trying to pass as men in late 19th century Ireland.

Melissa McCarthy proved once and for all that broad comedy and gross out humor is not just for the boys in 2011's "Bridesmaids."

Kristen Wiig honed her chops on SNL and her skills translated beautifully on screen in the film she co-wrote.

Rooney Mara beat out dozens of A-list actresses to win the coveted role of kick-ass cyber punk Lisbeth Salander in "The Girl With The Dragon Tattoo."

Mara showed that she had no qualms about going head to head with some seriously intimidating characters in the film.

Gross-out humor is no longer just for the boys, as it was when Will Ferrell appeared in 2003's "Elf."

John Belushi was one of the first SNL players to transition to the big screen, and had his first major success with Animal House.

Rubber-faced Jim Carrey has always been a master of slapstick and broad physical comedy.

The broad comedy and outrageous story lines of "The Hangover" movies was matched this year in "Bridesmaids."

Zach = Melissa. Bradley = Kristen. Ed = Maya.
Follow Marlo Thomas on Twitter: www.twitter.com/MarloThomas