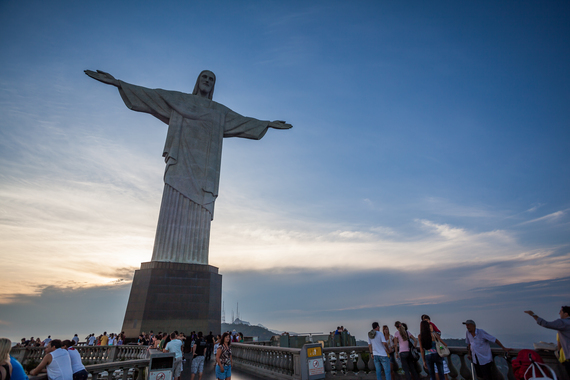 Over 200,000 people from the United States alone, will be traveling to Brazil this summer for the FIFA 2014 World Cup, while another quarter-million from the rest of the globe will also fly in, drive to or cruise towards this country's shores -- one that's identified on the surface for their extravagant annual carnival festival, capoeira, magical fútbol, Pelé, and undoubtedly some of the most infectious Samba and Bossa "new trend" Nova music contributed to our planet. And no, I didn't forget their beautiful women! Some things are best mentioned, if not saved, for last. If you're reading this and just thinking of applying for a travel-visa to go to Brazil, and can't prove you already have an official FIFA World Cup ticket to any of the scheduled games yet, just forget it already. By the time you get approved for that travel-visa, Brazil might already be celebrating by holding up the FIFA World Cup Trophy for their 6th title! In July. Their last (5th) title, Brazil won at the 2002 FIFA World Cup in Japan/South Korea, then topping all countries for winning the most ever. But so far, winning the World Cup on their own soil has eluded them. Or referred to as "Maracanazo" in 1950, a World Cup final its citizens will never forget. Sorry Barbosa, RIP.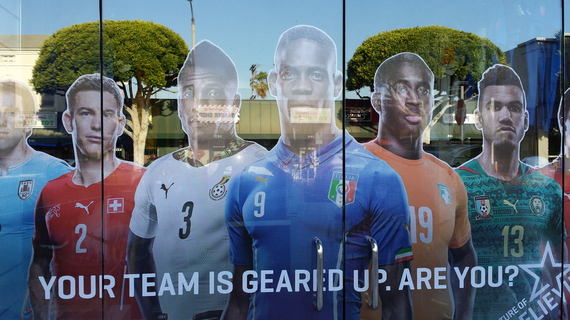 (ABOVE) -- Puma's pop-up store in Larchmont Village (LA). For 2 months ONLY, they'll host special events here showing select World Cup games.
Whether you're an avid soccer fan, or going for the cultural experience of a lifetime to one of the biggest international gatherings in the world, being one of the lucky few making the trip to Brazil -- especially for the first time, it's important to understand Brazil's people and music. It'll also help you further appreciate Brazilian soccer, why it's the country's universal religion and how this South American nation continues to stand out amongst the rest. "Soccer to us is more than just a sport or a passion, but it is actually part of the country's overall culture," says Guilherme Jubran, a father of three born in Sao Paulo, Brazil. "And likewise, our culture, music and free spirit attitude make up the way we play and approach a soccer match."
Sergio Mendés, Antonio Carlos Jobim, Joao Gilberto, Vinicius de Moraes, Joāo Gilberto, Roberto Carlos, Airto Moreira, Caetano Veloso, Celso Fonseca and more recently, Carlinhos Brown, Bebel Gilberto, Seu Jorge, Suba, Ceu and Os Mutantes, alongside all the modern electronic Brazilian music from the unknown coming out of Ziriguiboom. For decades the outside world has been influenced by and grown familiar to their music. From the classic, timeless songs such as "The Girl From Ipanema," "Morning in Rio," "Stone Flower," "So Nice," and an endless, rich body of music that'll have you humming well-known melodies seconds after its beginning, it's no wonder other notable musicians from yesteryear including Quincy Jones, David Byrne, Stan Getz and Herbie Hancock, to those of today, from Will.I.Am, Jazzanova, Gilles Peterson and even J Dilla -- who once dropped his "Rico Suave Bossanova" gem, are all compelled at times to follow the music of Brazil. While in the game of soccer, Pelé has to be first-mentioned of course, other Brazilian soccer greats such as Jairzinho, Carlos Alberto Torres, Sócrates, Zico, Falcao, Dunga, Ronaldo, Ronaldinho, Robinho and today's promising Neymar, speak to part of the immense source of talent constantly oozing out of Brazil. "The Brazilian team is able to combine our culture of fighting for what we want as a group and working hard together as a team to achieve a common goal with great rhythm and synchrony, while the whole time allowing each player to be creative enough to think and act outside of the norm," continued Sao Paulo's Guilherme (affectionately known as 'Gui'), today a very successful partner at New York Life now residing in Orange County, California. "In short, we are able to smile while having a game face on and have fun when things aren't going our way."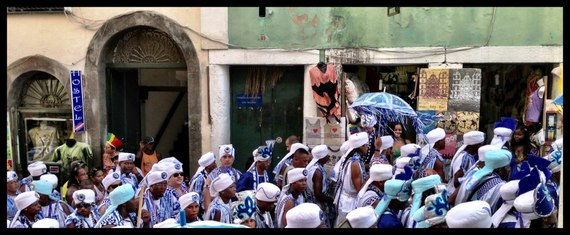 To help guide you even further into marinating on Brazil's remarkable culture, soccer and people, their music as it relates to everything-Brazilian, is key. So for your trip, world renown "Brazilian Hour" radio host/producer Sergio Mielniczenko (yes, he's 100 percent Brazilian) met with me near his home in Venice, California at one of his favorite Ocean Front Walk hangouts on the Venice Beach boardwalk called Figtree Café. "You know how many Brazilians come to Venice (Beach) and say, 'WOW this is amazing!' I love it here," Sergio says, sipping on tea favorably comparing Venice Beach to Rio de Janeiro.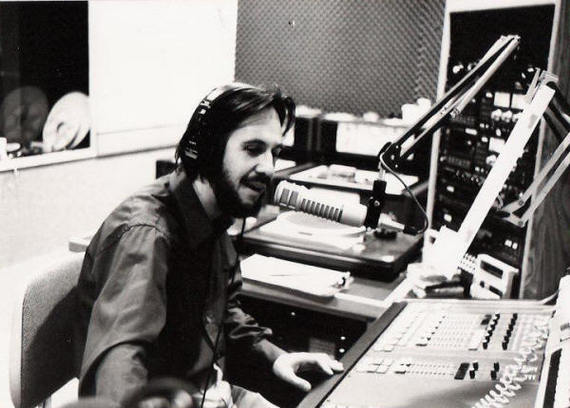 Now in its 36th year and originally created in 1978 by the Cultural Sector of the Brazilian Consulate-General in Los Angeles, Sergio's international radio show is produced and broadcasted in five languages -- English, Spanish, Portuguese, French and Mandarin. Heard locally in Los Angeles on KXLU 88.9FM on Saturday's and Sunday's between 9-10a (PST), NPR stations nationwide, various outlets around the world and now even has a new Android/iPhone APP, Sergio's been at its helm from the very beginning. He admits he's no soccer expert, but has interviewed Pelé three times, the first being when Pelé was based in America playing for Cosmos (1975-1977). He describes all three encounters as "very beautiful moments" and further described the soccer icon and legend as being "extremely gracious and humble." So having interviewed every who's who (the list is way too long) in Brazilian life, culture and music for over three decades, this time Sergio Mielniczenko is the subject and I'm doing the dribbling, moving the goal posts around by asking him the questions. Now he has no choice but to play defense in prepping you for this year's World Cup spectacle in his home country.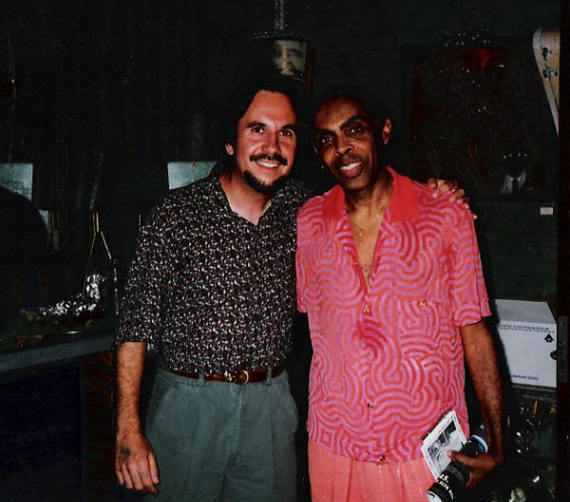 Q. I know you're not an expert on the topic of soccer, but surely with the World Cup being held in your hometown of Brazil soon, are you catching the fever yet?
Sergio Mielniczenko:
I'm not a huge soccer fan. I love to watch a good game, anywhere, throughout the year. The teams, emotions, the motives, no matter what country. But when you get to the World Cup, I really, really get into it. I can't wait! How many days left, to a few hours, to a few minutes and a few seconds 'til it starts. I love the act of it. To me, watching a soccer game is more than just a game. It's the way it's played. The way it's done. And the more we see that and the more teams do that, it becomes like joy!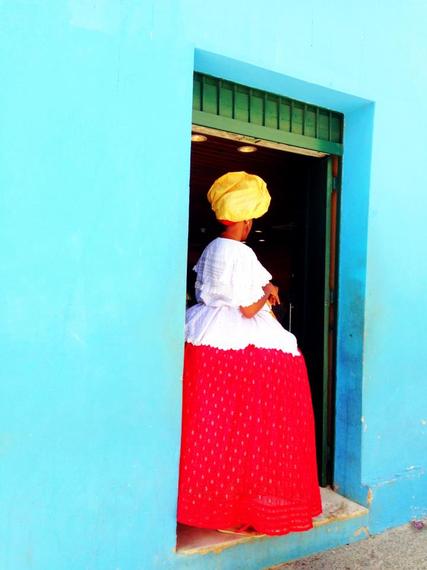 Q. So what's the essence of being Brazilian?
SM:
Being that I live outside of Brazil, in Los Angeles, California most of my life now, I go back to Brazil at least once a year, and I was talking to a friend yesterday. We went back to Brazil about 2 years ago doing interviews, shooting video. And like the first day that we got to Rio, and we went without much planning, we went to a restaurant, and the vibe of the people is so interesting. People having fun, communicating. Then we left the restaurant and found another place down the street with a phenomenal band! Just out of nowhere, performing live and that vibe, that spirit, that's what I'd like people to know when they go down to Brazil. In times of deep difficulty in Brazil, some years ago - during military government, or during the rising inflation, I don't know how Brazil just gets it going through the deepest, most difficult economic times. Still has the music, still people laugh, tell stories. It doesn't take much for things to really happen. So that aspect, it's the spirit of Brazilians. In our culture, so much has been said that Brazilians are just happy.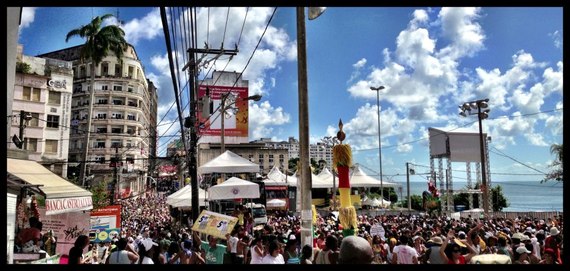 Q. Like, really happy on the inside?
SM:
Yes, yes. That's absolutely right. That's what I want people to take from going there. Like look, we're in Venice, California. You have the ocean, the sun, the beauty, beach, the boats. So you can get a degree of happiness with the very basic. My experience too, in having friends from abroad going to Brazil, everybody says people there are very welcoming. They'll always find time to connect, to help. Plus in Brazil, the people get interested in people from other countries. They're curious. And they're always looking to connect, in a positive way. I've always had friends going to Rio, Bahia (pauses), well Sao Paulo is a lil' more complicated. It's a huge city, it is hard to identify where things are. It's a city with a lot of business, traffic, buildings, so Sao Paulo is a little more difficult. But if you go to an area where there's music and art, you'll also find it.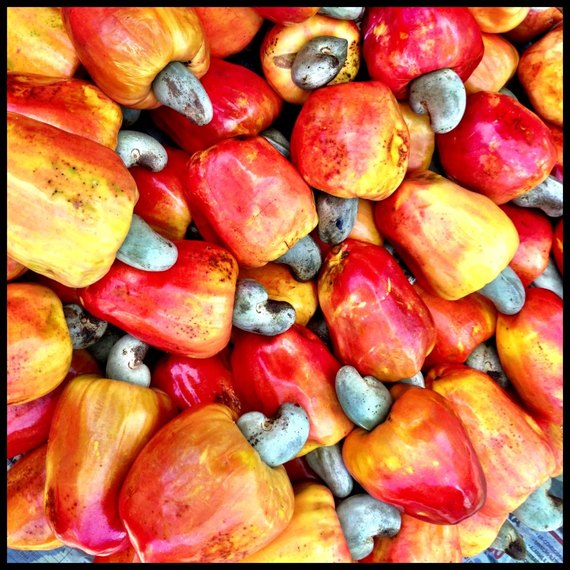 Q. I find Brazilians rarely mention the peoples from the Amazon, the indigenous peoples and tribes when it comes to talking about Brazil and its culture. Why is that?
SM:
The indigenous peoples are so detached from our larger urban centers of Brazil. We are more aware of these indigenous groups in recent times. Before it was more a moral consciousness. It's because people are more concerned with their own immediate issues, and most of these indigenous groups live so far - even though there's pockets and groups in Sao Paulo, it's sort of detached. It takes education, like everything else. If you fly over the Amazon, you're gonna fly for hours. It looks like a green carpet! It's REALLY BIG. Their beliefs, traditions, varying from group to group too, are very different from typical Brazilian culture. Totally different!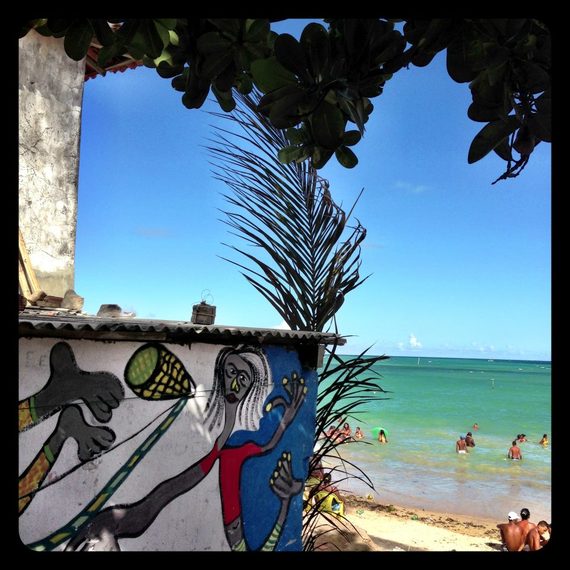 Q. And with 36 years under your belt with your "Brazilian Hour" show, how'd you bring outside listeners - including Brazilians living abroad, that Brazilian spirit that's found living in Brazil?
SM:
It's a process. In the beginning, I was only in my second year of college in the U.S. In the beginning you have to take small steps, and not to lose perspective. You have to know what people seem to know or already know out there, and what you'd like to bring to them. But you have to do it in a way, that in doing so, you don't lose them. You have to keep on bringing the new styles and new ideas in music, but slowly, and we had enough time to do that. So in the beginnings, what was known here? It was Bossa Nova, some Samba and not too many artists actually, some 36 years ago when I hosted. Bossa Nova with Gilberto Gil, Jackson do Pandeiro, they weren't here yet. Slowly I had to keep bringing them, through interviews, programming, etc. But at the same time, you also need the outside world to be doing something. Record labels, shows, distribution. So then you have the radio show, and these other elements supporting that. So that was the beginning.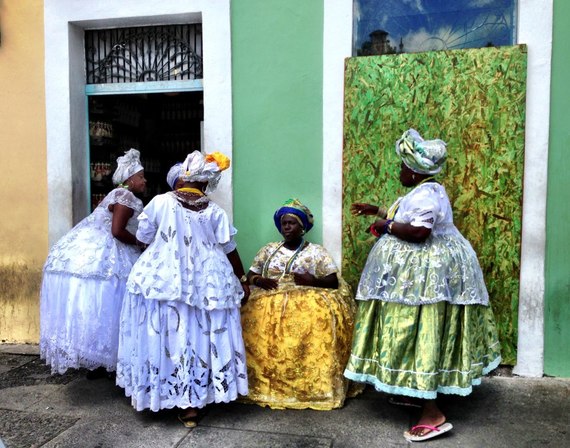 Q. So over that span, have you seen Brazilian music of all sorts, in its complexity, being more palatable to the audience that has obviously grown up and grown in numbers?
SM:
Oh yes, even the very basic Sambas, or Maracatú, or styles from the Northeast of Brazil. Now I think people are even a little more open. And besides, today if you have a good DJ, you can blend things in a certain way where you can give a bit of the now, then also give them what they know. So little by little, and also, people are so much more open. And remember, in the beginning, there was no internet - there was no internet. Now, people would search for me, or new styles, or whatever?! People are more informed. So maybe, more receptive.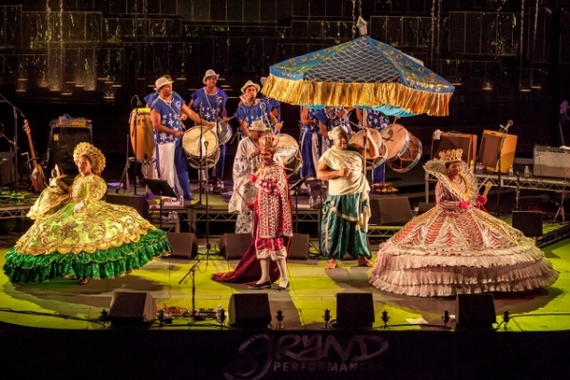 (ABOVE) - In 2013, the "Brazilian Hour" radio show hosted A Tale of Two Nations: Nação Estrela Brilhante & Nation Beat at Grand Performances in LA to celebrate the international radio show's 35th anniversary.
Q. A lot of international music programs wouldn't seem to have your strong, sudden growth in such a short period. What'd you think spurred this for the "Brazilian Hour"?
SM:
Because Brazil already had a history in the United States. Any other country, without that, it would've been a lot of work. Look at the Brazilian Jazz that had already been recorded, all the American musicians. The foundation was already here. Our music has always been here with a presence. When I say here, I'm talking about the 1930s, with Carmen Miranda, Luis Bonfá, then Bossa Nova became the music of the U.S. in the 60s. In '64, when Brazil was going through the beginning of military coup, Brazilian music in the U.S. was Bossa Nova. So we had already the groundwork to continue. So all we had to do, was to pull music from way back. But part of the exciting thing was to bring the Bossa Nova that people didn't know. The groups of Brazil started adding to it, what is called 'MPB' (Música Popular Brasileira) - Sambas, Gilberto Gil and Tropicália - people didn't know that here. Listen, we have the infectious music that you can have people dance to, but you also have the jazzy, beautiful harmonies and melodies. So you have everything and everything in between. So what I'm saying, outside is very important. Wayne Shorter invited Milton Nascimento to record which was well received by the critics in America and later on there was: Quincy Jones, Herbie Hancock, The Manhattan Transfer, Lee Ritenour, David Byrne, and Sergio Mendés had already done the music of Brazil in '66. Sarah Vaughan records I Love Brazil. So you see? The groundwork was already here, so we needed just to work (he laughs out triumphantly)!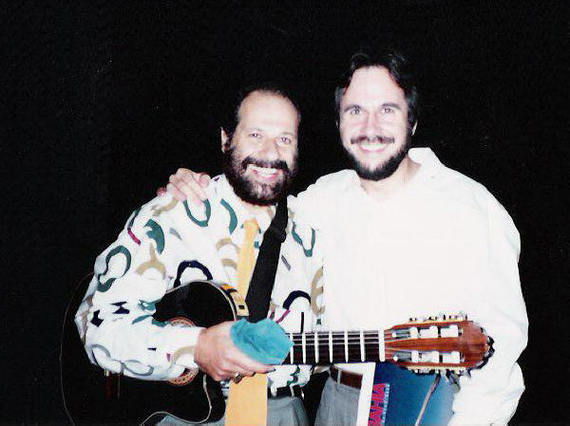 Q. So you've mentioned all these 'outside' artists - Herbie, Quincy, Lee, David, Sarah, etc. What was the draw to Brazilian music for these highly accomplished musicians then?
SM:
It's the quality of music. The sophistication. And at times, Brazilian music at the surface looks simple. But beneath the surface, it's highly sophisticated. Melodies can be very simple, real easy to sing or hum along to and memorize, but then if you look at the harmonies and then if you look at the arrangements they do, it's really attractive. Like if you look at the music of Jobim, it's been recorded and covered by everybody. Why? It's because of the harmonies, they like it and wanna play that, be a part of that. Most of the times, they don't even understand the lyrics.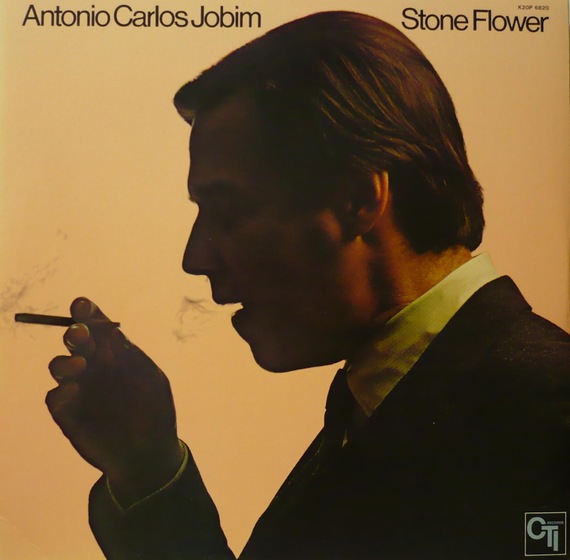 Q. Back in my childhood, my dad -- who has an incredible Jazz collection, used to play this record that attracted me not only by its sounds, but by the album cover that showed a man smoking, so my request always went something like, "play the man with the pipe" while sitting on his lap. It was Antonio Carlos Jobim's Stone Flower -- thoughts?
SM:
Soothing. The Bossa Nova, just soothing. Those albums of Jobim are like masterpieces. They bring some feelings that are very magical. It takes you away. You see, many of these composers, I've interviewed them. A list of them, most study music A LOT. Most of them study classical music, most of them play and know Jazz like you cannot believe. And ALL of them, obviously have the Samba and the music of Brazil. Samba - African music, is of Brazil. It's a tradition. It comes from the Northeast, Bahia (and) went down to Rio de Janeiro. It's black music. No question about it, no no no question it's black music. That's it. You also have Choro, which is a blend of African music and classical music of the 1800s, so it precedes Jazz. If you listen to Choro, it sounds like Jazz. Choro, I think precedes Jazz in the U.S, they're brothers. And they're made by the same people. The early Jazz musicians were black. And when you have American Jazz musicians, listening to Brazilian music, instinctively and in the spirit, they hear and get the similarities. It's there.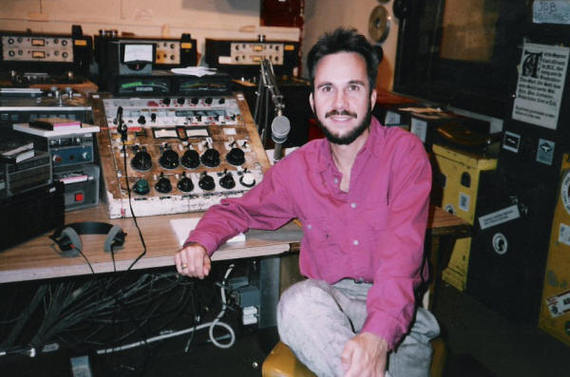 Q. Brazilian fútbol, as it ties into all that you're saying, blends the improvisation of Jazz, the rhythm of Samba, the smoothness of Bossa Nova, the structure of Classical. Can you talk of that ginga and how you'll play 'the beautiful game' as it relates to your music, culture and spirit?!
SM:
The 5-time World Cup champions! There's no question opponent teams wanna beat Brazil. See, when you look at Brazilians and you go to Brazil - look at the way the people walk, there's a swing, there's music in it. That's part of the culture. The rhythm is inside of us. If you don't have rhythm, you're not Brazilian yet (he says laughing)! You have to get the rhythm. 99.9% of the players, they come from humble towns. They learn soccer playing on grass, or on mud, or on the streets. Many play with soccer balls made out of socks, put a bunch of socks together, make a ball and then you play. If you're not poor, you're still gonna be playing with everybody. So they learn not in any sophisticated field, and then they evolve, they're found, they go onto a club and they keep on developing. So it's very instinctive, very creative. Not as structured. In Brazil, you have to know how to improvise to succeed. Everything you do in Brazil, you have to be ready to change your route, your path to achieve your goals. And that is also part of our personality (he laughs again, now reflecting down memory lane). I never forget, one time I went to a major studio in those days, in Sao Paulo, costing hundreds of thousands of dollars. A friend of mine was recording that night and they only had one evening to record a song. We went in, everything was set, but when they turned on, the board went down - all lights just went down. It was a new board too, nobody knew who they had to call, nothing. Then somebody says, 'it might be a fuse.' A fuse? 'Yea it might be a fuse.' So they went into the board somehow, opened the board, found the fuse and actually it was a fuse. It's in the middle of the night, where we gonna find a fuse? He says, 'don't worry I'm gonna go into my vehicle and I'll pull a fuse, I'll put it right in.' They put it in, the whole thing went on, recorded it. How in heavens!? You gonna think?! I hope they pulled out the fuse the next day and got the right fuse, but it worked (he laughs)!
Q. Talk about improvisation, right!?
SM:
YES, improvisation is part of our being, in our nature. So back to soccer - you have to know, I think we Brazilians love the soccer when things are improvised. You know, like the game is being created on the spot. It's not structured because of our culture. The culture is gonna change the team, but you gotta leave space for improvisation, creativity. The Samba is the ball. When they're running, you imagine there's a rhythm, a Samba going on. There's poetry in Samba. And that's when, the outside world is so structured, they get confused. The teams playing against Brazil, if Brazil can play improvisational, improvise in being creative in, as Pelé said, 'o jogo bonito' - the beautiful game. When Brazilians play 'the beautiful game', ahhhhh then things get VERY complicated for the opponents, oh yes. You never know what can happen.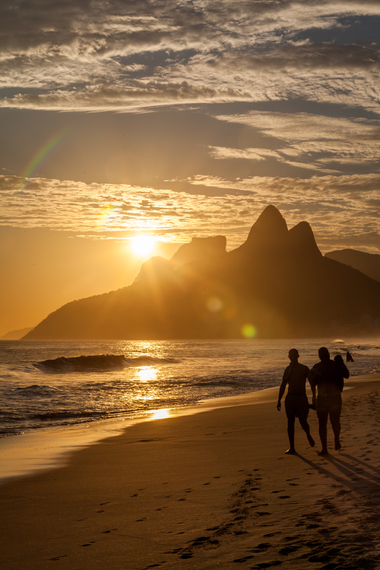 No one loses when you make new friends in Brazil.
Safe travels!
ALL photos used by permission from:
Amana Melomé
Christopher Alvarez
Consulate-General of Brazil in Los Angeles
EMBRATUR - Brazilian Tourism Institute
Sergio Mielniczenko
and myself.