This past weekend as well as for the upcoming weekend (since the Coachella Festival repeats on consecutive Fridays, Saturdays and Sundays), the growing trend of highlights for making the trek towards Palm Desert and the surrounding towns/cities of Indio or La Quinta, have nothing to do with who's featured on their festival stages.
Quite frankly, the line-up seems to be secondary, or more the matter of a mouthpiece conversation when comparing to the strength of their festivals in past years. Because of growing corporate interests -- mostly from the fashion industry -- one can have a free blast without even stepping foot onto the Empire Polo Club grounds, among the sea of concertgoers who've spent an average total close to $1,000 on festival tickets, transportation, hotel accommodation, food and liquor, not to mention other "beam-me-up-Scotty" expenses.
Of course, if you live in a city far away from where great bands, DJs and other artists never stop through, going to Coachella Festival is a must. But if it's just a matter of time before the likes of Sigur Ros, Rodriguez, Passion Pit, 2 Chainz, TNGHT, Lee "Scratch" Perry, Vintage Trouble, Wu Tang Clan and so many more as part of this year's line-up stop through in your hood on tour. Flying in -- to then drive further -- to go see them all on one or few stages for a hefty price, in the boiling heat and among the smelly masses might be worth it for the experience, but maybe just for once or twice in your lifetime.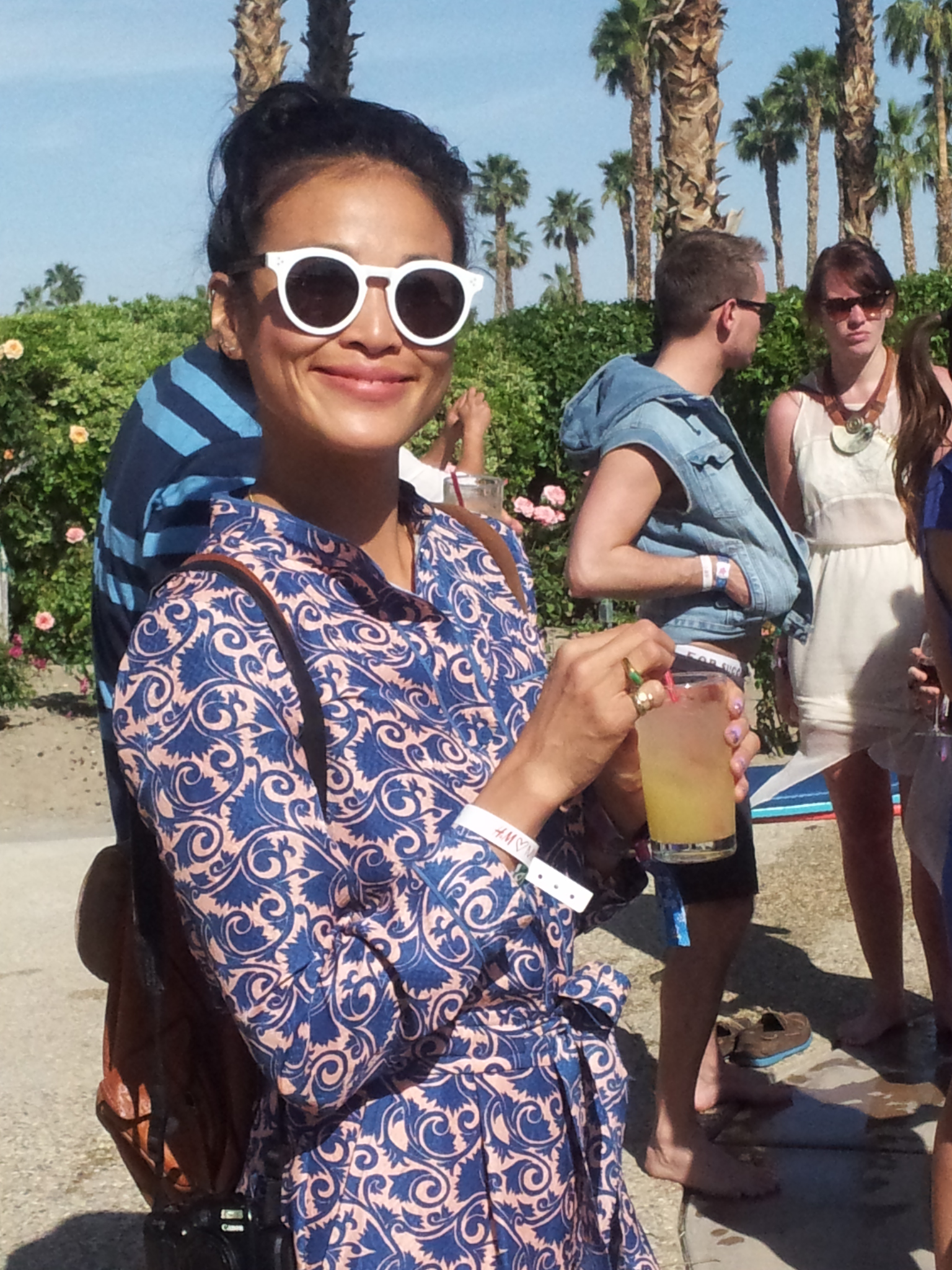 But what's worth the drive into the desert surrounding Coachella Festival time and time again? The lil' amount of money you personally have to spend -- if you or a friend has some ins at the somewhat private events and poolside parties sponsored by the fashion industry's young, commercially elite, who are in neck-n-neck competition to out-market each other.
On one Saturday, daytime, starting at 11 a.m. and finishing between 5-7 p.m., leaving you enough time to still catch some headliner highlights of the festival, one could have eaten the best served brunch, lunch and early dinner, had dessert for all courses, heard a couple great DJs, caught some indie bands, drank the best liquor and cocktails, met some of the most beautiful people, take a dip in the pool, picked up some gift bags filled with treats, and drink some more! And all free.
With the right swag, connections and info on where the next private sponsored event is happening, you'll be more satisfied than a pompous king (or queen) presented with his/her fatted pig -- apple in mouth and all!
Did I mention tips might be the only time you dish out some cash? What you're not paying for, is what's already paid for by the likes of fashion entities such as Guess? -- who took over the entire Viceroy Palm Springs Hotel with their customized branding throughout rooms, walls and poolside -- or H&M -- who took over Merv Griffin's private estate ranch and threw the best daytime bash, featuring a perfect poolside/garden atmosphere, Moroccan-themed furnishings, picturesque staff servers, unlimited food, alcohol, ice cream, cotton-candy, eye-candy galore, topped off by a fabulous performance by Santigold.
Rolling Stone + Diesel + Edun (Bono and his wife Ali Hewson's clothing line to encourage trade in Africa) presented Studio Africa, and while there was, let's say, some Django drama getting onto the ranch at first, the grounds were decorated with huge murals of African models, while Patron Tequila intoxicated us beyond delight and we even caught a glimpse of actress Juliette Lewis on the 1s and 2s, playing DJ.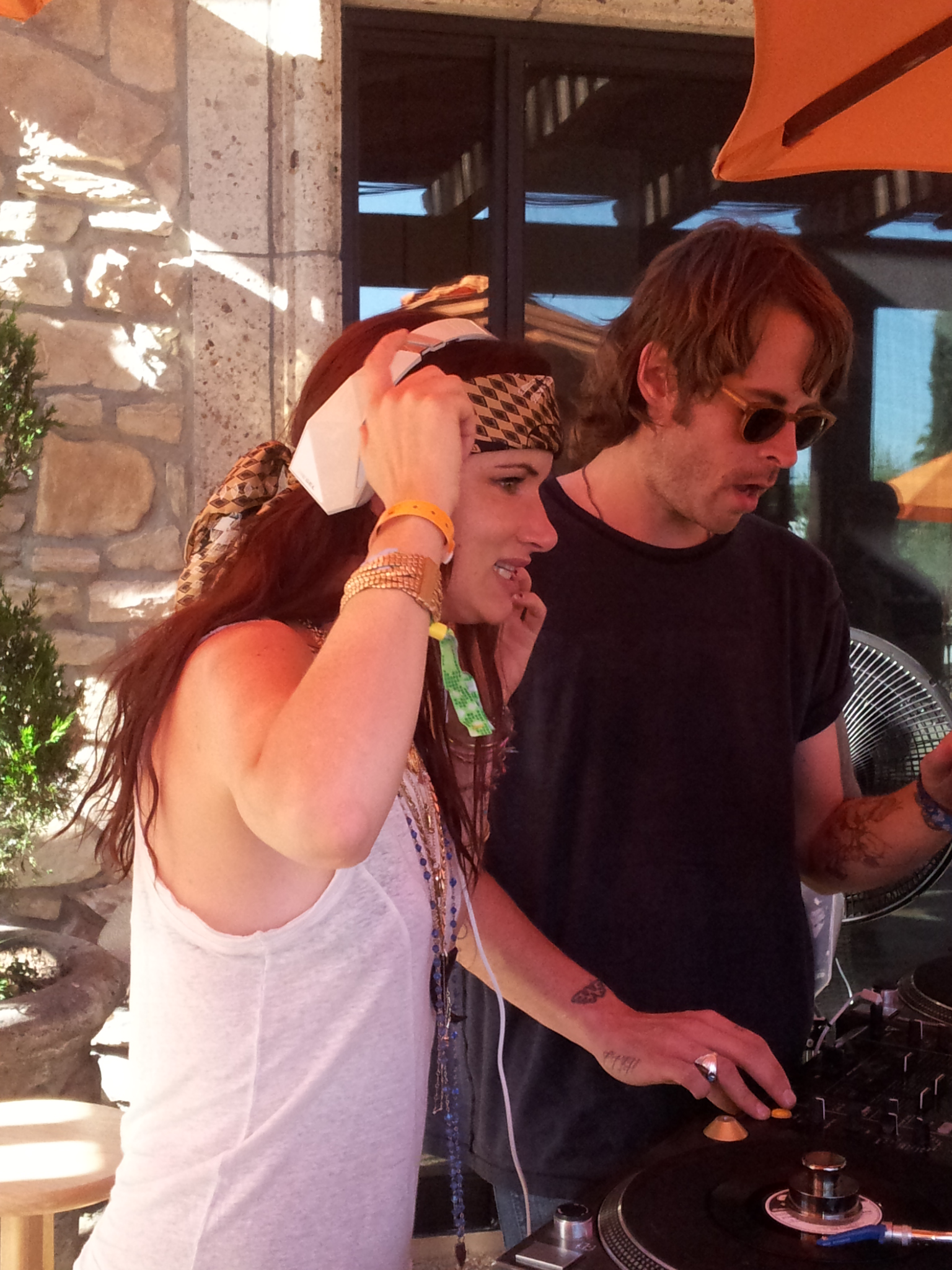 Obviously, you'd have to impossibly split into multiple bodies to enjoy even more of the surrounding festivities, which included others like Hard Rock Music Lounge, Nylon and Hugo Boss Escape House, Lacoste Live w/HTC, McDonald's Invites You To (for the debut of their "Premium McWrap") Bootsy Bellows Estate, Forever 21 Desert Disco, BCBG Style + Beauty Bungalow and too many more all happening in competitive, clashing times during the daytime. When corporate sponsors like McDonald's shows up, you know that's a "wrap" in a different sense!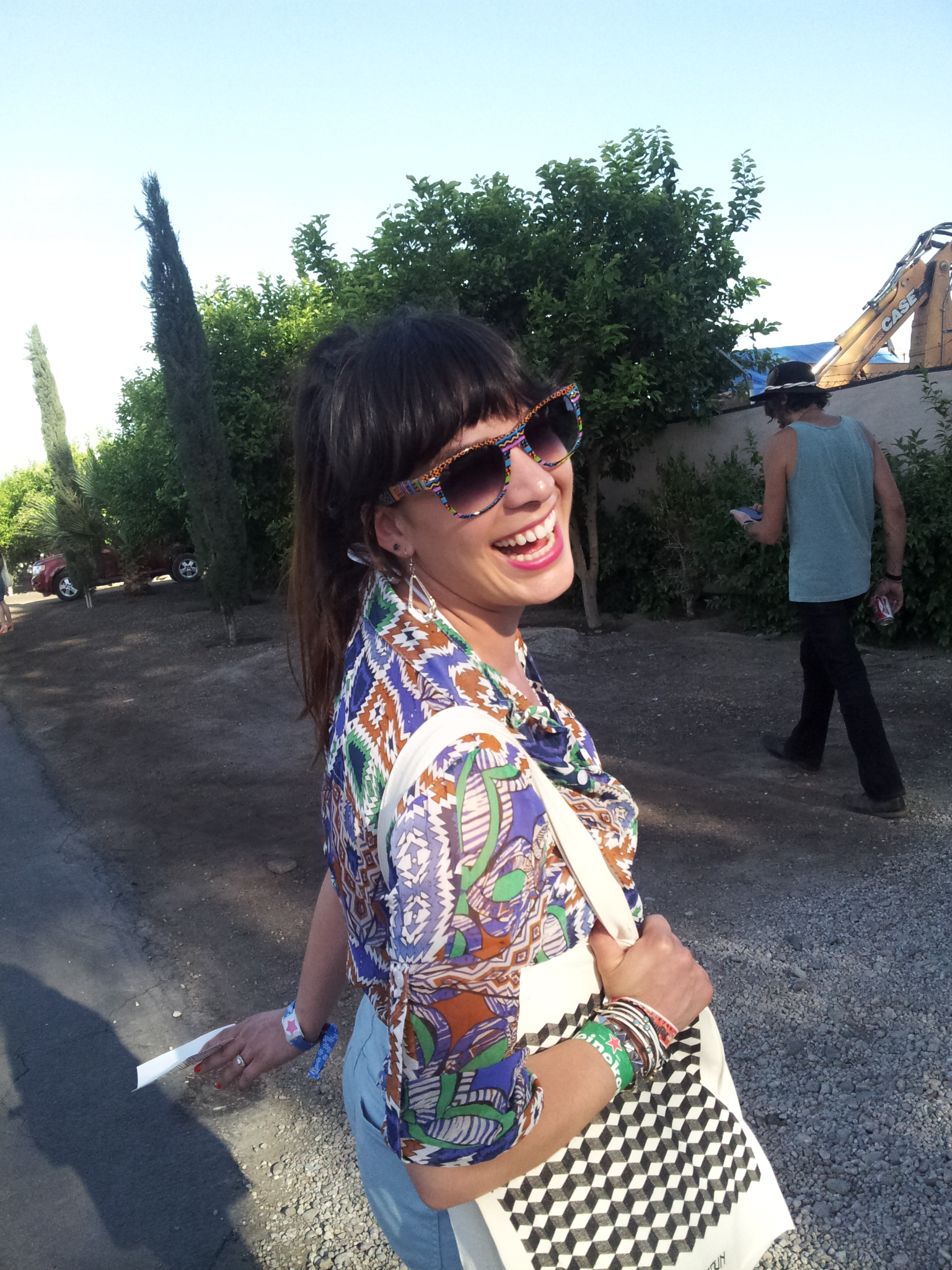 But even if you didn't have an "in" for the exclusive-all-inclusive daytime parties, which aren't terribly hard to get in, by the way -- all you have to do is ask (over-tipsy people like to boast on their inside knowledge of this) -- there are tons of other club themes such as "A Club Called Rhonda," aptly retitled "Rhonda Queen of the Desert happening daily at The Saguaro Palm Springs Hotel with free entry.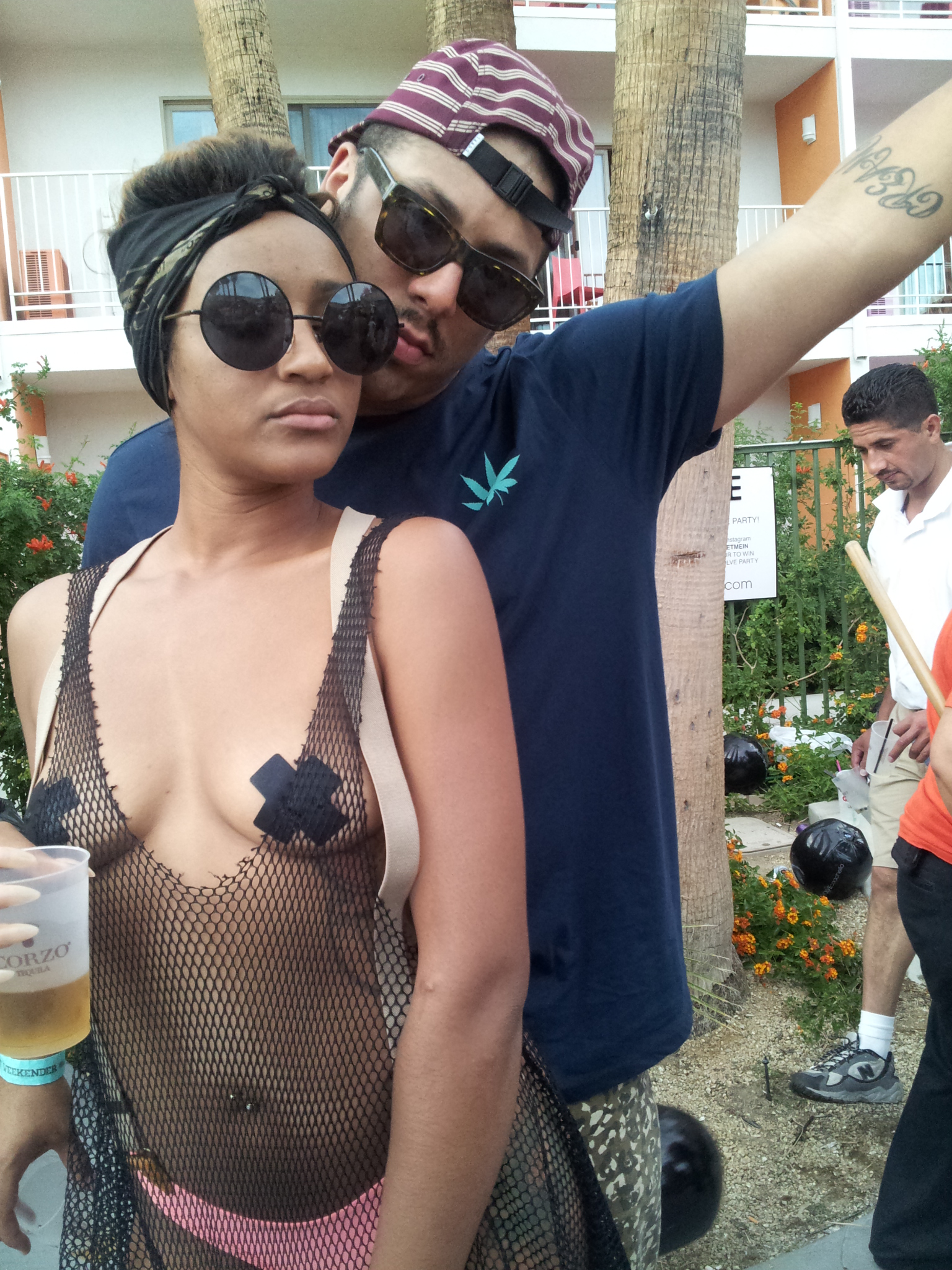 For daytime partying á la dancing, this 1-7 p.m. session made the most sweat, like you literally just came out from a few laps of swimming in the pool.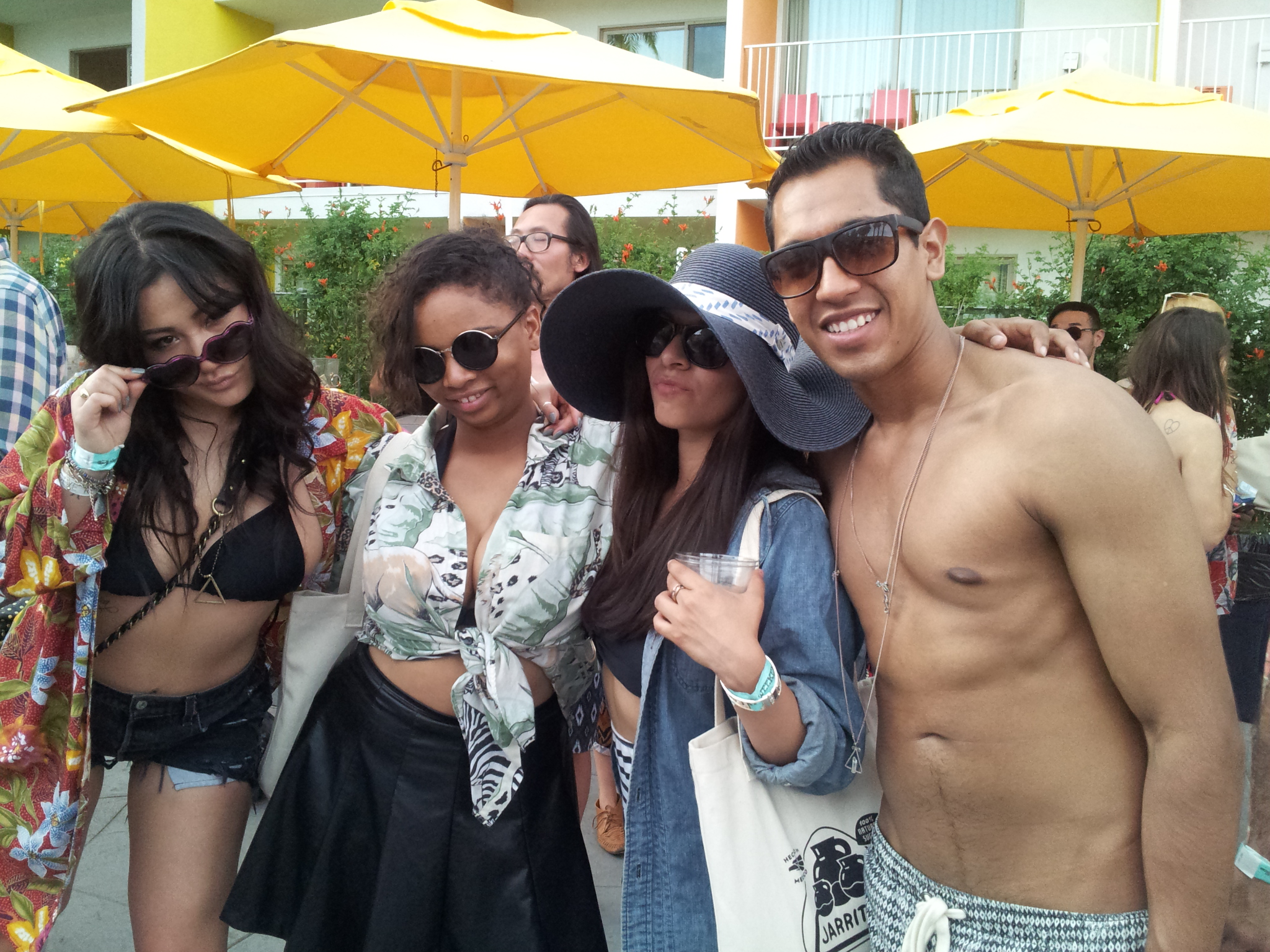 And then there's the nighttime, a continuation of more sponsored parties and entertainment. Nas hosted the Details @ Midnite by Hennessy VS Bermuda Dunes event; A|X Armani Exchange presented Neon Carnival; L.A.'s own Greystone Manor nightclub presented Desert Sessions Night; Guess? After Dark and...you get the point.
Where in this mix was going to the festival even an option? I think Sundance is "suffering" the same fate. Folks just don't even go to the film festival in Utah to see unreleased indie movies anymore. And it's still a great experience!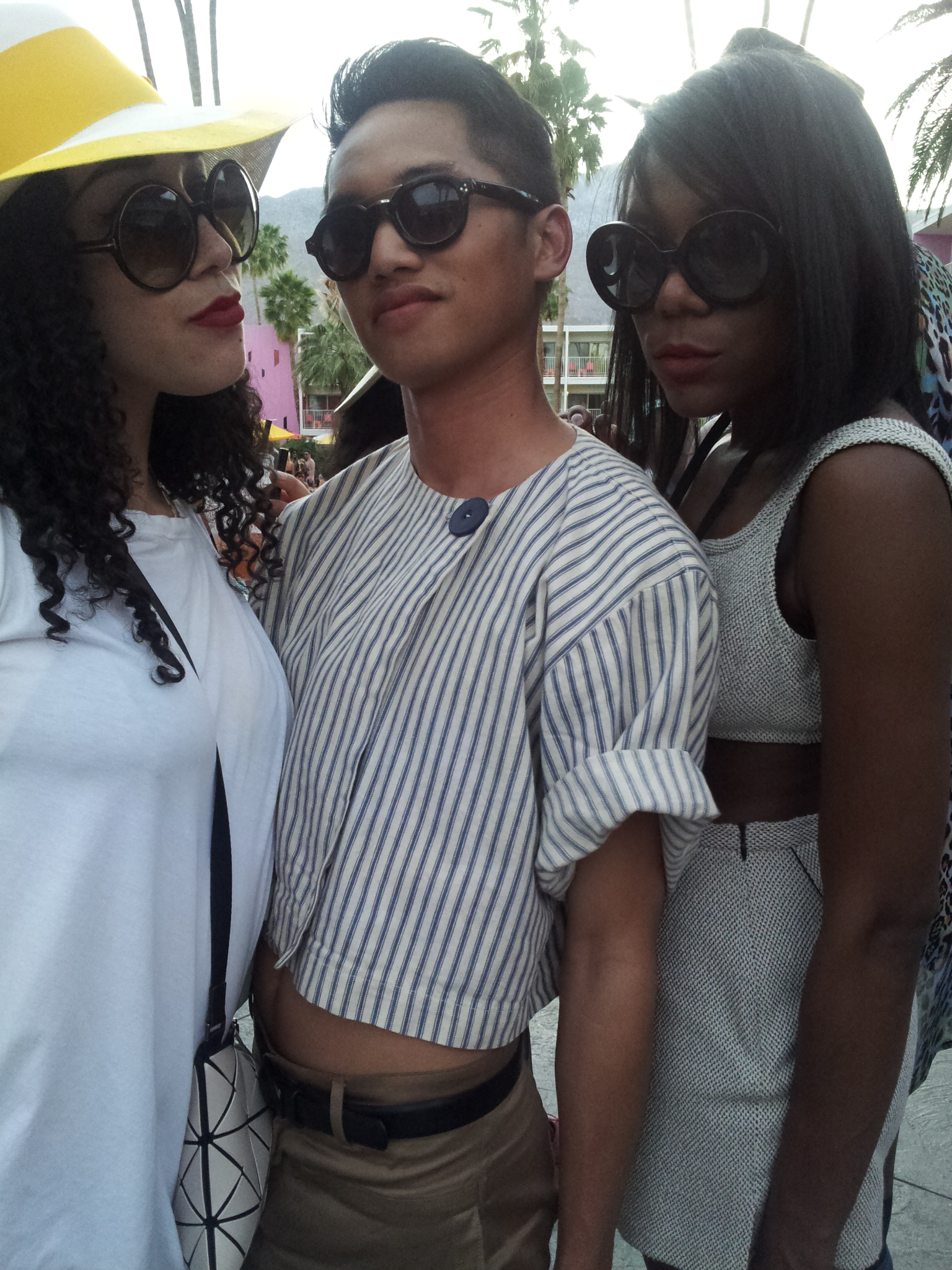 This upcoming weekend and the weekend past, you can't drive on the 10 Freeway -- going East or West -- without seeing billboards, not just advertising prime rib steak or casino resorts towards or leaving the desert, but also ones telling you to pick up Daft Punk's or Major Lazer's album when it drops. This never used to be the case when Coachella Festival initially started in 1999, or even several years after. It used to be a three-day only/one weekend festival event, relatively affordable and where the corporate interest was only visible on stage -- indirectly embodied through record label-signed artists. That was as far as marketing got involved. But as technology, social media and the internet changed the face of marketing for so many companies, inevitable change was destined. Of course the beverage industry always had their usual swaying blow-up banners, toys and typical types of visual promotions, but today this festival has more surrounding marketing plots (temporarily) tattooed in the Palm Desert now than any other time.
Hotels just used to welcome the traffic of festival weekenders. That was good profit. Nowadays, even though it'll always be the actual festival that everything revolves around, the festival, hotels and surrounding private properties are cashing-in quadruple on the corporate dollars that annually and fashionably reinvent the Coachella Valley for those visiting. Sometimes however, too similar to its big brother neighbor, Hollywood.
Photo Credit: Lamar "MARZON" Anderson