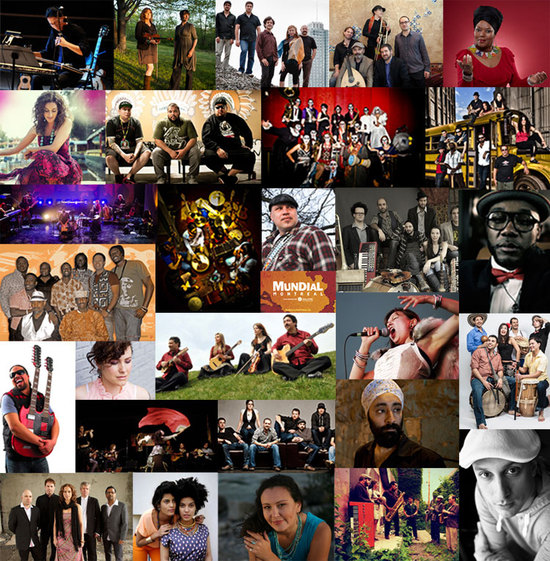 Without a chance to brush up on my poor speaking or understanding of French, I was whisked away from LA to Montréal, Canada after an invite came into my inbox to attend the 3rd annual world music conference/festival, Mundial Montréal! But who's complaining? If there's anything worthy of complaining, coming from sunny LA -- especially in the month of November, it'd be the timing of this conference/festival throwing me into zero-degree temperatures. But with the buzz building around Mundial Montréal -- which only seems to be growing and having more of an international draw for both artists and industry professionals, I just needed a fat (n' fancy) scarf, leather gloves and a few UNUSED winter jackets to easily nullify the near frigid temperatures. Touch down, at YUL!
DAY 1
~Tuesday, Nov. 19~
Venue: LA SALA ROSSA
In the airport, a friendly Mundial Montréal volunteer summoned moi to their scheduled shuttle, almost packed with indie rock band members -- seven to be exact, in from France, for its sister conference/festival, M for Montréal, happening the sametime as Mundial Montréal. In traffic, sitting in the back, the only thing close to English I heard was the lone female band member, while pointing out a YMCA, making fun of the sign singing: 'Y-M-C-A! Y-M-C-A!' in her cute accent. All friendly smiles saying 'bye bye' as they got off at their hotel Trylon, I felt alone now. After reaching and checking-in at my hotel, Zero 1, then running quickly to pick-up my EMERALD badge nearby at Mundial's hub, Société de Arts Technologiques (SAT), there was little time to catch the tail end of the official Mundial Montréal cocktail reception, welcoming all attendees at La Sala Rossa.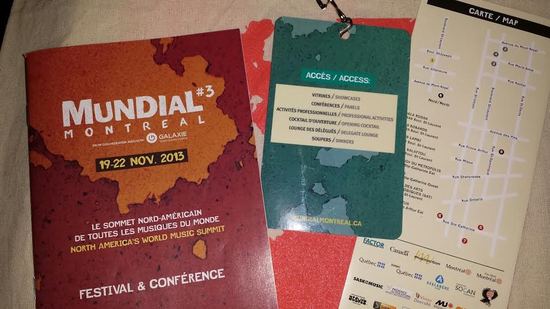 So I quickly hopped in a cab, just in time to hear closing words from MM's Founder/Producer Sebestién Nasra on stage, who seemed drowned-out in volume amongst the crowded room of attendees. Yes my two glasses of wine, thanks to sponsors Barefoot Wine which I had before we were driven downstairs in the same venue to dinner felt oh so nice after traveling for nine hours.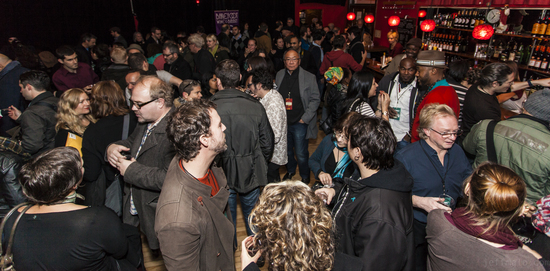 Dinner, being served in a more intimate room for about fifty of us, was Spanish tapas style! This was a good way to introduce oneself, meeting attendees such as agent Danielle Lefebvre who runs her own self-titled artist and concert agency, specializing in Jazz, World & Classical music, agent Claudia Berardi of Station Bleue and on the artist side of 'affaires', sitting beside me was Mark Marczyk, vocalist/frontman for one of Toronto's most revered (or hated by the establishment) bands, Lemon Bucket Orkestra. Mark was insightful not on just the music scene of Canada, especially his hometown of T-dot, but he gave me the full scoop on the politics and true theatrics involved with his crackhead mayor, Rob Ford.
After dinner, amongst those other poor morsels who couldn't join us for dinner -- oh what a pity, we went back upstairs to the same cocktail reception space to take in MM's first showcase. First up, Paris, France's IBEYI -- twin sisters Lisa-Kaindé & Naomi, daughters of famous Cuban percussionist, Anga Diaz. What a pair! After witnessing their performance, I'd say they NEED to camp out in the US (LA awaits you), or NYC to start an inevitable buzz towards building a larger fan base. In fact, no matter where they travel, their mass appeal to rock seems guaranteed! Imagine Sade, younger -- meets Lauryn Hill X Les Nubians.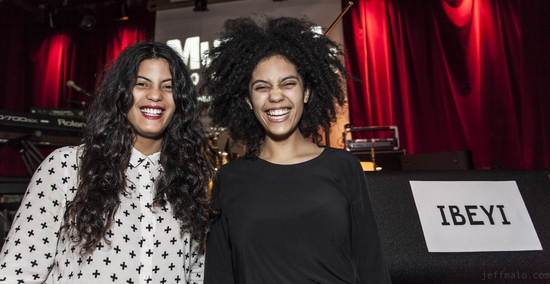 What an excellent 25-minute set of acoustic reverence coming from Kaindé singing on the piano and Naomi at times backing her sister with background vocals on the marímbula or bass box, a primitive plank of wood set between her legs she'd gently stroke rhythms on. Let's say their songs were as sexy, sultry and scintillating as you can ever imagine. At one time I closed my eyes forgetting I was in LA, opened it and remembered oh right, I'm in Montréal! I was on my third glass of wine. The French language is already so seductive, and as Kaindé spoke to the crowd, many seemed in awe. And they're French! The duo even dabbled in covering Rihanna's "Diamonds" -- in French of course, flipping its original cadences and pace to suit their flawless flow. This would be a hard act for anyone to follow, 'cause a mood was now set. We were in the IBEYI zone. Quite contrary, Papagroove
-- a big band, type of grass-fed funk/afrobeat ensemble from Montréal, wasn't truly impressive, except that their high energy was indeed undeniable. They brought it!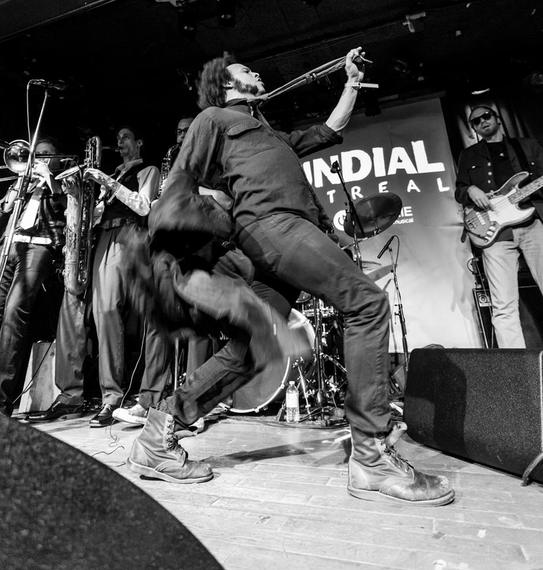 But being surrounded by afrobeat music through the likes of listening to Fela, witnessing sons Seun and Femi Kuti, not to mention grooving to many Tony Allen performances, folks like Antibalas come close. Papagroove? Not so much. Eekwol, an emcee the first of the Aboriginal artists from Northern Canada to perform, is Muskoday First Nation. A hip-hop sister-soldier from Saskatchewan, she came next shedding some depth, and performing to beats banging out from her laptop. No DJ, just a mic and her iTunes. Her lyrics flowed well, in English and her native tongue, but something about being on stage with lots of lonely instruments sitting behind her, seemed musically deficient or incomplete. She held her own though, but after a while, half the audience began audibly mingling like it was cocktail hour, part deux. Shauit took the stage after Eekwol, and these guys were jammin'! Shauit, another Aboriginal representative, offered his reggae/dancehall influences on full blast that locked-in the restless crowd. For Shauit's sound, that familiar craving that one moves and sways to when the guitar strums and the bass grooves in a reggae pattern, made him easily the night's most festive so far! Unable to respond to encore calls for more, he gracefully bowed and stepped off stage, making room for the night's closer, Abitibiwinni First Nation and Metís rapper Samian. There's something about a rapper, who only spits in French (and his native Algonquin) that automatically limits his/her reach, unfortunately. Samian sure had his local fans hyped on what seemed like hits by the many in the audience who recited word-for-word, but thinking of him outside of this Montréal setting, even in nearby T-dot, he'd have a far ladder to climb to reach the likes of neighboring breakout rappers such as K-Os, Kardinal Offishall and of course mega-star, Drake.
DAY 2
~Wednesday, Nov. 20~
Venue: SOCIÉTÉ de ARTS TECHNOLOGIQUES (SAT)
Conference time. I'd missed the "Speed Schmoozing" conference, which was sort of set up like speed-dating, five minutes MAX with each other. However, I felt this was more overwhelmingly suited for talent bookers/buyers, sellers, agents as well as managers who represent artists. Besides, here I am -- online -- request a date with me if you like what you read. The next two panels, one titled "Staging Cultural Identity" was quite interesting, especially in the world music genre which, the term itself, came under serious scrutiny in discussion. What is world music? Questions from the attendees as well as panelists Mercan Dede (artist), David Dacks (The Music Gallery) and even moderator Alain Brunet (La Presse) took a stab at it, leaving me back at square one. Mentally, this became my morning coffee, jolting every fiber in my brain to BE AWAKE! If my brain didn't have enough carbs from dinner the night before, it would've shut down or exploded based on how deep these conversations on cultural identity as it relates to marketing, from yesteryear to today, provoked thought. Next up, after a 15-minute break leaving me enough time to head to my hotel room and return, was "A Fireside Chat with Ben Mandelson & Bill Bragin" -- although I think the former should carry the latter's last name! Just saying.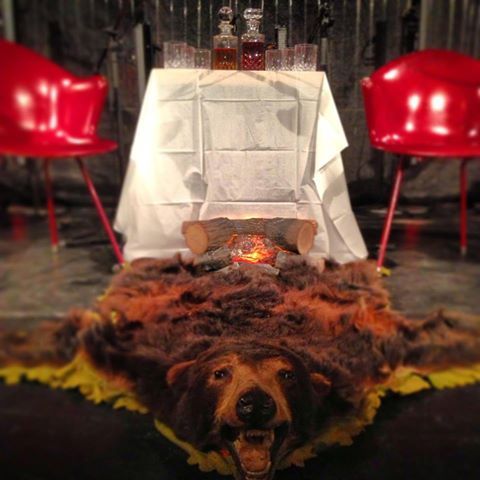 (Photo by Bill Bragin)
Bill (renowned Programmer at NYC's Lincoln Center) asked the questions, talked a little as expected, but Ben (WOMEX Director) I mean no disrespect -- though this phrase should preempt you for something negative always! How many times could you use "I" to educate us, before it becomes distracting? Even performing artists give the audience a feel of inclusion during a show. However, the stories over rum (served neat), a faux fireplace seat-side and a bear-rug for cabin authenticity, were riveting inside looks over the 30-40 year span of history, tribulations and fabric of building the world music network of today that launched some now reputable record labels, festivals and conferences. Other 'experts' -- namely CEO of Rockpaper Scissors, Dmitri Vietze, who always wears signature outrageous trousers; Mundial's own Artistic Director, Derek Andrews and Dan Berhman, who represents the band Saltarello, all joined the panel on stage, not for once refusing to ALSO take a toast of rum. Again, the discussion became a bit cloudy as many of these panels sometimes do, diverting from being self-giving lessons or teachings for the audience, to being a more self-absorbed take away. Human nature I guess. Onto the music!
Venue: LES BOBARDS
The afternoon showcase of talent, starting around '16 h', brought us the opener Ventanas, spilling a mixture of Bulgarian, Greek, Turkish and Sephardic songs of amor that had me neither disappointed or blown away, or even moved. Yes, my first 'cream ale' beer wasn't near done, thanks to Élisa! Anywhere in the world, this act would entertain. That's not the problem. They just weren't moving, in the sense that there was a craving for more, or you'd have any inclination to drive miles to see this show. And sitting next to an 'official agent' for the city of Montréal's Cultrual Development, Élisa Belhache, her facial expression only solidified what we both already thought: a perfect intermission thrill. Next up was Komty, a Montréal-based singer with a fit-model like figure. You could tell she's a novice, but she had a special appeal, some potential in taking center stage and delivering traditional music from her native Cameroon. She was very likeable.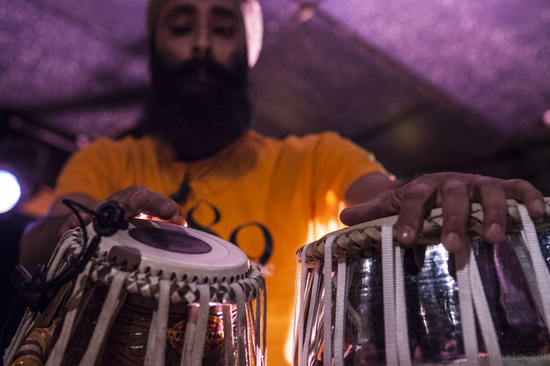 What wasn't obvious, was Toronto-based, tabla extraordinaire Gurpreet Chana's talent. Skillful on the tabla connected to his laptop that boomed us into electronica mode, you probably had to get a closer look at his fast-working hands and fingers massaging rhythms into 'riddims'.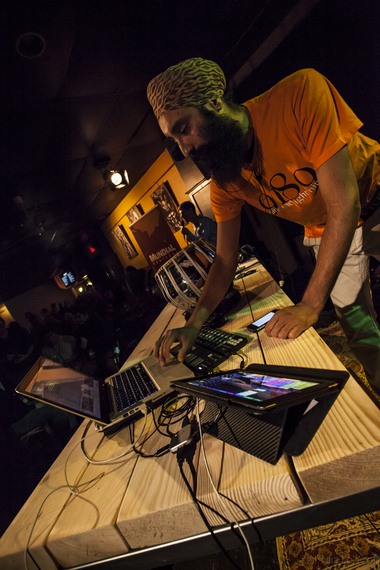 With his feet going to work on a keyboard-like peddle too, fully bearded and turban-ized, Gurpreet from afar looked and jerked around like he was having multiple orgasms! This cat had such appeal, as for any artist, one knows visuals are important. OK, if I didn't mention another Aboriginal (Lillooet) son of the First Nations, George Leach, the afternoon's closer, I'd be leniently giving him a break in criticism. Now, unmistakably, his vocals are STRONG. Powerful enough to grab your undivided attention. He's gifted in a raw and powerful way, but his form of rock and R&B seemed sadly stuck in the 1980's, and not in the trendy, hip sense either. At first I thought it was HBO's Eastbound & Down's character, Kenny Powers?!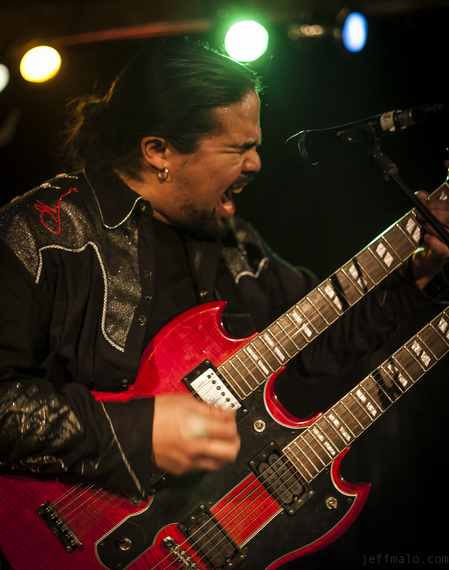 His look, his confident ballardry made me feel I was at a wedding and his set drove some to a bit of hidden laughter, although by now, we were about 2 drinks-in. Happy hour's a bitch! Shall we? It's off to dinner now at Restaurant Mysore. Indian -- as in New Dehli, cuisine. This time, we pack and take over the entire restaurant. A full house of movers and shakers in the world music industry, including Mundial's Artistic Director, Derek Andrews, whom I had the pleasure to sit next to. Conversations get deep into Toronto politics. AGAIN. Hey, everyone's talking about him -- this time led by Toronto's Allan Davis, Executive Director of SMALL WORLD Music Society, and Amirali Alibhai, Head of Performing Arts at the Aga Khan Museum, part of an effort to improve the welfare and prospects of people across the world, especially in Asia and Africa. Oh, the food? Above average, leaving us all stuffed on our way to the next set of night music showcases. Oui oui, plus de musique!
Venue(s): CLUB LAMBI & CLUB BALATTOU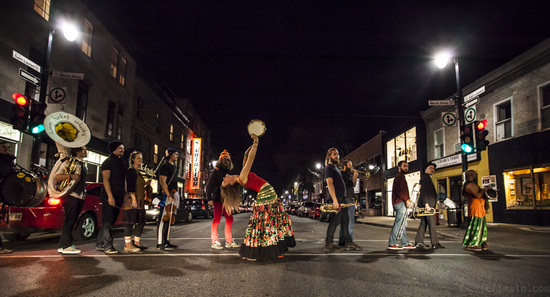 This was orchestrated as a neigborhood marathon of dual club-hopping from Club Lambi + Club Balattou X 3! Speaking of orchestrated, the first band was undoubtedly the most memorable, Lemon Bucket Orkestra, a 14-piece ensemble from Toronto. Remember I'd mentioned the frontman Mark Marczyk sat next to me, tooting their horn? Those horns were tooting alright, as they lit up Club Lambi, creating a carnivale atmosphere performing on the stage, which they literally spilled into the crowd, on top the bar and as they urged everyone to take their jackets to trot across the street to Club Balattou for the next act, the Lemon Bucket Orkestra caused a musical roadblock blasting their gypsified music, New Orleans style down the stairs onto Boul. St-Laurent! Who cares about the next act? My night could've ended right there as this band rocked it through the streets to a following crowd of revelers in true Mardi Gras fashion, disrupting and causing a straight traffic jam!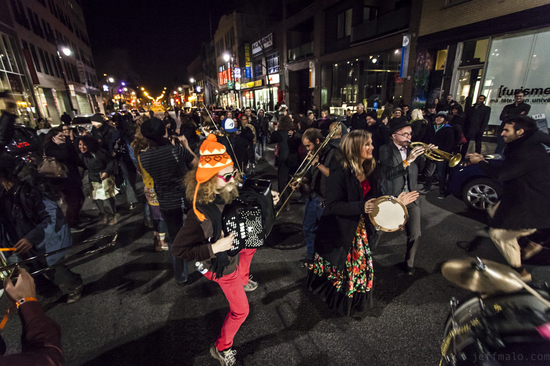 Well, minus the beads, and yes, minus that too! After all, it was still about 21 degrees (F)/0 ZERO degrees (C)elsius. Amongst the five other bands that performed for the rest of the night, two artists stood out: Bumaranga, a 7-member group based in Montréal offering up the essence of Afro-Colombian music, and who kept the energy indoors at Club Balattou, tropicale. Dressed in short-sleeves, all-white, strawed broad hats and even sandals, immediately looking upon the stage, you forgot about the cold weather outside.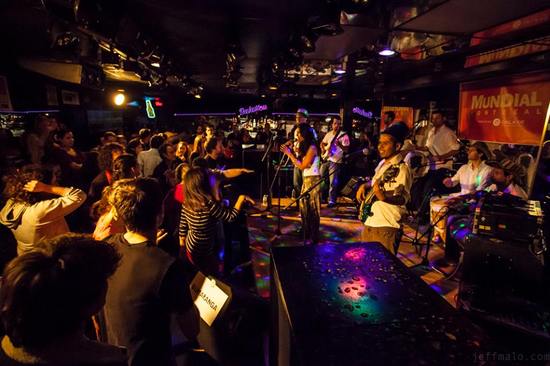 And not a gimmick either, they were simply outstanding. Ready for any music festival, worldwide - stateside - no doubt. I felt for more from these guys, especially after witnessing some of the other subpar acts to follow, namely Écho Kalypso, Shtreiml & Ismail Fencioglu and Color Violeta, all Montréal-based. The night ended on a good note though, thanks to Soweto-born/Montréal-based South African traditional and folk song singer, Lorraine Klassen, despite these aforementioned acts that only seemed more ripe for local settings in Montréal.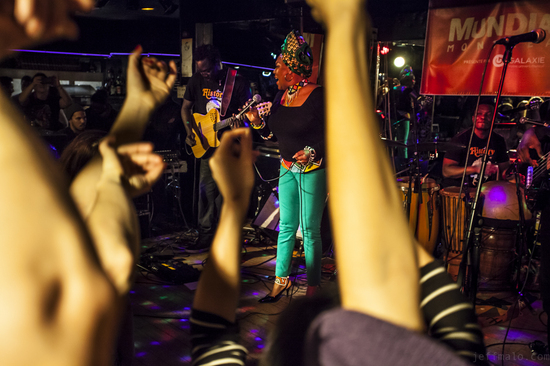 Lorraine did her own renditions, as well as brought to life respectful covers of Miriam Makeba's classics, throwing the crowd -- including some roudy members of Lemon Bucket Orkestra into continuing the frolic they started, this time themselves (without their instruments) dancing and jumping throughout her own set! This only gave Lorraine more energy, more vibrancy as she gyrated those big hips, much to the younger crowd's delight! With two more Mundial days to go, and not even a slight chance of me daring to jog in the cold Montréal streets to exercise, tonight my workout was complete!
Photo Credit (approved!): Jeff Malo
Follow Marlon Regis on Twitter: www.twitter.com/djpelau