In The Hot Box (Atria Books), wildly successful erotic novelist Zane -- a New York Times bestselling author, screenwriter and publisher of her own book imprint, Strebor -- crafts a funny, sexy tale that shapes up as the perfect summer beach read. It has several elements to make you laugh and perhaps reflect on some of your own personal moments. The story moves quickly, the characters are relatable and, as is Zane's trademark, she drops in the sexy bits without holding back. After all, sometimes folks want to get wild and freaky -- without overthinking it -- and move on!
The term "hot box" is actually a baseball term: it refers to a drill that can be played with three or more players and two to four bases. The players take turns being fielders and runners, ultimately trying to tag the rest of the players out.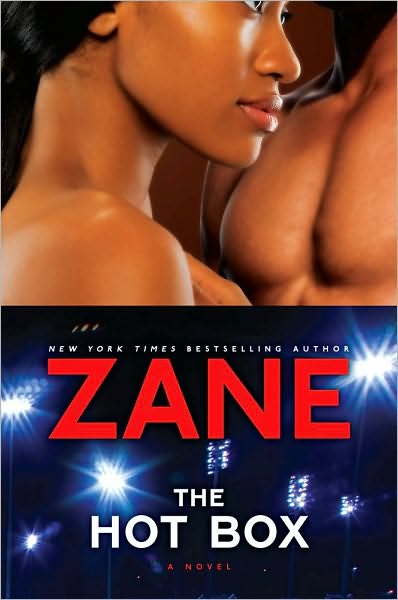 In Zane's Hot Box, newly available in trade paperback, two women, four men and two potentially messy love triangles collide. Lydia's life in small-town North Carolina seems to be leading nowhere: she works as a grocery store cashier, and works hard to balance her frenetic sex workouts between Glenn, her live-in boyfriend of three years, and Phil, her side-piece/sex buddy of the last ten years. Oh, and Glenn and Phil happen to be best friends. She's bored to tears with her life in a small town and dreams of moving to New York to become a famous actress (but never devises a plan to make that transition). So she satiates her boredom by smoking up her substantial homegrown stash of weed, and exploiting her feminine power down below to make her feel better about herself. This includes romps in cars, hotel rooms, out in the woods -- whatever it takes to erase the fact that her life is in a rut.
Her best friend, Milena, a veterinarian, seems more stable, but is also romantically challenged. She has lived in self-imposed celibacy for the past eight years after discovering that her pro baseball player fiance, Jacour, got it in with other women during a night of wild partying just before their wedding, which, of course, was cancelled after this revelation. Milena lives the following years focused on work, food, avoiding relationships, and still carrying a secret torch for her lifelong love -- the only man she has ever been with. When Jacour comes back to town, having been sidelined from pro ball with an injury, he tries to win her back, but it may be too late -- she's met someone else.
Who ever said that love, or life, for that matter, was easy?
I appreciate Zane's storytelling skills, always laced with a down-to-earth sensibility. When reading of the challenges her characters go through -- romance, self-doubt, guilt, self-gratification, straight-up horniness -- it is always relatable. You always feel "I'm not the only one going through this." I'll never forget the first Zane book that I read, Addicted, about a professional African-American woman who was almost done in by her sexual addiction. The story moved with a quick, heated pace, and I literally couldn't put it down.
The Hot Box isn't as heated as Addicted, but it, too, is hard to put down. You want to know how the story ends and where these characters end up. Milena's dilemma really resonated with me; I really felt for her and the fact that her broken heart kept her closed off from love for so long. And Lydia, who treats her lovers as moveable pieces on a chess board, gets the surprise of her life from her two boy toys!
Check out The Hot Box -- a sexy little tale that will hold your attention and make you laugh. Enjoy adding a dollop of urban erotica to your late-summer down time.
SUBSCRIBE TO & FOLLOW CULTURE SHIFT
Every Friday, HuffPost's Culture Shift newsletter helps you figure out which books you should read, art you should check out, movies you should watch and music should listen to. Learn more