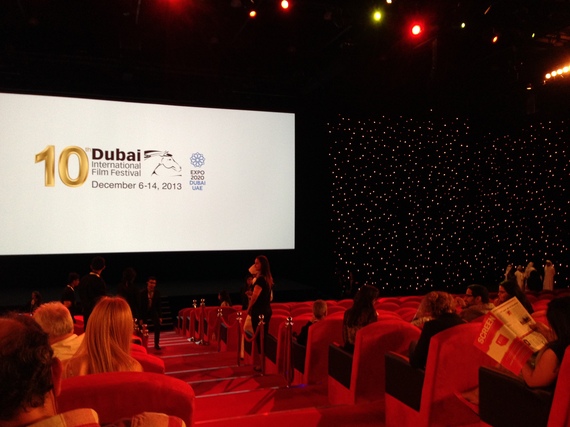 I left Dubai on Saturday morning; it had been 85 degrees Fahrenheit the day before, during my final day at the Dubai International Film Festival. I landed in New York to falling snow, which would eventually accumulate to three or four inches.
The weather aside, I came away from DIFF a believer in this as a film festival with a vision of the future of film, from the standpoint of aesthetics, technology and business.
As a place to see movies, DIFF is as accommodating as can be to journalists. (Full disclosure: I was there as an invited guest of the festival, which meant they covered my travel and lodging.)
In terms of organization -- whether of shuttle buses between the headquarters, the festival hotels and the Mall of the Emirates (where the bulk of screenings take place in a 12-screen multiplex) or of the screenings themselves -- the parts of the festival I engaged with always started punctually, with the exception of the big galas at the Madinat Arena, always the last show of the day there, with stars and luminaries to introduce the film.
The films themselves aren't programmed on a theme -- but this is a festival that wants to showcase (and encourage further production of) movies by and from the Arab world. Those took the form of a wide variety of types of narratives, from the personal political complexities of the opening night film, Palestinian filmmaker Hany Abu-Assad's Omar, to the sleek pleasures of an increasingly tense thriller, Sean Gullette's Traitors, to the warmth and humor of the Jordanian-American director Cherien Dabis's romantic comedy, May in the Summer.
Still, if you wanted to find themes, you could. I seemed to end up seeing a lot of intriguing stories of women reclaiming the power over their own lives: "You must never behave as if your life belongs to a man," as a character says in Half of a Yellow Sun, a film about the Nigerian civil war of the late 1960s.

This commentary continues on my website.