The developer Extell is quietly pushing for big changes to its Riverside Center project, enclosed by 59th and 61st Streets, West End Avenue and Riverside Boulevard. The property was originally owned by Donald Trump and any future construction was bound by a Restrictive Declaration drawn up between Trump, the City and the Riverside South Planning Commission (a coalition of non-profit groups including the Natural Resources Defense Council). Now, after half the project is already built, Extell is trying to get out of the Restrictive Declaration.
On the remaining property, the Restrictive Declaration limits the developer to build no more than an additional 2.4 million sq. ft. But Extell is pushing for a variance to increase that amount to 3.1 million sq. ft. -- or more than 2000 additional condos. In addition, in this now predominately residential neighborhood, Extell is asking permission to build a 1200 room hotel/convention center and to install a car dealership.

Most new residents in the area, before they plunked down their millions to buy apartments, googled Extell Riverside South. What they found was an enticing website showing a drawing of two low buildings set in a tree-filled park connecting to the River. The drawing was accompanied by birdsong and the sound of the waves of the Hudson splashing its riverbanks. A voiceover promised to connect the neighborhood with both the culture of the city and the beauty of nature. (See # 9 below).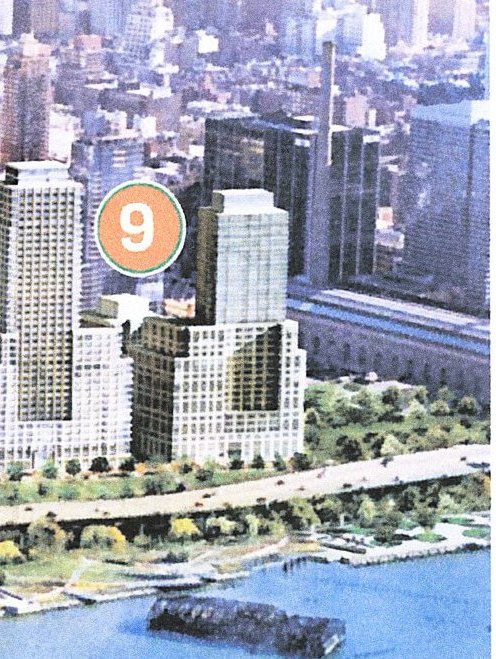 "We all saw it," said Susan Morrison, of 10 West End Avenue. "That's why we bought our apartments."
But in Extell's proposal for a variance, that's all gone. Instead, there are 5 skyscrapers, ranging from 400 to 623 feet in height, with a semi-private water feature between them. "It's too late for all this," said David Black, who lives in the neighborhood. "The bus has already left the station. You don't get to change the destination halfway there, even if you do own the bus." Other area residents also feel that requests for such vast alterations should have been requested when Extell first bought the property, not halfway through the building process.
Community Board 7 has just released 3 alternative proposals to Extell's new plans. But none of them offers the extent of parkland requested by the Riverside South Planning Commission, which worked to broker the original Restrictive Declaration with Trump. Paul Elston, President of the RSPC said, "All of the reasons the Restrictive Declaration was a good idea in '92 make it an even better idea today. The city is even more densely populated, more polluted. A deal is a deal. We need to make them stick to it."
SUBSCRIBE AND FOLLOW
Get top stories and blog posts emailed to me each day. Newsletters may offer personalized content or advertisements.
Learn more