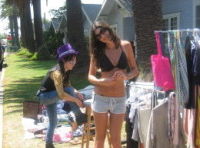 My neighbors are hosting a yard sale. In their bikinis. It's a sales tactic I guess, but they are also occasionally lying down on the clothing items for sale to get some serious sun. They stuff the cash they make under the strings of their bikinis. The yard sale in Venice seems to be a weekend activity for the whole street. I went to one earlier in the season; I made friends with the neighbors after I bought their used jeans. I've hosted a few yard sales myself on the east coast, and contributed attic junk to a couple of others, but I wore long pants and long sleeves to protect against the sun, and a True-Value apron complete with pockets for cash, price stickers and a pen. I ran ads and put up signs. Somehow the Venice yard sale feels a little different.
First of all, there's only clothing for sale. It's as if the girls next door just brought the last season out to the front lawn instead of "changing closets" as we do on the east coast. And I like to support my neighbors, so I've bought their old, used stuff: a dress and a belt with a big ink stain. (What's grosser is the $10 pair of wedges I bought back east at a yard sale and literally wore every day this summer.) I spent two dollars. That fits into my clothing budget right now.
Secondly, they don't seem to care about the money part. I ask my neighbor Leah how much money she made. "Like, nothing," she says. (I just can't understand why the Viagra tie didn't sell.) Actually she made $20, but half of it was from a guy on Facebook who saw her posting for the sale. He hung out for most of the day on the lawn with Leah and her friend Amber and gave them a donation. He told them, "It was worth it just to meet you guys." Leah said, "We felt like hookers after."
The pace of making money in this new world is so different than what I'm used to. When I first left the steady paycheck eighteen months ago, each day that would go by where I didn't make a penny caused a panic. I didn't know the Chunk system then. Now I realize that every so often I get a "chunk" of money and I have to spread it out over the next while until I make another chunk. This terrifies me. Sometimes in the middle of spin class I find myself adding up my recent chunks to see how long I can keep this going; and always I lie awake at five in the morning adding up how many chunks I will need for next year. I've learned that a lot of people live this way, especially now, and you may be laughing at how obvious this is, but to someone who depended on direct deposit for over two decades, it's like learning 粵海粵語.
I never took Entrepreneurs 101, or a class in working for myself from home. I am still trying to master my procrastination tendencies and stay out of the kitchen. I've over-furnished my bungalow and potted an entire succulent garden. I try to structure my day, but the Farmer's Market and the Chai tea at Intelligentsia are too tempting. (Though a writer friend tells me that this all counts as "writing".)
I haven't hosted a yard sale yet but I'm considering selling some clothes at a local consignment shop. I just hope I never see the guy in the purple hat from Leah's yard sale wearing any of my old Theory tops.