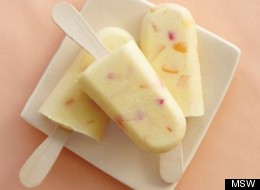 These sweet and refreshing recipes for ice cream, sorbet, and granita will pair perfectly with your wedding cake.
Shimmering Ice Cream Cones
We brushed mini waffle cones from Chef Source with different shades of luster dust for a frosty look. Shiro-an vanilla ice cream gives the topping of these shimmering cones a richer taste and a little bit of texture.

Get the Shiro-An Vanilla Ice Cream Recipe

See More: 13 New Wedding Cake Trends We Love

Blackberry-Cocoa Sorbet
Blackberry-cocoa sorbet is light and refreshing, no matter when you serve it. Cool off your crowd after outdoor vows with mini scoops presented in tiny cones or Chinese soup spoons. Or dish it out for dessert alongside shortbread cookies flavored with green tea, for a subtle sweetness that balances the tangy berries.

Get the Blackberry-Cocoa Sorbet Recipe

Peaches-and-Cream Ice Pops
They say good things come in small packages, and sure enough, these decadent ice pops-three inches tall, minus the sticks-are downright delicious, blended from fresh peaches and heavy cream. Hand them out after you exchange vows, or pass them around late-night once the dancing heats up. One warning: We bet you can't eat just one.

Get the Peaches-and-Cream Ice Pops Recipe

Related: 12 New and Unexpected Wedding Food Ideas
Easy Layered Ice Cream Treat
Refresh your guests with layer after colorful layer of icy treats. Creating this stacked confection is simpler than making a sundae-just spoon the slightly softened ice cream into a loaf pan (line the pan with plastic wrap first, and freeze one layer before adding the next). Our stripes, from top, are cantaloupe sorbet, peach frozen yogurt, strawberry ice cream, and raspberry sorbet.

Tiny Limoncello Ice Pops
Tangy Italian lemon liqueur stars in these refreshing bite-size frozen treats that would be perfect for passing during an outdoor cocktail hour.

Get the Tiny Limoncello Pops Recipe
Sweet Snow Cone Station
This classic refreshment is all grown up thanks to the addition of alcoholic syrups. During the reception, adults can help themselves at a station stocked with cups, crushed ice, and mojito, peach daiquiri, cosmo, and margarita cocktail syrups. Use glasses to catch drips and straws to slurp up every last drop.

Ice Cream Cups
Ice cream without a cone is like jelly without peanut butter: It's great on its own but tastes so much better with its classic companion. Now guests can enjoy a drip-free ice cream cone with these delightful and delicious waffle cups. For a lick of extra visual punch, match the flavor of ice cream or sorbet to your color scheme.

Get the Ice Cream Cups Recipe



See more frozen desserts at
Martha Stewart Weddings
.
More from Martha Stewart Weddings:
The New Wedding Rules
Dos and Don'ts of Wedding Registries
21 Gorgeous Engagement Rings of Real Brides
How to Give a Great Wedding Toast
Follow Martha Stewart Weddings on Twitter: www.twitter.com/MarthaWeddings