The Drudge Report certainly presents an unerring reflection of the anger and violence of our times. Want to see the ugly zeitgeist of the moment? Just go to Drudge and if the headline doesn't snarl it -- the banner ad du jour certainly will.
As an unruly mob surrounded Congress -- egged on by Rep. Michele Bachmann to come to Congress and "see the whites of their eyes..." and listened to incendiary rhetoric from conservative firebrands, unemployed, has-been actors and minority leader John Boehner (in all his spray-tan glory) about seizing back the country from the Socialist enemy...
As a member of the military in Fort Hood armed up and prepared to massacre his comrades...
With unwitting but impeccable timing -- the sole banner advertisement prominently emblazoned on the Drudge Report -- was the image of a discharged member of the military in sinister shades -- brandishing his M16 rifle together with a menacing message: Send A Warrior To Congress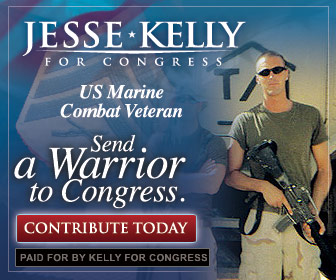 Meet Jesse Kelly -- honorably discharged according to his campaign website -- though it fails to detail his rank or reason for discharge. Having shot his way through four years in Iraq he is now aiming to take his skill-set to Congress as -- what else -- an ultra-conservative Republican. Not quite the Eisenhower of his generation -- he nonetheless very generously wants to help his fellow Americans.
And he is certainly not shy about sharing his views. Among the pearls of wisdom from this 28-year-old sage:
• People want someone to fight for them in Washington and that's the message I want to convey!
• People are scared of a government that has grown radically out of control!
• Barack Obama is a radical! I'm tired of President Obama and the liberals who control Congress insulting us, calling us racist, and calling us a mob. I'm tired of their double-talk. I'm tired of their bait-and-switch shell games. I'm tired of being avoided by my public servants. They have forgotten that they work for us.
• There's no question the national outpouring of rage against members of Congress is 100 percent genuine. They're spending us off the cliff! They're destroying this nation, and while I'm still breathing, I will not let it happen. It's time to be 'in your face'
• Either we stand now and fight for our country, or the great United States of America may be but a fading memory!
Before he shoots up Congress, he is gunning for Democratic Rep. Gabrielle Giffords in Arizona's 8th Congressional District.
Discharged from the Marines after an entire four years of service, Kelly now works for a construction company. And -- you can't make this up -- he works on sewer projects...
And -- not to be outdone in the Strange But True world of right-wing-nuttery --- the National Republican Congressional Committee (NRCC) has officially declared that Kelly is an 'On the Radar' candidate in their Young Guns program co-founded by dependable GOP looney Rep. Eric Cantor.
"The NRCC is committed to working with Jesse Kelly as he continues to meet the rigorous goals of the Young Guns program," says NRCC Chairman Pete Sessions.
Young Guns (Go For It)... 25 years ago it was the title of a Wham song.
Now it's the philosophy and highest aspiration of today's Republican Party.
Who says there is no such thing as irony in America...
SUBSCRIBE TO & FOLLOW TRUMP'S FIRST 100 DAYS
How will Donald Trump's first 100 days impact YOU? Subscribe, choose the community that you most identify with or want to learn more about and we'll send you the news that matters most once a week throughout Trump's first 100 days in office. Learn more