We are all accustomed to the excesses of Hollywood. Nowhere more apparent than in the boastful press releases touting tight movie budgets and expansive box office returns (though as if by magic, the costs always expand and the theater receipts always contract when it comes to paying the profit participants.)
Press releases sent out in advance of parties, premieres, receptions and launch events are also notoriously hyperbolic. Promising the photographers and TV news crews multitudes of celebrities -- many of whom don't actually show up. It's just standard issue Hollywood biz.
But there is a party taking place on Oscar night that for the past 19 years has actually bucked Hollywood's habit of over-statement by consistently UNDER-selling itself. The party is the annual Academy Awards viewing party hosted by super-agent Norby Walters.
Walters -- who made his name representing leading music personalities (including Luther Vandross, Gladys Knight, Patti LaBelle, Dionne Warwick) -- and cemented his talent relationships by running Hollywood's most popular poker nights -- launched what has become an L.A. tradition in 1990 at the Mondrian Hotel. He conceived his party as a bash where some of Hollywood's biggest names who were NOT nominated in that year's Oscars could gather and enjoy the ceremony among fellow thespians not in competition. Employing what was certainly entertainment industry enthusiasm, he dubbed his party "Night Of A Hundred Stars". He was not expecting exactly a hundred luminaries to show up -- but it was a good enough name. Much to his delight -- and probably his surprise -- his first party attracted well over a hundred stars. Academy Award winners... Emmy winners... musicians... who weren't in contention for an Oscar that year -- but wanted to do something a little more glamorous than watching the ceremony eating Chinese food in their PJs.
Walters reprised his party in 1991 at the famous Roxbury Club on Sunset Boulevard. The party name referencing "100 Stars" that had proven to be that rarest of things in L.A. an UNDER-statement -- was pressed into service again. Once more, the celebrity count eclipsed the promise hundred and the event was now on its way to becoming a staple of Oscar night.
Throughout the 1990s and the 2000s the party grew in stature and heat. Subsequent venues included the legendary Chasens and the Century Club -- before the event settled into its longtime home at the iconic, pink-walled Beverly Hills Hotel.
Even though the star count always exceeds the under-stated title, Walters has stuck with the "Night Of A Hundred Stars" name.
The list of names who have attended over the years is truly staggering. I don't wish to be cited for prospectively overloading the infrastructure of the internet -- so I've listed just some of the attendees at the foot of this page. It is literally an A-Z of Hollywood.
There have also been some unusual juxtapositions. The red carpet has seen the key members of the "Easy Rider" cast (Jack Nicholson, Peter Fonda and Dennis Hopper) and the "Oklahoma" cast (Rod Steiger, Eddie Arnold and Shirley Jones.)
There have been some strange sights over the years: Gary Coleman sitting on Anna Nicole Smith's lap... A bevy of Baldwin brothers... a collection of Carradine family members... and Bridget Fonda being given life-lessons by her improbable mentor -- Gary Busey. I witnessed the latter moment myself and have not yet recovered from it.
What will happen and what stars will be there this Sunday evening at the Beverly Hills Hotel? That is yet to be seen. One thing is sure -- the 20th anniversary of the "Night Of A Hundred Stars" will have many more than a hundred celebrities frolicking in the hotel's Crystal Ballroom. Its title, an uncharacteristic understatement in the land of hype that may one day puzzle students of Hollywood hyperbole.
An A-Z of some of the celebrities at the "Night Of A Hundred Stars" since 1990
Sean Astin • Danny Aiello • Jason Alexander • Eddie Albert • Krista Allen • Tom Arnold • Ed Asner
Peter Boyle • Gary Busey • Ernest Borgnine • Susan Blakely • Joe Bologna • Powers Boothe • Timothy Busfield • Linda Blair • Caroll Baker • Theodore Bikel • Karen Black • Red Buttons • Daniel Baldwin • Michael Bolton • Pat Boone • Richard Benjamin • Peter Bogdanovitch
James Cromwell • David Carradine • Keith Carradine • Joanna Cassidy • George Chakiris • Seymour Cassel • Stephen Collins • Michael Chiklis • John Corbett • Tia Carrere • Tony Curtis • Sid Caesar • Chevy Chase
Richard Dreyfuss • Kevin Dillon • Lolita Davidovich • Robert Davi • Bruce Davison • James Darren • Dominick Dunne • Bo Derek • Charles Durning • Robert Davi
Samantha Eggar • Hector Elizondo
Peter Fonda • Jamie Foxx • Frances Fisher • Dave Foley • Jon Favreau • Joley Fisher • Robert Forster • Anthony Franciosa • Bridget Fonda
Elliott Gould • Jeff Garlin • Carla Gugino • Lou Gossett Jr.
Dennis Hopper • Harry Hamlin • Marilu Henner • Ken Howard • David Hasselhoff • Tobe Hooper • Dennis Haysbert • Dule Hill • Cheryl Hines • Monty Hall • Florence Henderson
Glynis Johns • Shirley Jones • Rick James
Jack Klugman • Richard Karn • Sally Kirkland • Shirley Knight • Sally Kellerman
Martin Landau • Richard Lewis • Janet Leigh • Sharon Lawrence • Michael Lerner • Diane Ladd • Robert Loggia • David Leisure • Ron Livingston • Hal Linden
Matthew Modine • Chris McDonald • Camryn Manheim • Dylan McDermott • Jesse Metcalf • Ming-Na • Cathy Moriarty • Don Murray • William H. Macy • Kevin McCarthy • Terry Moore • Pat Morita • Anne Meara • Larry Miller
Kevin Nealon • Judd Nelson • Patricia Neal
Kevin Pollak • Stephanie Powers • Michelle Phillips • Lou Diamond Phillips • Danielle Panabaker • David Paymer • Amanda Plummer
Lynn Redgrave • Cliff Robertson • Freddie Rodriguez • Jason Ritter • Brande Roderick • Adam Rodriguez • Pat Richardson • Eric Roberts • Mickey Rooney
Rod Steiger • George Segal • Tony Shaloub • Fred Savage • John Schneider • Kevin Sorbo • Rob Schneider • Anna Nicole Smith • Dean Stockwell • Robert Stack • Carrie Snodgrass • Maximillian Schell • Jerry Stiller
Jennifer Tilly • Rip Torn • Russ Tamblyn • Amber Tamblyn • Charlene Tilton • Jeffrey Tambor
Shelly Winters • Fred Willard • James Whitmore • Stuart Whitman • Lesley Ann Warren • Robert Wuhl
Sean Young • Weird Al Yankovic • Burt Young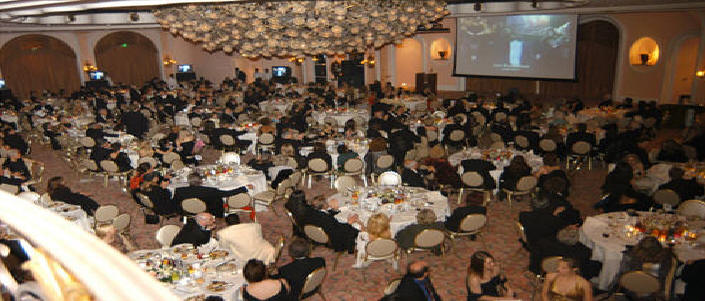 "The Night Of 100 Stars" Academy Awards Viewing Party held annually at the Beverly Hills Hotel
SUBSCRIBE TO & FOLLOW ENTERTAINMENT
HuffPost Entertainment is your one-stop shop for celebrity news, hilarious late-night bits, industry and awards coverage and more — sent right to your inbox six days a week. Learn more