At 96 & ½ years old, Eleanor Wallace of Cresskill, N.J. commemorated another local Strawberry Festival celebrated this year at her local church, by buying the needed amount of fresh fruit to make enough containers for her own use and as gifts to friends throughout the year. She is all about strawberries, from home décor to utensils used including an antique oval ladle that her grandmother had brought from Sweden well over 100 years ago, as well as a designated pot for the melting of paraffin wax.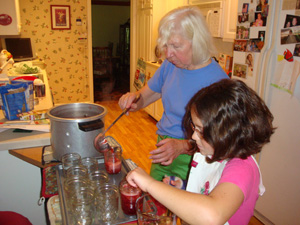 This year Eleanor passed forward the treasured family recipe for strawberry jam to her visiting nine-year-old great granddaughter, Elizabeth Dean, from Ramona, California, just as her mother and her grandmother before her had done almost a century ago.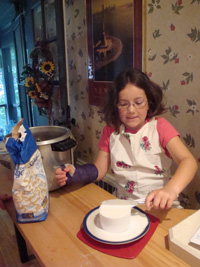 The Strawberry Rite of Passage, now transcribed for future generations, is more than just making great tasting jam, it's the experience of doing it for oneself and knowing where your food comes from, supporting local farmers and recapturing one of the lost home arts.
See it, Do it, Teach it
Collecting the necessary ingredients ahead of time, Eleanor's daughter Liz Ann and great granddaughter Elizabeth spent the afternoon teaching me how to make the deceptively easy jam, which I will now pass on to my daughter and our Huffington Post readers.
You will need:
8-8oz. Jam Jars, available at most grocery stores and hardware stores
1 packet of liquid fruit pectin (don't use the pre-sweetened type with this recipe)
1 brick of paraffin wax, melted in a disposable loaf pan
7 cups of sugar
¼ cup lemon juice either from a bottle or fresh
4 cups of strawberries that have been; washed, hulled & squished to make sure the hard stem root is removed.
In a 170 degree oven, place the opened jars (caps and rings removed) to heat, I know the directions on the jars say to boil them, but this is Eleanor's direction.
In an 8 quart or larger heavy pot place the strawberries, mixed with the 7 cups of sugar & ¼ cup lemon juice and stir while it comes to a hard boil. A hard boil is when the foam almost doubles and will not reduce by stirring with a metal spoon.
Add the packet of fruit pectin and continue to boil for 1 minute more.
Remove the jars from the oven, place a metal teaspoon in the first jar and carefully begin to pour the hot strawberry mixture into it, leaving ¼ inch space from the top of the jar. Use the teaspoon in an up and down motion to force the foam to the top of each jar, and continue until all 8 jars are filled. Remove the foam from the top and pour 1 tablespoon of hot paraffin on top of the mixture. Repeat the wax a second time once the first coating turns white. A few hours later, when all is completely cooled, place the ring & top on the jar, you are now ready to enjoy a taste of sweet summer anytime of the year.

Multigenerational Amish Tradition of Cooking
This brings back warm memories of when my daughter & I were paying guests at an Amish farm in Lancaster County, PA. One morning a large group of multigenerational woman met in my host's large kitchen, bringing with them crates of grapes with the intention of making a great quantity of grape preserves that would be shared by all families throughout the year. The following week they were headed off to another home to can or preserve another fruit or vegetable and they would continue through the growing season. Some traditions and the histories behind them are so worth preserving and passing onto the next generation, and this is one.

SUBSCRIBE TO & FOLLOW LIFESTYLE
Get top stories and blog posts emailed to me each day. Newsletters may offer personalized content or advertisements. Learn more