What to do with a Cantankerous Caiman and other Exotic's that no longer "Fit" In.
The economy may be damned, Congress and the vested parties maybe battling it out on the heath care front, banks are quickly recovering thanks to billions in TARP and stimulus funds, bonuses are being paid, credit card carriers are charging X-treme fees for no service and the country is trying to get back onto their financial sea legs, but meanwhile, what's up with all of the exotic pets? The Constitution gives no protection to the right to have a 10 foot Python or a Caiman with a bad attitude amongst others in your home.
Connecticut's Exotic Animal Amnesty Day at the Beardsley Zoo in Bridgeport, CT, was a multi-agency effort planned for months, fashioned after the Florida program, received a total of 135 turned in, no questions asked "pets" of various scales, feathers and fur types within the few hours of operation. The take included: 15 Pythons, 7 Alligators, 15 Boa Constrictors, 1 Anaconda, 1 Rattlesnake, 1 Caiman,1 Macaw, 1 African Leopard Tortoise, 1 Capuchin monkey, 1 Yellow Napped Amazon and other parrots, Sugar Gliders (Chipmunk sized marsupial from Australia), 1 Western Hognose Snake, 1 Paca (a vegetarian Piranha), assorted Iguanas, Ferrets, other snakes, reptiles and 1 opossum. Most of these animals are not illegal but certainly some have the potential for harm, either to themselves or their human owners.
Announced by the CT Department of Environmental Protection for Connecticut residents, Dennis Schain, DEP Director of Communications knew that this could be big, they fielded calls from CT, NY, MA and RI, but like hosting a party without a mandatory RSVP, he just hoped someone would show up: and they did.
This is a state of dog and pet owners who support an entire cottage industry of grooming, organic foods, even the services of pooper scoopers that make house calls to clean up what the owners don't have time to do. Owners of Black Market animals will still be keeping them, not one tiger was surrendered, but for those who may have been shocked at the rapid growth pattern of a captive animal, this gave some comfort that they are doing the right thing for their pet.
Susan Frechette, Deputy Commissioner of the DEP relayed how a family that had raised their turtle for 20 years from hatchling to the size of an X-large pizza to the landlord who upon evicting his tenants discovered an Alligator left behind.
"In recent weeks DEP's Environmental Conservation Officers have spent a lot of time removing unwanted or dangerous exotic pets from people's homes. In addition, there have been discoveries of non-native pets in waterways where they do not belong and where they can have an adverse impact on Connecticut's native plants and animal populations."
The cars rolled in from Connecticut and beyond, each animal with a story, some no longer worked for many reasons with the families, others who had outgrown their environment. All voluntarily surrendered to a new, appropriate facility where many will become part of an educational outreach of the Zoo, Zoological Park at Lionshare Farm or Rainforest Reptile Shows. None are expected to be euthanized unless there is a medical reason. Each was greeted by staff & volunteers, helping to escort the animal in their cages, boxes and Rubbermaid (the transportation mode of choice) bins. Intake included a detailed history, diet and info on temperament, the owners departed with tears and sadness, there was an attachment but they also knew they had brought their animal to a safe place.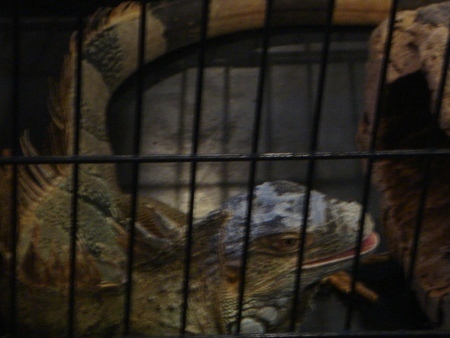 With State finances tanking, the DEP is not immune to the cuts, with several officers taking the retirement offer, the department is being stretched to continue to enforce the laws at state parks, respond to emergencies and investigate poaching along with their continued duties. The state's Black Bear population has risen from a few sightings to an estimated 300-500 bears in the state, along with a growing Beaver and Coyote population.
Don Goff, assistant director and exhibit curator at Beardsley Zoo, at an informal press conference after the day's offerings stated "This is just the tip of the iceberg, beginning as part of an educational process and with information people will be able to make wise choices." A few animals are less likely to be dumped on the side of the road.
Exotic animals came to the forethought of CT legislators after the Feb. 2009 Travis-the-200-pound-Chimpanzee mauling incident that left Charla Nash of Stamford, CT without most of her face and two hands as she continues to recover at the Cleveland Clinic in Ohio. Held up in committee, there has yet to be any vote to protect the animals, owners & public.
Nightmare Material:
Mike C. and his family from Griswold, CT was one of the last cars to pull into the designated drop off at the Beardsley Zoo's Education Building. Mike turned in his 9 & ½ foot long Albino Burmese Python, purchased 4 years ago in a Connecticut pet shop when it was just 18 inches long. His reason: the snake had pushed out of the enclosure, escaping and passed through his 3 month old baby's room before going into the bathroom, where Mike had located him when the family returned home. As a responsible snake owner, he immediately relocated the snake to the garage for the safety of his family. This occurred before news of the Florida toddler that was strangled by her mother's boyfriends' Python in her crib in early July.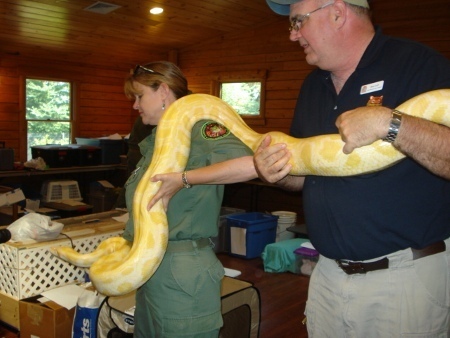 Florida is now grappling with a major Python issue; all of those cute hatchlings you can buy off the internet or at the neighborhood pet store and since released into the wild are now being hunted in the Everglades to reduce their growing numbers. As an environmental issue, an invasive of any type overwhelms the native population, knocking it out the balance and unable to defend itself. What is strange is some of the Southern states rules and regulations are more lax than some Northern states, yet animals and reptiles like the Python or Caiman can survive quite well in the warm moist environment not to mention the spread of disease carried and the risk of Zoonoses: an illness usually contained to a species that crosses species lines and infects a new unsuspecting population i.e. bird flu or H1N1.
A former co-worker of mine, "T" had a large Boa living in her apartment; Jake the Snake would sun himself on the 2nd floor balcony, until he went missing. She located him and found a new home for him, only after he ate the neighbor's cat.
Waiting with the others for the viewing & press conference, one reporter chatted with my daughter, visiting from Washington, telling a story that gave me chills when retold. His friend had a Python that would sleep next to her curled up but recently when she woke up she found her snake had stretched out alongside of her. When she mentioned it to her vet, he said: "Get rid of it immediately, he's measuring you!"
Just added to the ever mounting stories, from WTNH (CT ABC affiliate), a boy's baby pet snakes escape from his pockets while driving and caused a car accident, there goes his insurance!
So while to media is transfixed by stories du jour, Sarah Palin, the Birthers, swine flu, Professor Henry Louis Gates vs. Officer Crowley, healthcare, Madoff's billions in fraud, budget deficit, political sex scandals, states may want to take a deeper look into what constitutes a non-native "pet", how it effects public safety and whether the laws should be revised.
SUBSCRIBE TO & FOLLOW THE MORNING EMAIL
Start your workday the right way with the news that matters most. Learn more