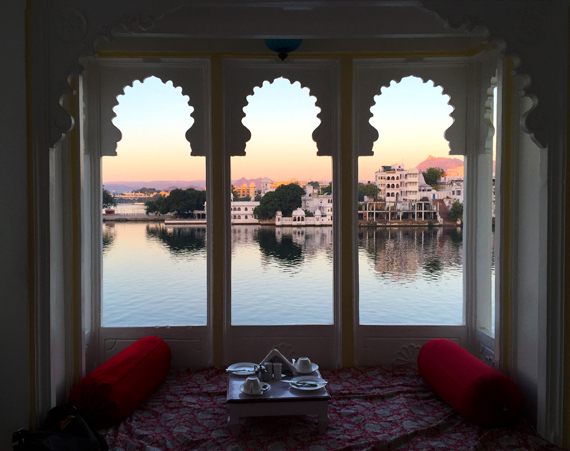 The view from our room at the Jagat Niwas Palace Hotel is so enchanting I could spend the rest of eternity here! When it was still dark, around 6 a.m., I heard the Call to Prayer echoing across the lake, then watched as the daylight slowly revealed the beguiling landscape, and bright bursts of sun washed down the buildings and the mountains in the distance. Our first breakfast was set against this backdrop with fresh fruit, elegantly displayed, strong coffee, a Masala omelette, and toast with jam. And every waiter or porter we've encountered has been sweet and kind. I've fallen in love with these people and this place!
Our guide, Adil Ali, met us in the lobby promptly at 9. He is a highly educated history teacher and a perfect traveling companion. He is a Muslim, but has a rich knowledge of the Hindu culture, and has shared great insights about the traditions and customs of the Indian people.
Our first destination today was the City Palace Museum, just a short hike up the narrow, winding streets from our hotel. At times we felt our lives were at risk walking here, as we dodged numerous motorcycles, small vehicles, and tuk-tuks. There were many times we had to jump back out of the way to avoid being hit! But that didn't stop me from loving the signage and iconography. One of the popular businesses here is tailoring: you can get almost anything made on the spot (or in a few hours) and they refer to this as "stitching".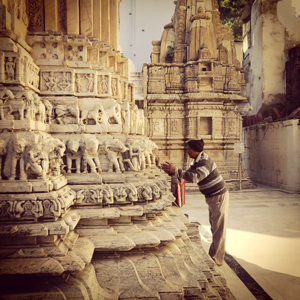 On our way we stopped at the Jagdish Hindu Temple which was built in the 5th century and is devoted to Lord Vishnu. Adil explained that Vishnu came in many incarnations, but the two primary ones were Rama, who killed the devil, and Krishna who came into the world to teach us about karma. There was a small group at the center altar chanting and playing music, and I was captivated by the strong devotional feeling they generated. I would have loved to sit down and join them for a few hours, but our group pressed on.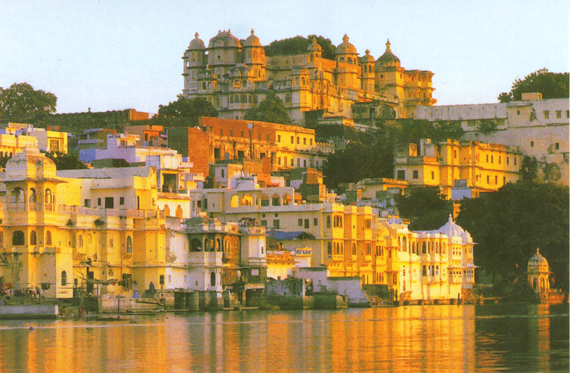 The City Palace, at the top of the hill, is an enormous structure built primarily in the Moorish style. The history of the wars between the Muslim (Mogul) king's forces and the Hindu Maharaja's forces for ownership of this territory is very complex. The story of the bloody battles is lengthy, and what I came away with is that the Maharaja's army won, this town was founded in 1570, and the Palace was constructed over 400 years. As such, it is a fusion of Moorish, Rajasthan Hindu, Chinese, and Renaissance (modern) architectural styles. The scale and grandeur of the building is overwhelming!
Inside, you weave around small tunnels that Adil explained were part of their defense system. Suddenly a tunnel will open out onto a huge tiled courtyard with elaborately carved screens, where the royal women would watch the proceedings. Huge rooms with tiled walls and mirrored ceilings were festooned with richly embroidered fabrics and colorful carpets. The mirrored mosaics on the walls would reflect the candlelight at night, so the rooms would be ablaze with light and color.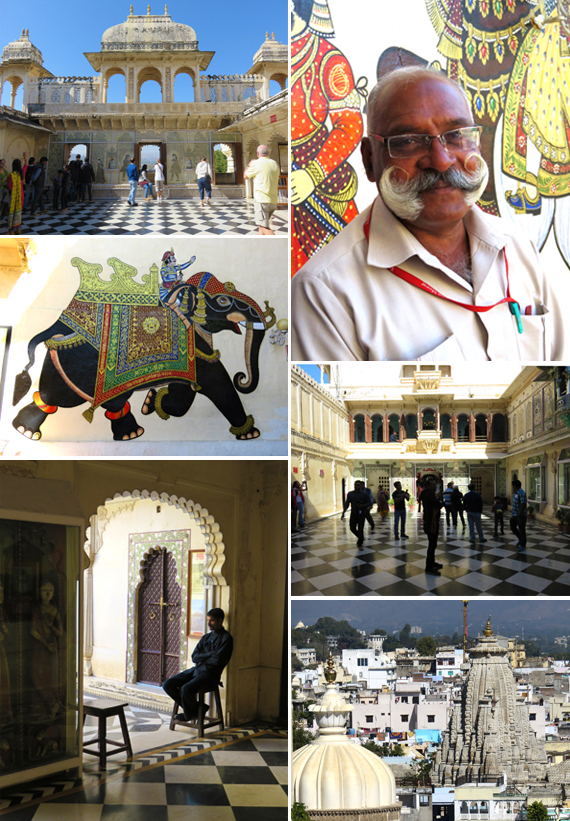 It's fascinating that when Indira Gandhi came into power in the early 1970s she decided that these palaces, owned by the Maharajas, should become the property of the Indian government and turned into museums. The people agreed and the Maharajas were forced to find other ways to survive. Today we saw the elegant home of the royal family as we departed the Palace, and were told that they now own and run some of the most expensive hotels, which were former palaces not taken by the government.
Adil took us to a lovely restaurant for lunch called "Aroma". We sat under large decorated tents in a walled, grassy area with shade trees all around. We've loved ordering various items off the menu and sharing a combined feast. Today we savored Chicken Tikka ( tender bites of oven-roasted chicken), Paneer Pasanda (spinach puree and cottage cheese with cumin and "chilly" curry - my favorite), Navrata Korma (mixed vegetables cooked in a mild cashew nut gravy with a combination of fruits and nuts - stunning), basmati rice, and garlic nan (our new "must have"). I would highly recommend this restaurant: great quality, delicious flavors and so affordable! (This is another plus for visiting India - we can't believe the quantity and quality of food we've had so far and probably haven't spend more than $15 per person on even the best meal!)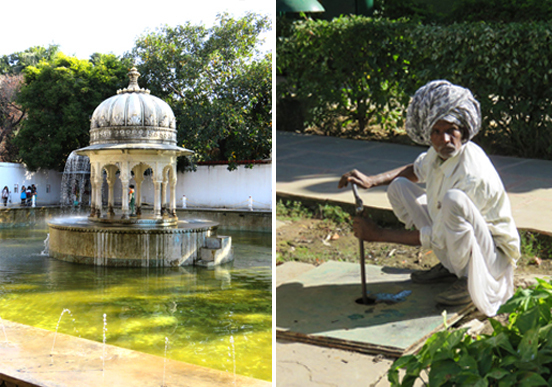 In the afternoon we went to a beautiful garden called "Sehelion ki Badi". According to legend, the king's daughter wanted a place where she and her girlfriends could play and hear the sound of rain falling any time of year. She demanded that her father make her a private garden playground, so this is what he created! There are streams of water shooting up out of the pavement, all around the walkways, and it absolutely sounds like rain falling! The most amazing feature is the walled pool area where she and her friends could swim (or just play in the water) without any cares because no men were allowed to see them here. The surrounding gardens are vast, and this certainly is an oasis in the heart of a large city.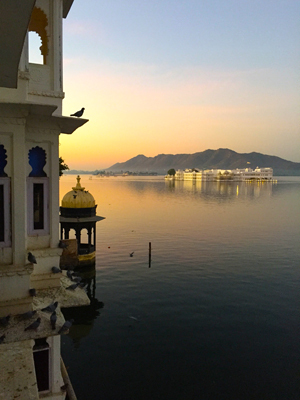 Thank goodness we had an hour or so to rest before venturing out onto Lake Pichola for our sunset boat ride. I had been anxious to get out there and experience the views, and it certainly met up to all my expectations - how great to get an overview of this magnificent city from the water.
I shot this photo just before we left our room for the boat ride. That is the Taj Lake Palace Hotel in the distance, formerly the Lake Palace of the Maharana Jagat Singh II, constructed in 1743.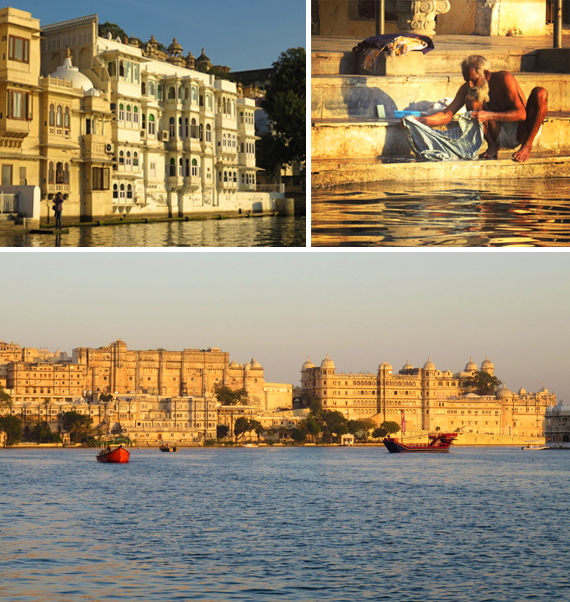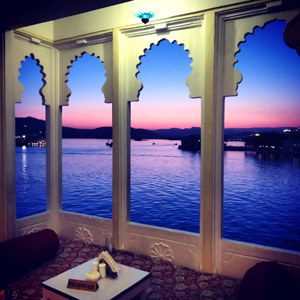 The evening was capped off with another amazing dinner at our hotel's rooftop restaurant, and we were once again delighted by the food! I will be sad to leave this enchanting spot, but tomorrow we depart for Deogarh, on our way to Jodhpur - another day on this amazing road trip through Rajasthan.
Mary Anne Erickson is an artist who has been documenting the demise of the American roadside culture for over 30 years in paintings and photography. Her work can be seen at www.vanishingroadside.com.
SUBSCRIBE AND FOLLOW
Get top stories and blog posts emailed to me each day. Newsletters may offer personalized content or advertisements.
Learn more