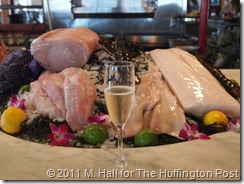 Pictured: Fresh seafood at the Blue Water Grill in Redondo Beach.
The Blue Water Grill at King Harbor in Redondo Beach has long been a favorite of mine. I typically eat there several times a month because of their delicious, fresh seafood. However, I had no idea how committed the restaurant was to fresh seafood until I attended their recent "Sustainable Seafood Summit."
What does the term sustainable seafood mean? Basically, it is the practice of fisheries and fishermen using environmentally responsible harvesting methods. Blue Water Grill chooses species of fish for their menu that they are confident are sustainable in the area from which they are harvested. The goal is to ensure that we are protecting the future of the delicious fish that we like to eat. And that is important. If some of nature's most delicious fish are farmed out and not replenished, then we will no longer be able to enjoy them. How lonely would dining life be without swordfish, Chilean sea bass or fresh lobster? Your waiter at Blue Water Grill can tell you that Atlantic swordfish has been safe to eat since 1999 and that Chilean sea bass from Patagonia is no longer an endangered species.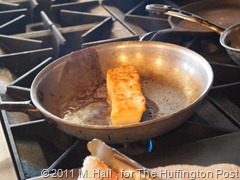 Pictured: Chilean sea bass sauteed in butter and olive oil.
If you see fish on the menu at Blue Water Grill, you can be confident that it is safe to eat, and not an endangered species. Owner Jim Ulcickas explains, "Currently Bluewater Grill's menu is 85 percent certified sustainable, by Aquarium of the Pacific or the Monterey Aquarium, but we won't be satisfied until we reach 100 percent." So dedicated is the restaurant to serving fresh fish, they even have their own fishing boat in Redondo Beach that goes out and brings fresh fish into the restaurant direct from the Pacific Ocean.
But beyond fishing responsibly and conservation goals, there are other compelling reasons to eat at Blue Water Grill. As a regular customer, I can tell you that they have delicious salmon, amazing salt and pepper shrimp (as good as any in Chinatown), incredible cedar plank roasted salmon and farm raised mussels served in a spicy Thai green curry sauce.
Their weekday happy hour specials featured $4, $5 and $6 drink and appetizer specials. Their wine list includes a very special Acrobat Oregon Pinot Gris by King Estates, which nicely compliments their seafood. On the weekends, look for their Bloody Mary bar where you can top your drink off with an assortment of spices, peppers, olives and more. There are many reasons to try Blue Water Grill, but the foremost one is the food is delicious and the ocean setting is serene -- an oasis of calm in a hectic city.
Follow Mary Hall on Twitter: www.twitter.com/Recessionista