A new "Visit Hollywood 2010" program has launched to celebrate all the unique attractions that make both visitors and Los Angelenos want to go Hollywood. This year marks a new era in Hollywood as new enhancements to the area continue with landmark anniversaries, the opening of attractions, the introduction of new and remodeled hotels. For those of us that like to search the web for deals, there are now two new websites offering discounts and special offers to visitors. Its a plethora of savings!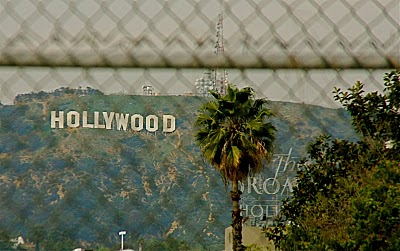 "Hollywood is one of L.A.'s great gems and for generations, it has been a magnet for visitors from all over the world,'' notes Los Angeles Mayor Antonio Villaraigosa. "There has never been a better time to visit Los Angeles and experience all the attractions Hollywood has to offer.'' Click here to hear more from the Mayor via a special video.
Mayor Villaraigosa isn't the only one with an appreciation of Hollywood. Hollywood is one of my favorite places in Los Angeles. There's no other city in the world that has Musso and Frank Grill (with a vintage menu to match its vintage decor, the original film makeup studio (Max Factor), a Japanese temple turned restaurant, an outdoor concert venue (the Hollywood Bowl) and a magic club that was Houdini worthy. Plus, in case you haven't heard , the ghosts of Marilyn Monroe and Montgomery Cliff are said to walk the halls at the grand old Hollywood Roosevelt. And it was at the Roosevelt that the first Academy Awards were held. Hollywood gave us the glamor of the movies. It was at El Capitan theatre on Hollywood Boulevard that Citizen Kane premiered. Just as they did during the Great Depression, the movies provide a welcome escape for everyone from troubling news in the world. For a few hours, you sit in the dark looking at the big screen and you are transported to another time, another place and a whole different situation than your own unique present. It's truly magical. It seems only fitting to launch a program offering a new appreciation of Tinseltown in the midst of the recession.
Despite the current economy, 2010 marks the 50th Anniversary of the famous Hollywood Walk of Fame, the recent opening of Madame Tussaud's Hollywood, the 25th Anniversary of the music world's landmark, Rock Walk, and the introduction of the world's largest 3-D experience, the new "King Kong 360 3-D" created by Peter Jackson. There are new attractions and the reopening of sets and film locations on Universal's famous backlot. Everyone knows the Universal backlot is where Moses really parted the red sea. The "Visit Hollywood" program promises more special discounts throughout the year to help stimulate the local economy. Look for vacation information, discounts and travel packages on websites, www.ExperienceHollywood.com and the official visitors information website of Los Angeles at www.discoverLosAngeles.com.