THE BLOG
Fashion Suite Francais: Milly Fall Collection 2010
Designer Michelle Smith served up a delightful french confection of a collection at New York Fashion Week. In case you haven't heard, Milly is the adorable, feminine clothing collection from designer Michelle Smith. In 2009, Jill Bidden wore a $360.00 (US price) Milly dress to the Inauguration Day lunch. That style and price point is typical Milly-- a great dress for under $500.00, worthy of a state dinner or red carpet event. Last year, Michelle Smith took a recessionista stance by lowering prices on her line by 10%. She is very aware of the current challenges for designers and the deep discounting necessary to get the clothes off the racks and into the hands of customers.
The super stylish Michelle worked at Paris fashion houses Hermes and Dior. So its no surprise that Paris inspires her collection. She says, "For my fall collection, the artsy, chic girls of Paris ' Left Bank are my inspiration, in a combination of luxe fabrics, clever techniques and cool attitude."
Last week, Milly sent over sketches showing her inspiration for the collection as clearly Left Bank based.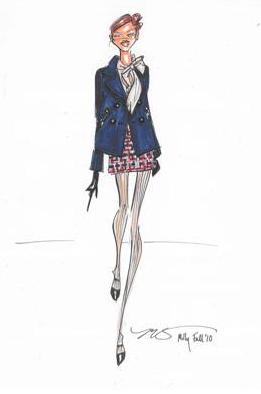 Pictured: Milly's Left Bank Chic shows in a sketch from her 2010 collection
Her full collection fulfilled that inspiration. There were little berets, short jackets, midnight blue dresses and collarless jackets worthy of Chanel. Her collection was beautiful. Best of all, it will be accessible to shoppers via department stores like Bloomingdales, with prices within the recessionista range. I could see her clothes on Jean Seberg in a Jean Luc-Godard movie. And no wonder, French cinema and film influenced her vision. "Godard's artsy, chic women serve as my muse this season, with their clever combinations of bold hues, clean, modern silhouettes and feminine, cool attitude," notes designer Michelle Smith.
The bold hues came in part from the brightly colored hosiery that complimented the collection. There were cobalt blue tones and forest green along side traditional black tights strutting the runway yesterday at the Milly show. Milly partnered with Hue to bring bright, patterned and detailed tights to her collection. Here are some of my favorite looks from the collection. When I look at them, I just want to sip cafe au lait.