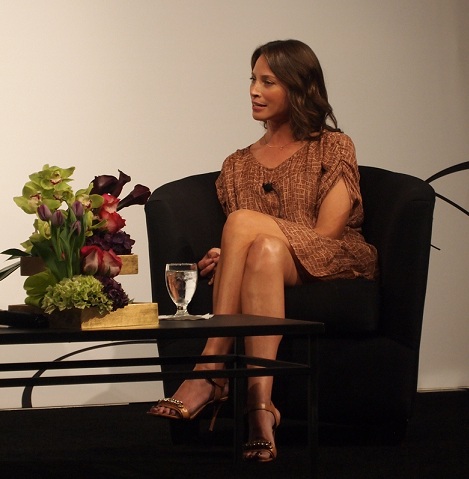 Pictured: Christy Turlington discusses her documentary "No Women No Cry." (photo: M. Hall)
Christy Turlington is one of the most recognizable faces in the fashion industry. We typically associate her with brands like Calvin Klein or Maybelline Cosmetics. But soon, she may be the face of a more serious issue. That issue is maternal health care. With many women around the world still dying in childbirth or struggling to find adequate, not to mention affordable maternal health care, this is an issue that merits serious attention. In the words of Ms. Turlington, "All women deserve access to good quality health care." Her first film, entitled No Women No Cry, shows the struggles women around the world from Tanzania, to India to the United States face when trying to give birth safely.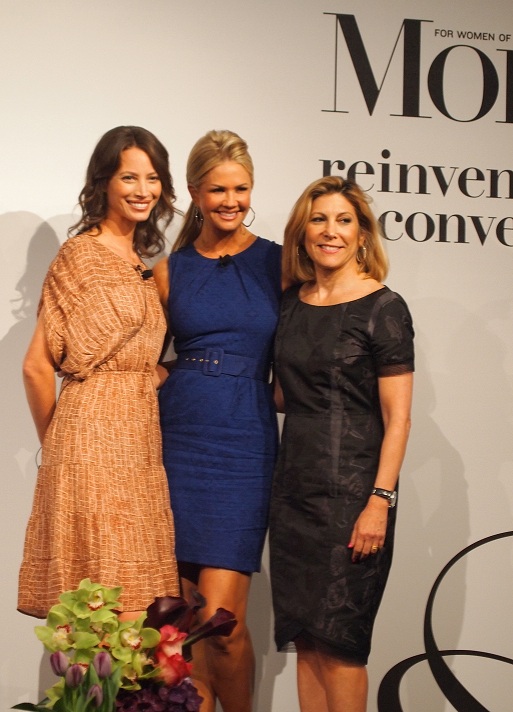 Pictured: Christy Turlington on stage at the More Reinvent conference with Nancy O'Dell and More Editor Lesley Jane Seymour. (photo: M. Hall)
Ms. Turlington appeared at the recent More Reinvent conference in Los Angeles to discuss and show her documentary. To say that the documentary is an eye-opener is an understatement. In this day and age we don't think that any woman would walk five miles to a hospital to get medical care to deliver a baby. Or that a woman would go to a hospital and not be able to deliver a baby because there is no doctor on staff who can perform a C-section or deal with pregnancy complications. But these are the types of stories that No Women No Cry shows. Filmmaker Turlington's documentary follows four pregnant women in very diverse parts of the world through their journey towards a safe delivery. The film profiles a woman in a remote Maasai tribe in Tanzania, a woman living in a slum of Bangladesh, a doctor working in a post-abortion care ward in Guatemala, and perhaps most surprisingly a prenatal clinic in the United States. In each scenario, different challenges confront each woman. The viewer learns quickly that safe and painless childbirth is not as normal as we believe. Indeed, the film presents the shocking fact that every 90 seconds a woman dies from complications due to pregnancy. Even more shocking, 90% of the deaths are preventable. The film No Women No Cry is being shown on the Oprah OWN Network. If you have the opportunity, do tune in to OWN to see this rare and interesting look at a subject that is not discussed often enough. You can also view the movie's trailer on YouTube.
To learn more about maternal health care, visit Ms. Turlington's foundation Every Mother Counts online. The foundation is a continuation of the work of the film, to show viewers and organizations how to organize to make a difference. "When people feel something, when they see a film," notes Ms. Turlington, 'You need to help them figure out what to do about it." With her film, Ms. Turlington is definitely helping women, and people all over the world, figure out what to do about this issue by raising their voices and contributing funds to a very specific cause.
SUBSCRIBE TO & FOLLOW LIFESTYLE
HuffPost Lifestyle is a daily newsletter that will make you happier and healthier — one email at a time. Learn more