Today I am crying bitter tears as I look at my voucher for my tax refund from the State of California. Don't be shocked dear readers, but when I'm not out shopping, I do try to balance my checkbook and count my pennies. These are mundane tasks, but as necessary for living well as searching out thrift stores for my beloved Chanel. If I could outsource the task, believe me I would. But sadly, I can't afford it. And, let's face it, no one cares about my money as much as me! But sadly, thanks to our recent California budget crisis, I now have less money in my savings fund. T.S. Eliot wrote that April was the cruelest month, but I really think it's now July!

Last time I went to a financial advisor, they tried to sell me a bunch of "load" mutual funds that would've netted them a nice commission with questionable ROI for me. Instead of taking the sales advice, I bought a book on financial planning, opened a low cost brokerage account and made some thrifty investments in no-load funds. These days, instead of buying books, I'm more inclined to surf the Internet to find savings tips.
Recently, using my web research skills, I compiled some simple tips for getting your finances in order that might be of help to the State of California. If only Gov. Schwarzenegger and the California legislature had used these tips, perhaps the state of Cali-fornia would not be on the brink of disaster. ( I say this as I look at my "voucher" for my California tax refund, which I can cash in maybe around Christmas 2009.)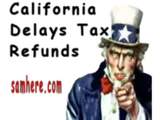 When the world's 8th largest economy can't pay their bills, it's time to take a look at the finances! In order to help my beloved state of Cali-fornia, here are a few helpful tips for the Governor and the state legislature.
Budget Tips for Cali-fornia
Assess Your Health: Gather all important financial statements and review what you own, your assets, and what you owe, your liabilities. Look carefully at how you're putting our hard-earned cash to work -- what the state is earning, spending and saving. Please set aside some time every few months to file important papers and keep them organized.
Know Your Numbers: Your credit score is a key indicator of your financial health. It's a primary criteria used by lenders to determine your likelihood of defaulting on a loan and that may impact your ability to get many types of financial assistance.
Set Your Goals: Once you know where you stand today, set goals. Short-term goals are those you'd like to accomplish within one year (e.g., pay off state debt ); mid-term goals, within 5 years (e.g., balance the budget); and long-term goals, 5 years or more (e.g., save for future investments like 405 Freeway Repair, Earthquake Relief). Write these down, using a simple Excel spreadsheet to help you clarify and prioritize your financial goals.
Protect Yourself: Maintain appropriate insurance coverage. Very important right now.
Conduct Annual Check-ups: Review the state's finances on a regular basis with all the peeps in Sacramento. Try to build relationships with them so you can gain consensus to help pass new budgets, and resolutions. Invite them to your parties. Give them DVDs of your old films. Remember financial well-being requires on-going maintenance to stay in shape. (Just like you had to go to the gym a lot when you made The Terminator series of films.)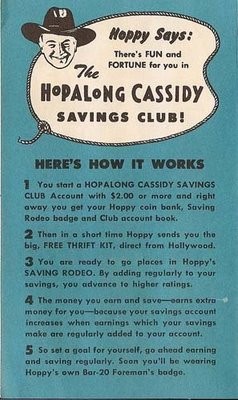 Pictured: A Poster for the old Hopalong Cassidy Savings Club
Regrettably, the days of the Hopalong Cassidy savings club have passed and we all have to come up with our own savings club! Governor S, have you studied the old Hopalong Cassidy savings club ? I'm thinking this might be a good model for California to follow. I'm thinking everyone chips in $5.00 to join the California savings club, then you give them a Gov. S "thrift kit" with old Terminator pictures and movie trinkets, and then you put the money that is raised into the budget fund. What do you think? Do you have any payments from your Japanese commercials that you might want to deposit in the fund? It might be a good tax write-off. As the Gubernator once said, "All of us have to work smarter and better and use our time more wisely." I know you are working hard making those commercials, so maybe you might want to invest some of your earnings. Think about it.
SUBSCRIBE TO & FOLLOW TRUMP'S FIRST 100 DAYS
How will Donald Trump's first 100 days impact YOU? Subscribe, choose the community that you most identify with or want to learn more about and we'll send you the news that matters most once a week throughout Trump's first 100 days in office. Learn more