An Obama platform meeting in Mesa, Arizona hosted by Kit Filbey and Paul Ingle.
Prior to the event Kit described to me that she hopes the participants will all have an opportunity to make an input and that they will feel good about having attended this meeting.
This event was open to the public, but one needed to sign up for it. On July 19th when I first interviewed Kit, she expected about 40 or 50 people. By July 25th she had about 80 signed up. The tendency is that fewer show up than the number that signed up. It is remarkable that nearly 100 people came. And it was a very diverse crowd.
"Why are you organizing this event?"- I asked Kit. Before I let you know her answer, let me tell you that she is Chair of Legislative District 19 and a true leader. She and Paul regularly open their home for meetings and fund raiser parties for Democrats in the area. Kit told me that she finds this event very important both as Chair of LD19 and as an Obama delegate to the DNC, which she is. Additionally, this is what she does best. Indeed as a Democrat myself and a Precinct Committee Person, I can attest that Kit is indeed an excellent organizer and host. She has a kind smile and a kind word for every guest. She also knows how to get things done. She is a real leader.
The venue, as I mentioned at the top of my report, is their private house. This time thankfully the house was a bit crowded. Indeed, citizen interest has exceeded expectations. As the meeting progressed and attendees broke into groups (as opposed to all being in the living room), each group had adequate space to do their activities.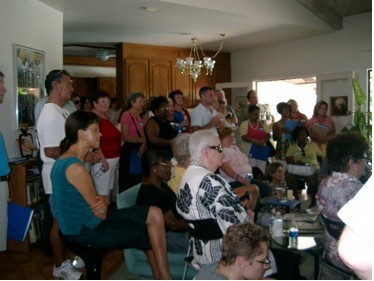 Note, the elderly woman in the middle said, she was a Republican for 87 years. Disappointed in Republicans, she is now a Democrat.
When guests arrived, they signed in and received a packet provided by the Obama campaign. Among the items were three stickies. In the living room there was a chart with a list of issues. The attendees were asked to mark three issues (using the sickies) that are most important to them.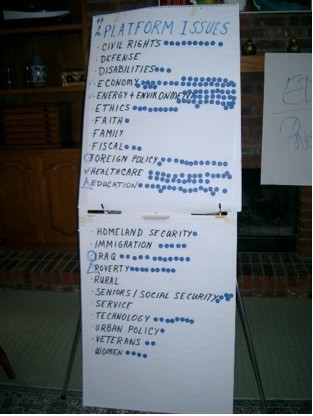 This chart greeted us as we came in. At time of photo it was not yet complete, because more people came afterwards. Some of the people had to park on other streets, because Downing str. was full with cars as a result of this event.
The Obama campaign and Gov. Janet Napolitano's office helped organize this very well structured event. (The governor is one of the early supporters of Obama's candidacy.) There were two professional facilitators, Jeremie Hill-Gray and Leslie Orr. The other facilitators participated in a training and planning workshop prior to this event. In addition, Kit attended a platform meeting with the governor. There were five groups where people could make an input and discuss their issues. The groups were as follows: Education and Poverty; Healthcare; Energy and Environment; Economy (the largest); Foreign Policy and Iraq. Other issues were included in these groups, for instance the Economy group would also discuss Social Security and issues for senior citizens.
Respectively the facilitators for the groups were: Kathleen Rahn, former Chair LD19; Beverly Fox-Miller, Chair of GEMDEMs; Leslie Orr, Jeremie Hill-Gray and Kit Filbey.
Two representatives came from the governor's office: Amy Schlossman and Abby.
Amy spoke at the beginning about the goal of the event just after Kit's introduction.
Abby and Amy observed the event almost to the end.
I talked to several attendees Nancy Steptoe and Douglass Brown are educators and along with me attended the Education/Poverty group discussion. They pointed out that education is the road out of poverty. I also talked to Cynthia Preston, who came with her husband and two little girls. She hopes the next president will inspire and lead the struggle to solve our energy and environmental problems. Jenny Marwig had a very good impression about the meeting and she hopes to have made an input.
Retired Foreign Service Officer, Sharron Wilkinson delivered a short speech toward the end, after the groups all came back into the living room. I too had a comment while attending the Education/Poverty group discussion. I feel that in public education we have way too many administrators and we don't have enough adult professionals in the classroom. Administrators should not abandon the classroom for good. Their jobs should incorporate active teaching in the classroom. That would improve discipline and keep the administrators in touch with reality. We need a better teacher/student ratio.
At the end of the event each facilitator summed up their findings and explained how the information was going to be used. The general opinion was that the event was bigger than expected, more fun than expected and well organized. They were putting the final touches and saying goodbyes when I left. And the street was still nearly full with parked cars. I personally feel that we were making history right there in that house. Last, but not least there were refreshments, pastries and fruits in abundance.