"There has never been a time in history when something in the ocean wasn't food."
-- George Orbelian, Co-founder of Project Kaisei.
The Garbage Patch, or Plastic Vortex, is a huge area of floating plastic garbage that stretches hundreds of square miles northwest of Hawaii in the ocean's No Man's Land. While it was discovered about ten years ago, scientists don't have much data about this remote area of the ocean. Project Kaisei just launched a unique expedition to study and document The Pacific Ocean Garbage Patch, sending their two ships off on Sunday and Monday, Aug 2nd and 3rd. The effort is a very unique collaboration between the international non-profit Project Kaisei, dedicated to finding solutions to this global challenge, and scientists from Scripps, the world-renowned UC San Diego Oceanographic Institute.

I visited the Scripp's research ship, The New Horizon, in San Diego on Saturday and spoke with the scientists as they were preparing for the voyage. They were testing and packing all their nets, equipment for deep-water collection, and hundreds of jars. They were excited to be part of a research project that had a larger context with the work of Project Kaisei -- their data won't get overlooked in a journal but will be immediately used to find solutions and raise awareness.
The scientists are an impressive team of grad students, led by Miriam Goldstein and her faculty advisor. They are studying an array of topics from the plastic's toxicity to its impacts on plankton, the food chain, fish, sea birds and whales. Miriam explained that the research team was going to target high plastic areas in order to understand the worst-case scenarios. They will measure how much plastic there is, what kind and size, and what animals are associated with it. "
Miriam said, "The scientists are collecting the basic research data that people can do other things with. We make the numbers. It takes a lot of work to make a fact. So it's exciting to see it go out in the world and get applied".
"Birds are opportunistic surface foragers who eat floating plastic garbage thinking its food", said Andrew Titmus, who will be tracking which bird species have a high susceptibility to plastics ingestion. "Plastics also attract magnified levels of toxins such as DDT, pertro residue, and flame retardants, even more than normal sediment", said Chelsea Rochman, who will be measuring how toxins stick to plastic, and how the chemicals transfer into the tissue of the animals that mistakenly eat plastic. They have both already started taking measurements off California's coast to be used as a baseline against the high plastic areas.
All of the teams movements across the ocean can be followed on a Google earth site that tracks where the ships are allows the crew to upload short video clips right from iphones.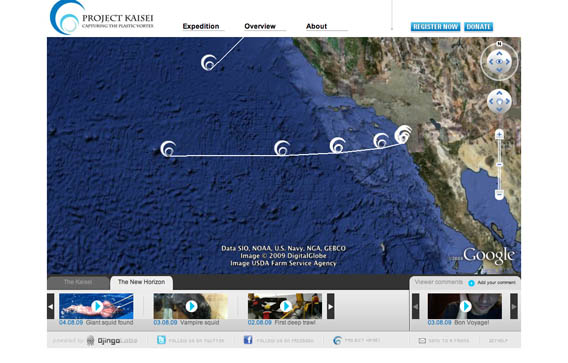 I also just received email news from Projects Kaisei's founder, Doug Woodring, on their 3rd day at sea on the Scripps ship. Heading west from California they've had calm seas and have been able to get into a rhythm of day and night shifts of sample collecting.
Woodring wrote, "So far we have some interesting sea life, a very cute vampire squid which is black and about the size of a small guinea pig with wings. ... We've already done over 36 hours of sample trawls, and are now on our quest for the gyre which is still about 4 days away. ... We have also started acoustic tests for marine mammals, allowing us to listen with six types of microphones for a variety of dolphins, porpoises and whales. So far it has been working well, and just after deployment we heard the clicks of dolphins just near the boat. Low and behold, as we ran out to see them from the upper deck, there they were. It was like playing a video game, and then going into "reality" and seeing them right in front of you, instead of on the screen".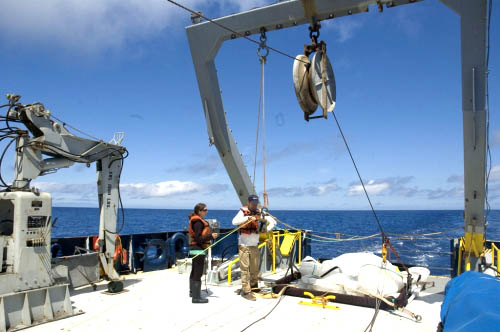 Almost every scientist I talked to acknowledged that the only way to stop the consequences of the plastic garbage pollution is to prevent it from getting into the ocean at its source. When I asked Andrew what he could do when he knew which species are most at risk, he sighed, "The problem is we can't stop the birds from eating the plastic. My hope is that raising awareness will help us reduce plastic consumption, especially for single use items".
The world is starting to realize that there is no "away" when it comes to garbage. Interest in recycling is booming from Mexico City, who just started their first massive recycling program, to The World Federation of Recycling, that helped fund Project Kaisei's expedition. Project Kaisei hopes to find ways to clean up the garbage and recycle it into fuel. "There are so many good solutions out there", says George Orbelian of Project Kaisei, who created the original ocean flag, "We'll compile the data into a content management system and we'll look at what's best for the environment".
Stay tuned for more news about the Project Kaisei as the ships arrive at the Plastic Vortex.

SUBSCRIBE AND FOLLOW
Get top stories and blog posts emailed to me each day. Newsletters may offer personalized content or advertisements.
Learn more