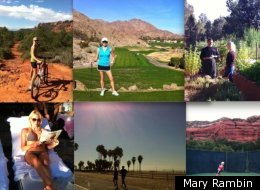 Right now you're starting to think about spring and summer vacations with one thought in mind: I need to plan ahead so I can get decent airline rates.
In this slideshow, I'm offering you five amazing places you can go without possibly without ever having to consider a flight, let alone an expensive one.
Each less than two hours outside of a major city, these destinations offer gorgeous landscapes and entertain singles, couples and families for a reasonable price. I love them all just as much as my Mexican hideways!
Local Spring Breaks Escapes
It's hard for me to go on vacation and do absolutely nothing. What I love about the following destinations is that they offer you a sanctuary to relax as well as a variety of activities!

A gorgeous drive east out of Atlanta on Highway 20 will lead you to the Ritz Carlton Renynold's Plantation, a property that includes a renovated "Lodge" resort, three golf courses and the cleanest lake in Georgia. I know what you're thinking when you see the Ritz brand, but a room is not ridiculously expensive. Quite the opposite. In fact, you'll probably get multiple rooms or one of their six bungalows to take the family for an extended stay. The golf courses are beautiful and challenging (Great Waters has been said to be on bucket lists), but there are many other things to do as well. The lake provides so many opportunities in the warm-weather months. For the kids club they have an extensive list of activities such as sports on their multiple courts, ski lessons, science experiments, nature walks, golf lessons, playgrounds, etc. Their event calender -- that includes lakeside concerts by bands you would recognize (like Zac Brown) -- is impressive. Adults can enjoy the same, as well as the multiple bars that surprisingly have energetic patrons watching sports and taking shots. The food in the steakhouse is exceptional, but the other restaurants serve up typical "resort" fare. When you're ready to relax, the award-winning spa delivers as a peaceful sanctuary.

The Inn at Dos Brisas is more of a ranch than an "inn." The expansive property houses eight individual casitas (video tour of mine here) with fireplaces and several multi-bedroom houses featuring private pools. Europeans make their way here for not only the quiet countryside, but also the artistic and inventive food implied by the Relais & Chateau designation. (See my pictures here.) All of the veggies are grown on their farm which you are invited to visit and collect a basketful to take home. The nightly rate is high, but you should know it includes a home-made breakfast in bed, a golf cart to drive around, all of your activities (horseback riding, cooking lessons, gardening, skeet shooting, fireworks, etc.) and a three-course lunch. You will only pay for drinks and dinner additionally. I have to say, this destination is perfect to rent out for a wedding or a corporate event because the owners and staff are so friendly and accommodating.

This gorgeous stretch of wine country just two hours north of Los Angeles is not exactly kid or teenager friendly, but it's an easy city escape. Sample delicious wines at the local vineyards (I like Zaca Mesa, Firestone and Brander) and the tasting rooms in Los Olivos. Don't miss the interesting blends from Cocoliquot or reserves from Au Bon Climat there. Stay active and enjoy the beautiful scenery with a bike ride. Rentals are available in town. If you're up thrills try paragliding with an ocean view. I did! Stay at the Santa Ynez Inn, where my friend Rick the manager will give you 20% off for mentioning this article. Click here for my complete guide to the area.

All of the accounts you hear about Sedona being a magical vortex that generates unimaginable energy is true. I didn't believe it until I made the two-hour drive north of Phoenix to find The Enchantment Resort nestled at the base of the breathtaking red mountains. I've never heard quiet, true quiet, like this before. Voted one of the best U.S. resorts several years in a row, you are truly able to check out of the real world and enjoy the natural environment. There are several different accommodations. I would recommend the casa I stayed in for families. See my tour here. Hiking is only one of the many things to do here. You can play tennis, bocce ball and ping pong; take yoga classes; go mountain biking on the surrounding trails; sunbathe at three pools. See my experience here. The award-winning Mii Amo Spa is a destination worthy of its praise from travel magazines. You can either use it for a la cart services or reserve a room here to embark on a journey of renovation, detox and emotional exploration. I ate at Mii Amo all three days of my stay because the chef, Corey Shoemaker, prepared the most eventful healthy dishes I've ever tasted. Get some of his recipes here.

The Resort at Pelican Hill in Newport Beach California is well deserving of its title as "The #1 Resort in the United States" from Conde Nast Traveler. See my HuffPo slideshow review and commentary here. The Italian-style oceanfront property set on rolling green hills is not just a golf lover's paradise. You'll find so many other features to entertain you! There are two challenging Tom Fazio-designed golf courses tailored by multi-colored valleys. Thankfully there is a complimentary forecaddie per group and a golf academy to improve your skills. The other amenities are just as impressive and entertaining. I love the 136-foot-diameter pool (above) lined with notably fit guests sipping drinks and swaying to the Jimmy Buffet cover band. There are several restaurants and even a sports bar, but make sure to dine at Andrea, the signature Italian restaurant that creates everything by hand, including the olive oil from the trees on property! The spa has garnered five stars from Forbes several years in a row, so I don't need to tell you to take a load off there. Should you want to leave, the town of Newport Beach is only minutes away. The kids club has programs I would have enjoyed, while Camp Pelican has a separate pool, cultural activities, movie nights and local excursions for kids up to 18. For families and extended stays, there is the private neighborhood of free-standing houses, a private pool, restaurant and bar. John Wayne airport is only 20 minutes away for easy access and rates are surprisingly affordable. It's a no-brainer for a couple's weekend getaway or family vacation. Look into their special packages. They don't pinch pennies so most of the small stuff, like valet parking, is complimentary.
Follow Mary Rambin on Twitter: www.twitter.com/MaryRambin