Been out in the rain and cold (60 degrees at noon in LA is like 30 below anywhere else) looking at lots (but admittedly, not all, and nobody can make that claim) of shows in the galleries around L.A, here is what sticks out after a few long days and even a few nights out there. But before I release the report card, props have to be sent to James Panozzo at LAUNCH L.A. and Merry Karnowsky for sponsoring a fundraiser for artist Jayme Odgers who suffered a severe and debilitating medical emergency in January. On February 19, the La Brea Boulevard LAUNCH space hosted a sale of Odgers' art with all proceeds going to the artist to help cover the cost of treatment. The prices were a bargain and when I got there an hour into the event the gallery had already rehung the show as they had sold everything on the walls from the first hanging. It was great to see the local art community come together for someone in need; Jayme's girlfriend (and fellow HuffPo blogger) Lisa Adams organized the event under great duress. Get well Jayme!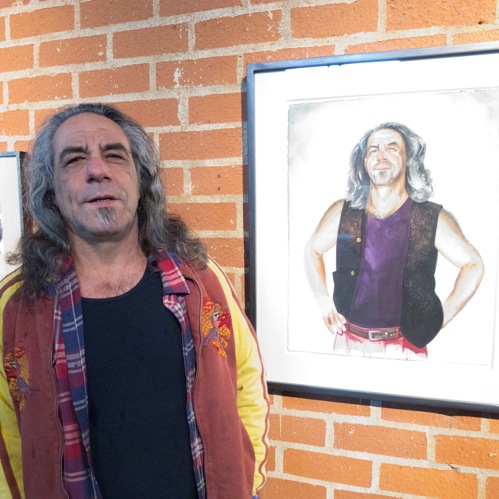 Art World Legend Billy Shire in front of a Jayme Odgers portrait of him at the LAUNCH L.A. benefit for Odgers.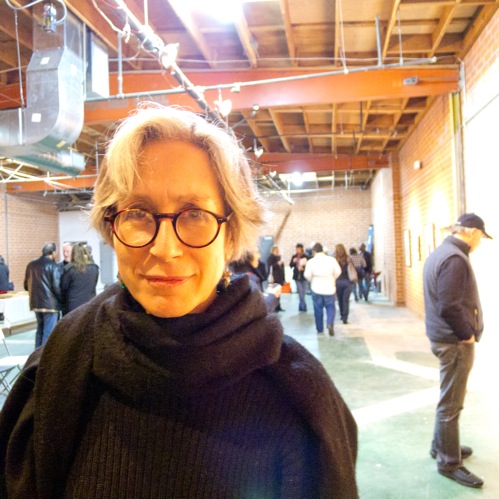 Artillery Magazine columnist Ezhra Jean Black at the LAUNCH L.A. benefit for artist Jayme Odgers.
Okay, and now on to the March, 2011 L.A. Gallery Report Card...
Honor Fraser Gallery: William Lamson "A Line Describing the Sun" video installation
A landlocked Spiral Jetty. A thirteen-minute double screen art video in a gallery's darkened side room? Usually I run the other way. But in the spacious confines of the gallery, this mechanical magic was rapturous as the artist uses the sun to literally burn the desert sand into a black glass line.
Grade: A plus

Excerpt from William Lamson's A Line Describing The Sun video
Cherry + Martin Gallery: Robert Heinecken
A major upgrade is coming to the art history textbooks as this overlooked groundbreaking conceptual photographer is revealed to be a cerebral sensualist and master of deadpan deconstruction. Part two of the current Heinecken survey is up across town at Selwyn Gallery on Wilshire but I cannot stand the girl at the front desk there so you are on your own, but the Cherry and Martin show is both a 70s photographic time capsule and timeless conceptual gem.
Grade: A plus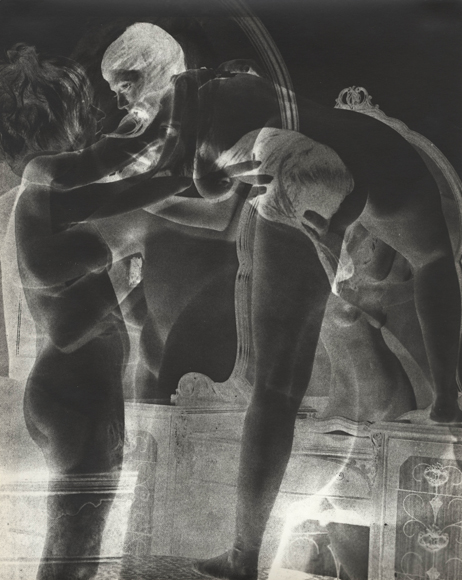 Robert Heinecken Study #20, 1970
Unique black and white photogram of magazine page, framed
10 x 8 inches, courtesy Cherry + Martin
Taylor de Cordoba Gallery: Frohawk Two Feathers "Crocodile Company Part I. La Guerre Des Machettes Danseuses (The War of The Dancing Machetes)"
Just when I thought I might be able to write him off as a one-cartoon wonder, FTF puts together a tour de force that sends up historical pictorial narratives. Entertaining as always, FTF creates a colonial Caribbean family tree that evolves quite separately from how the world went; but the artist's vision is a pictorial history of a manner of anthropological possibilities that are just as plausible as how it all really played out. Dextrous illustrative penmanship gives way to historical what-ifs and brilliant speculation.
Grade: A plus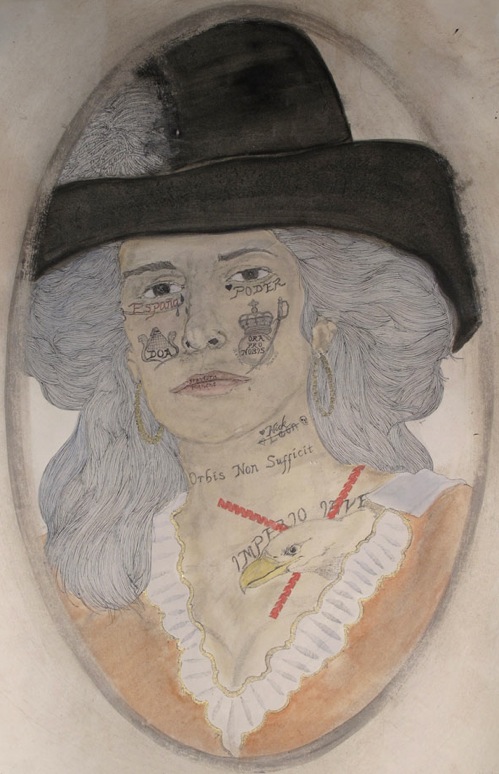 Frohawk Two Feathers, Blanca (detail)
Mixed media on paper, 2011. Courtesy of Taylor de Cordoba
Copro Nason Gallery: Bad Otis Link "Junk"
Just when you thought LowBrow was all wimpy synthetic big-eye cartoon gibberish (because this gallery is a serial offender of force feeding us a diet of nothing but the sweet cult of cute), here comes a puppet show harkening all the way back to German Expressionism at its most animated and manic but alive in contemporary themes, characters and energy.
Grade: A-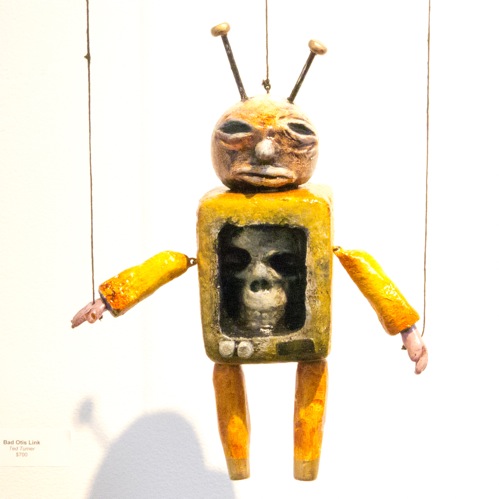 Bad Otis Link, Ted Turner
Mixed media sculpture, 2011
Santa Monica Museum of Art: "The Donkey Show" Curated by Jim Heimann and Josh Kun
Maybe this show was less an art show and more of a sociology time capsule, but either way it was a fantastic indictment of gringo romanticizing of Tijuana tourism. And like a good gavacho, I bought the book and the teeshirt.
Grade: A-
Kaycee Olsen Gallery: Jesse Finley Reed
What do the club spaces "behind the rope" look like after the party is over? Reed's morning after documentations highlight this small survey show of a top-notch documentarian. Meanwhile, the gallery owner's small dog lingered in quasi attack mode as if he was not sure I should be allowed past the gallery's rope.
Grade: B plus
Charlie James Gallery: If These Walls Could Talk Group Show
A great menagerie of contemporary art with text as its basic common denominator. Sandow Birk and Raymond Pettibon were the big draws. William Powhida had a text-heavy painting of Ed Ruscha that was nerdy even by pocket-protector Powhida's standards. And Steve Lambert's lit signs are like Christopher Wool paintings for our new decade. I have not yet seen "Part 2" of this show at Marine Art Salon on the West Side.
Grade: B-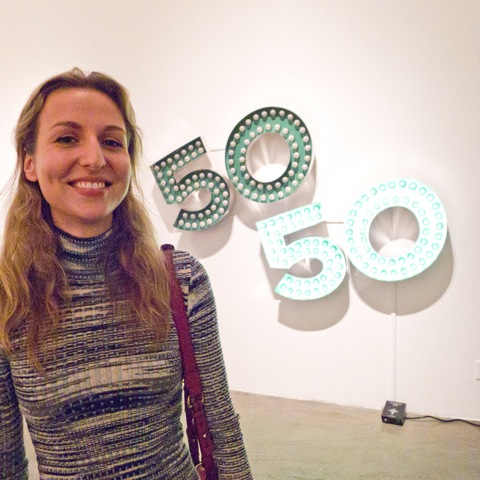 Claressinka Anderson of Marine stands near an electric Steve Lambert wall sign at the opening of If These Walls Could Talk Group Show at the Charlie James Gallery in Chinatown. Anderson is hosting the other part of the two-gallery conversation that comprises this show at her space on the west side.
China Art Objects Gallery: Jon Pylypchuk
This barrage of sculptures looked all just a little too calculated to be installed at art fairs as plop-art instead of at a serious gallery. The commercial aspirations of this artist have never quite matched the "casual crap composition of crappy subject matter" that has made The Pill Chucker such an art star.
Grade: B-
Corey Helford Gallery: Luke Cheuh
In case you thought there was just one LowBrow way to paint a cute Panda, this artist has done it, oh, a thousand different ways. Still a lame ass panda I wouldn't get my girlfriend for Valentine's Day, but yeah, LowBrow dynamism combines with a slap to the Barbara Kruger trademark, adding up to a fun painting show with a reminder that this guy could out-think and outpaint ninety percent of his slick LowBrow brethren without breaking a sweat.
Grade: B-
OTHER SHOWS CURRENTLY OPEN
Frank Lloyd Gallery: "Three Abstract Painters"
I could not determine if showing James Hayward and James Heywood would help the gallery sell the John McLaughlins or if the presence of that departed master worked to elevate the still-living duo's reputations by association. Oh, sure, I could have just looked at the art but where is the fun in that when there is a whole art world machinery to game?
Grade: C plus
Gagosian Gallery: Mike Kelley "Kandor 10" and "Kandor 12"
At first I get enraged that Kelley insists his viewers have to have some background about all his other shows to have any hope of relating to his clunky installations. But actually, isn't that what so much of art history insists we do, be aware of the narrative context of the artists so we can understand why their clunky pictures are in the museums? So clunky is as clunky does. The real masterpiece is watching Kelley work his way through the Rose Bowl swap meet like a termite methodically eating a house, filling his little roller cart and haggling the hell out of the poor garbage pickers. Dude, you're gonna sell that kitschy frog sculpture for a hundred grand at Gagosian, give the trashpicker the buck he is asking for and save the receipt for Larry Gogo...
Grade: C-
Blum and Poe Gallery: Julian Hoeber
Does the artist want you to think he is poking fun at minimal painting or is he trying to revive a tired genre with mild painterly inflections? Well, I would delve into these issues, as they really are meaty, but this is one of those slacker shows where echoes Kurt Cobain echo in mind "Oh well whatever never mind".
Grade: C-
Francois Ghebaly Gallery: Christopher Chiappa, Gareth Long, Sarah E. Wood
Animal House goes to Marfa: Artists goofing around with McDonald's burgers and Budweiser cans, Fratboy minimalism...
Grade: D-
Blum & Poe Gallery: Sam Durant
Maps? The Don Juan of Cal Arts gives us art about incarceration rates illustrated as globes? Demographic stats as art are now on display outside of an undergraduate statistics class, call the art historians, we have made us some object-oriented progress (that is sarcasm for those of you who have stunted your humanity on behalf of faculty meetings with Sam). And the biggest piece in the show, a flattened metal global map, seems to be an homage to Carl Andre, hmmm... A psychologist (or a forensic investigator) might have a field day with an infamously in-demand middle-aged artist making quasi-Carl Andre sculptures. Let's start the questioning: With which of his ladies does Sam spend time up on the roof?
Grade: F
Kopeikin Gallery: Hiroshi Watanabe
http://www.kopeikingallery.com/exhibitions/view/love-point
I don't like dolls, I don't like kinky maid fetishes, I don't like 3-D Anime and I don't like all three combined as sentimental portraits of plastic lovers. The whole mannequin thing already maxed out in the 1980s so there is no historical justification for the frozen-fetish-faces even if it was not the creepiest show of the year (which it is so far).
Grade: F
Susanne Veilmetter Gallery: Jedediah Caesar
Clumps. Of what exactly I did not stick around to discover.
Grade: F
LAXART Gallery: Kerry Tribe "Milton Torres Sees A Ghost"
There is a reason that reel to reel tapes have gone out of existence and it was not for them to appear, vampire like, many years after their death, as an art medium.
Grade: F

SUBSCRIBE TO & FOLLOW CULTURE SHIFT
Every Friday, HuffPost's Culture Shift newsletter helps you figure out which books you should read, art you should check out, movies you should watch and music should listen to. Learn more