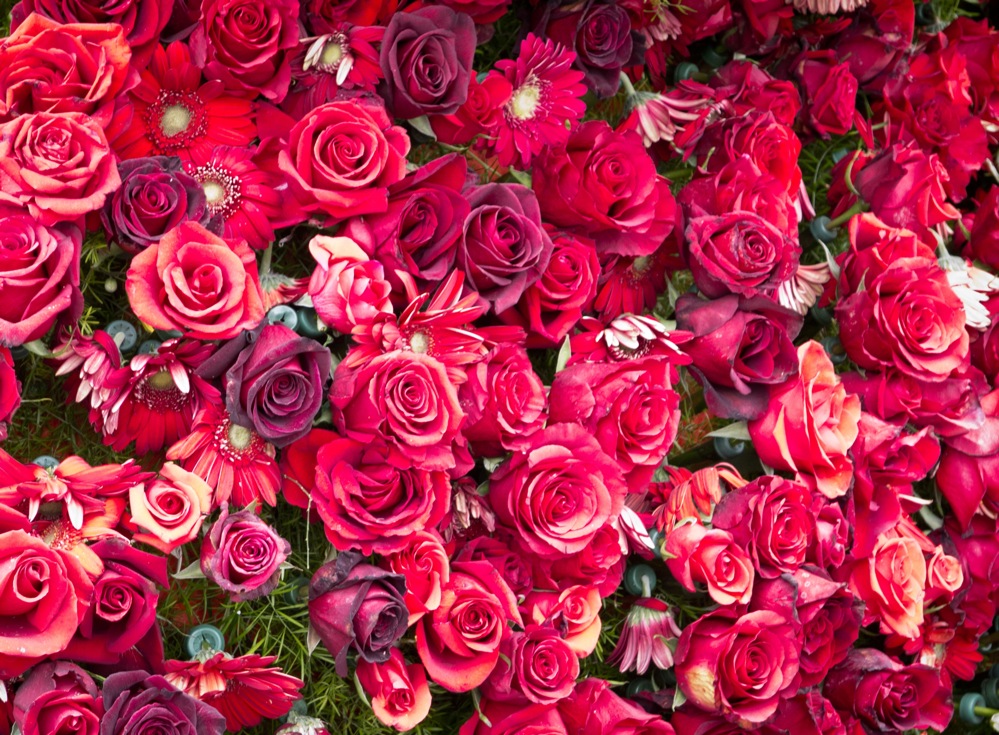 The Pasadena City College parking lot had lots of plastic orange parking poles arranged in order to get people to stand in line for a row of shuttle busses that were pulling up. We had driven out to the PCC Flea Market only to find a completely different crowd cueing up. It was cold and overcast and rain was in the forecast. Those cattle-call lines were completely empty. I am a native Southern Californian and have never been to the Rose Parade or anything to do with Pasadena and its New Year's festivities. But we were had driven out and figured that it will likely never be emptier considering the weather so we parked and bought tickets and got on the shuttle.
First off, even though the attendance was as low as it has ever been considering the line partitions in the parking lot were not even occupied... the thing was still so crowded. At one point, there was a cloudburst and I thought for a second there might be a trampling of bodies as people rushed to the exits, but since there seemed to be three entrances and ample space away from the floats themselves, this never happened. I wish some galleries and museums were as well attended as this event, but even more, I wish they were half as efficiently organized.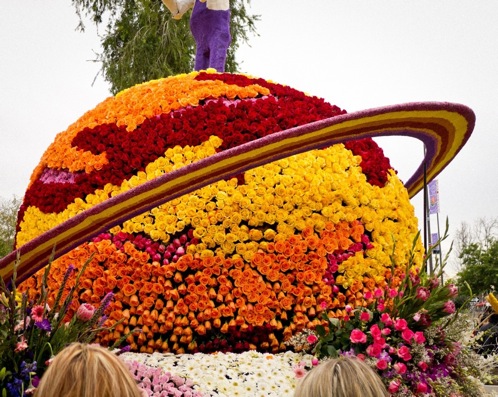 Once we were in, I decided, hey, why not treat this like an art exhibit, an outdoor sculpture show. What if art had temporary exhibits in public spaces? Oh yeah, art DOES, it just doesn't draw throngs and throngs of people. So here is my art review of the floats as sculpture.
First things first, the themes are basically insipid, sentimental or cloying. Take your pick. Or make a stretch to show that a particular float is all three. It ain't too difficult. Throw in blatant commerce decorated in psychedelic flora, fauna and a 40 horsepower engine and you have all the necessary ingredients of the "Rose Parade Float" medium. The aspirations are aimed straight at your simplified heart with a hopeful trip to your wallet.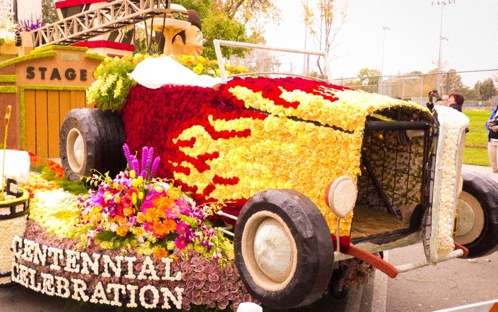 These floats look dramatic because of their scale but are inevitably illustrations of the least dramatic still lifes and landscapings imaginable. In this, Rose Parade Floats as an art medium share with street art the schtick of enlarging multicolored hyper-illustrations of pablum platitudes and pleasant pastiches. Whereas Street Art is the biological seed-spreading urge of rebel machismo advertising its bad boy self, Rose Parade Floats are the feminine impulse made manifest - line up in a neat row and walk by for everyone to examine your beauty before you are chosen - this flower will only be fresh for a little while, you better sniff it now. Two types of street art with the same result: A temporary visual orgasm over almost nothing. In a week all the rose parade flowers will be dead and all of 2010's murals will be painted over... time fatal time, not civic beautification projects, will do in all street art.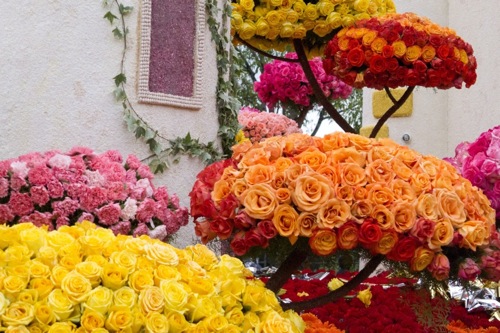 As far as the rule of applying flowers, leaves or seeds to every inch of the float, well, up close, the bunchings of flowers start to look the same - like a painter who knows one brushstroke and one lighting technique and one set of eyes and paints them over and over and over.... oh so boring... every float seemed to have a grid of roses all eerily the same size in a rigid "fill" of rigidly outlined sections. There were exceptions where flowers were arranged with a creative zing and sector were delineated with creative floral combinations. But this break from conformity was so rare (much like City of Pasadena zoning codes) that each flair of originality stuck out easily from the robotic assembly line of flower-gluing - but to see any of it up close... well you had to push yourself through the crowd of photographers - yes, a week after Christmas, everyone was taking pictures of their better halves and trying out new lenses and shutter speeds (guilty as charged on that aperture priority). This tech and tussle made the floats often less accessible than if you had watched on television or bought a ticket to the parade.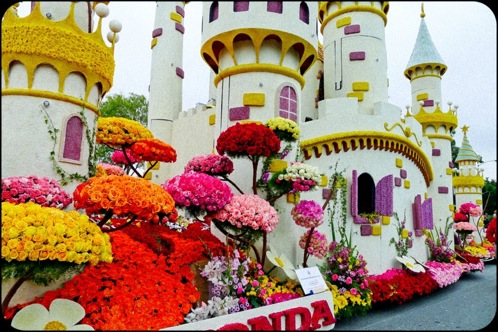 Some of the floats were asinine. Farmers Insurance sponsored a large boat with car wheels with a house on the deck... get it... all the things you insure. Your lame commercial was ugly and people were audibly complaining that you cheated with too many sections covered in leaves and not flowers, wow, go figure, people bitching about an insurer cutting corners. The City of Alhambra had a collection of Chinese lanterns. You know what Alhambra, embrace your one claim to fame and make a float about Phil Spector, alright, it is all you have ever accomplished on the national stage, no matter how much nicer your PetSmart is to the one in my neighborhood. And Honda had a tasteful fairytale castle as its float, but spoiled it completely with some odd looking robot/cyborg/android walking out the drawbridge on horseback... Huh? Does this promotion seem obtuse because I am not immersed in pop culture or because I'm not part of the international audience that watches the parade? Actually if I tune in, it is to hear the seductive, mellifluous Stephanie Edwards locally on KTLA as the parade's commentator, she could recite the phone book and I would tune in...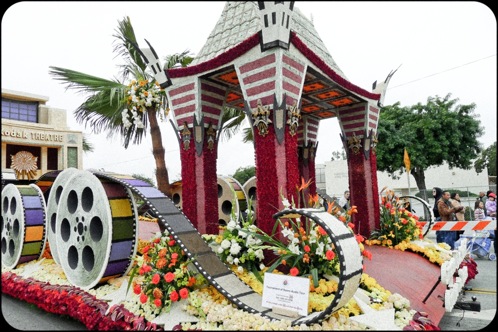 After two floats, the standardized method of decorating all of these temporary mobile street art devices makes the excursion rather redundant, especially once your camera's battery dies. If I had to pick one float I liked, I can find half of one. The front half of the one float was a faithful reproduction of Graumann's Chinese Theater. The variety of flowers and attention to architectural detail warmed my sentimental Angeleno heart, but again, without that appeal the art fell flat ... and any enjoyment of it was a short-lived sensation, as a terrifying vision of clowns in full Shriner's fez regalia jumped out nearby and reminded me of the late John Wayne Gacy. Towering overhead, I would have pleaded to Charles Manson to save me from such a sickeningly sweet vision of monstrosity.
Here is the problem with reviewing art. If I write about the goings on at the obscure galleries or edgy museums, I am an elitist. If I rant about a popular event like this float display, I am a snotty elitist. If I give it a fair shake I end up writing lines like "tasteful fairytale castle" and want to hang myself for wasting my life. While I understand and even appreciate that this a Southern California tradition, the brazen need to keep everything in this display as childlike as possible to promote corporate and civic aspirations insisted on making any and all creative applications and artistry mere functionaries of a futile, timid theme only plausible by the adding of flowers that would be just as pretty, perhaps even sublime on their own in any garden or funeral wreath.
Larger versions of these and other images from the float viewing that the author took with his new camera that he got for Christmas are viewable at Coagula.com where a slightly different version of this article appears.
FOLLOW HUFFPOST