This story was produced in partnership with Facebook Stories. Submit your own Facebook story here.
----
I was in my friend Cal's car the first time I saw her. Cal had to pick up a DVD from a friend on our way to my place in Lauderdale Lakes, Fla. He said it would only take a second; she lived about a minute away from me.
He pulled into a driveway in my neighborhood and out walked a gorgeous girl in brown shorts and white tank top. She was the kind of beautiful that makes you feel like you just got slapped. Wait, this goddess has been living this close to me for years, and I've had no idea? She handed him the DVD and walked back inside. I sat there silently, just watching. Smooth.
Luckily, I got a friend request on Facebook three weeks later that changed my life. It was her, brown shorts and white tank top! I recognized her immediately. Her name was Monique Mcinnis.
I had joined Facebook the end of my senior year of high school in 2006. We were saying our goodbyes in last period when a friend asked me to find him on Facebook. We'd stay in touch that way, he said. At the time, I assumed Facebook was some lame network started by our school, but when I got home, I realized how wrong I was.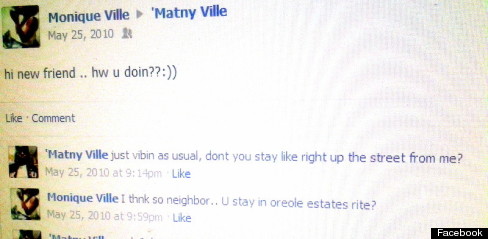 Monique's first post to my Facebook wall.
Monique found my Facebook profile after that day in her driveway because we had mutual friends. She posted to my wall and almost all at once, everything changed. It was May 25, 2010.
We responded back and forth for a while, and then started chatting through private messages. I was shocked when I realized that she lived right up the street. I had been living in Lauderdale Lakes for 10 years, and was always out around the neighborhood. How was it possible that I'd never seen her?
Eventually, I told her I was going to get an ice-cream sundae from McDonald's, and asked if she wanted one. I came back up to that driveway, ice-cream in hand, and Monique and I sat outside talking all afternoon, and then late into the night. We talked about everything: music, food, what we liked, what we hated. We've been practically inseparable since.
Life is just better with Monique. She's beautiful, has a great sense of humor, but I think what makes our relationship special is that she's more than a lover to me. She's my best friend.
I realized I wanted to be with her for the rest of my life just before my 25th birthday. I was getting older and decided I wanted to start making some serious decisions about my life, and one of them was not letting good things go, so I started planning a proposal that would take place during my birthday dinner.


Photos from my proposal to Monique.
I rounded up my family and friends and booked a large dinner at Villagio's Restaurant in Sunrise, Florida for January 5 - I even set it up using a Facebook event. Monique had no clue that the party wasn't actually about my birthday. After dinner, I asked the staff to bring out a large cheesecake in a box, where I had hidden Monique's engagement ring earlier.
As a joke, I had a waiter tell her that the dessert would cost $79, which sent her through the roof. "What kind of cheesecake costs $79?," she kept asking angrily. Then she flipped open the box, saw the ring, and looked over at me down on one knee.
"Will you be my birthday present forever?" I asked. She said "yes" through tears.

Video of our engagement on my 25th birthday.
We were married at a courthouse not long after. We chose not to have a traditional wedding to save money, but we still talk and daydream about it all the time. Monique still looks at wedding dresses online and it breaks my heart sometimes to think that I might never get to see her walk down the aisle in one. But we wouldn't change our life for the world.
We welcomed our beautiful baby daughter Vitani just three weeks ago, on July 7. Being a parent gives my life renewed purpose, and a new understanding what it means to be human.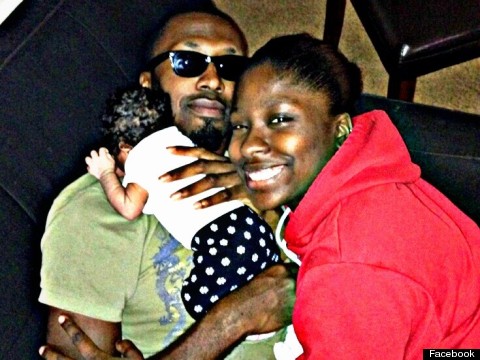 Me, with my beautiful girls.
We've since moved away from Lauderdale Lakes, and our new friends are amazed and inspired when I tell them Monique and I met on Facebook. I still think about that day in Monique's driveway every once and a while - and then I thank God for friend requests.
SUBSCRIBE TO & FOLLOW THE MORNING EMAIL
Start your workday the right way with the news that matters most. Learn more