I like modern art because it's so brilliantly strange. I like the idea that some people are paid--even funded by the government--to unleash their most abnormal ideas on average people in order to bring some variety into their lives.
It's a wonderfully romantic idea.
Western art can be pretty weird, but there's nothing quite as mind-bendingly bizarre as modern Asian art. On a recent trip to Taipei got to visit the Museum of Contemporary Art--one of Asia's finest houses of strange artifact--with my friend and fellow writer Kristin Mock. We were not disappointed.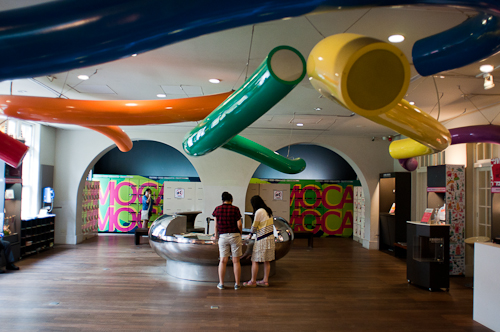 First, we entered the lobby where we bought tickets for NT$50 ($1.50 USD) each. The ceiling was decorated with long wavy multicoloured tubes. These decorations set the stage for the creative weirdness that was about to ensue.
The first display of strangeness that we encountered was a hallway where an eerie movie was projected on one wall covered in a sheet. It was a black and white video of an underground walkway. Occasionally a woman would appear, dancing slowly toward the camera.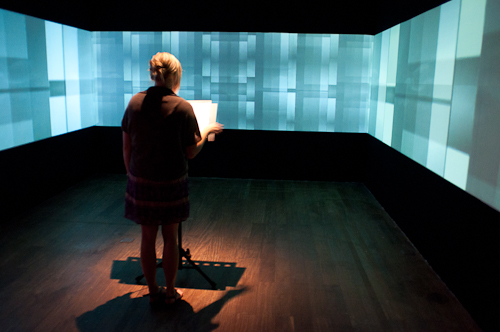 We watched it for several minutes to see if something else would happen, but it didn't, so we left.
The following interactive music video room was quite nifty. In this room, a visualization that spanned three walls moved in time to music that was playing. It also responded to other sounds in the room by changing its motion. Accordingly, we made a lot of sound in the room.
I also enjoyed the mummy that we found sitting at a desk in the hallway.
My favorite piece had to be the installation in the upstairs hallway that looked like a hurricane had mangled an outdoors metal fire escape and then rammed it through the wall. I must say, though, that I also heartily enjoyed the psychedelic paintings on the first floor, especially the one with the large-breasted winged toddlers.
I can't say that I understood the purpose behind any of the art that I saw in MOCA Taipei, but at the same time I felt enriched by the experience. For me, art is not about understanding what the artist intended me to feel. I simply enjoy seeing the bizarre ideas that exist in the minds of others released in physical forms and being a place filled with objects that people value solely because they are unmistakably, remarkably, and wonderfully weird.
It makes me feel like there's some hope for us yet.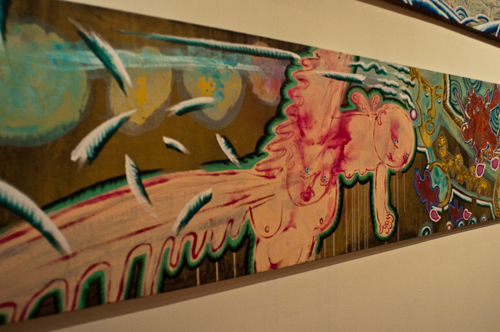 MOCA Taipei
No. 39, Cháng'ān West Road, Datong District
Taipei City, Taiwan
02-2552-3721
Hours: Tuesday to Sunday 10am to 6pm
SUBSCRIBE TO & FOLLOW LIFESTYLE
HuffPost Lifestyle is a daily newsletter that will make you happier and healthier — one email at a time. Learn more