People often ask me, "I want to travel for a long time. What can I do to make money last until the end of my trip?" Out of all the questions I receive by email, this is the most common one.
Telling people I have been traveling for four years usually makes them think I am rich -- how else could I afford to travel for so long? Well, I'm not. My secret is that I'm smart and I'm realistic about how I spend my money. I know my spending habits. I don't over- or under- budget. I don't spend above or below my budget. Setting a budget is good, but setting a realistic budget is even better.
It all starts with the budget. If you want to stretch your money, you need a good, realistic set of spending expectations.
Yes, it helps to avoid costly dinners, first-class travel, fancy hotels, and expensive tours. That's obvious. Spending money on any of the above will ruin any budget. But a less obvious way to save money is to know your spending habits. I don't normally give specific numbers for places. "You can travel in France for $81 per day" because everyone spends money differently. Maybe that figure is good for me, but not good for you. Your spending habits are different than mine.
When I travel, I don't budget a lot of money for accommodation, tours, or even transportation. I find the cheapest hotels or hostels or I Couchsurf (a service that connects travelers with locals who give them free accommodation); I don't do a lot of tours, and I walk everywhere. But I do budget a lot of money for food and drinks. Why? Because that's what I want to do. I don't spend every night at home cooking and avoiding my friends so I can fly to Australia and not go out or head to France to make meals in my hostel every night. No, not me. I go to live. I go to eat and drink in the local culture. In Europe, for example, I average about 40 Euros a day on food. Transportation? 5 Euros. Why? Because I only take trains when I move in between cities. The rest of the time, I walk. Well, I've already told you what is important to me when I travel.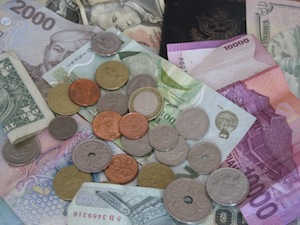 If you want to stay on budget and make your money last, you need to know what you're going to spend it on. Too often travelers get blindsided by unexpected expenses that crop up and then their budget cracks quicker than Humpty Dumpty. There will always be something you can't predict. I couldn't predict having to buy a new iPod until after I lost mine. It's interesting, though, that many people go over-budget on things theyshould have anticipated. But that tour through the Vatican? You should have known.
Plan a budget that is realistic of your spending habits. If you can eat all your meals in a hostel kitchen. then a small food budget is for you. If you plan on Couchsurfing every night of the week, then you don't need to have a lot for accommodation. If you are flying to Europe and you know you love to drink wine, you should budget accordingly for wine. Be realistic. Don't cut corners simply so the numbers on your paper are small.
If you plan your budget well it will last until the end of your trip. Tips on saving money with free museums or getting lunch specials are meaningless if you don't know how you spend your money. You may think, "Well, the hotel is 40 dollars. I'm still under budget, so you have a nice lunch with wine and then you realize that your money for the museum is gone. Well, it all goes back to planning.
Stick to how you allocate your budget.
I'm rarely surprised by budget woes when I travel because I've already planned. Tours to the Vatican or diving in Fiji don't blow my budget because I've planned for those activities. I even have a "who knows what might happen" fund. Plan for your spending habits and you'll find yourself staying on budget and on the road for a long time.
SUBSCRIBE TO & FOLLOW LIFESTYLE
We're basically your best friend… with better taste. Learn more