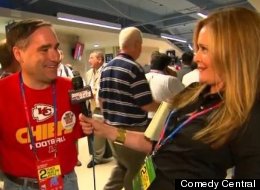 Over the last two weeks, the Republican and Democratic National Conventions dominated the news cycle, so it's no surprise that they each got a lot of play on late night TV. While The Daily Show was the only show that actually relocated to Tampa and Charlotte (respectively), several other shows sent correspondents to the conventions to cause whatever mischief they could and make delegates from both sides look as silly as possible.
Nothing was quite as easy to make fun of as Clint Eastwood's rambling conversation with "Invisible Obama," but the late night hosts did their best with all aspects of the conventions. Below are the highlights.
More comedy videos at: GotchaMediaBlog.com
Late Night Takes On the 2012 Conventions
2004 hall-of-famer Rob Corddry returns to help The Daily Show prepare for the 2012 Democratic and Republican National Conventions. [WATCH VIDEO]

He finally got his camera crew, but then Conan's Deon Cole immediately got kicked out of the GOP convention for getting on stage and telling jokes about white people.

Andy Kindler didn't have much to do on the first night of the GOP convention, but things picked up when he ran into Michele Bachmann.

Samantha Bee asks RNC delegates how they rectify Mitt Romney's more moderate views on a woman's right to choose with the "no exceptions for rape or incest" GOP platform. [WATCH VIDEO]

Stephen Colbert elaborates on the central themes of the two main speeches from Tuesday night at the GOP convention. [WATCH VIDEO]

Jay Leno makes a (correct) wild guess in Clint Eastwood, while Bill Maher thinks the Republicans will go with his first choice for Mitt Romney's running mate.

The Daily Show obtained this exclusive preview of the video that will introduce the Republican presidential nominee to American tonight: "Mitt Romney: A Human Being Who Built That," narrated by Leonard Nimoy. [WATCH VIDEO]

Stephen Colbert has an exclusive interview with Clint Eastwood's "Invisible Obama" chair, who turns out to be more inspiring than any of the actual candidates. [WATCH VIDEO]

Bill Maher may be the only person on TV who kind of liked Clint Eastwood's GOP convention speech. [WATCH VIDEO]

After letting Andy Kindler run wild at the Republican National Convention, the Late Show went a little more low key for their DNC coverage.

The Best F#@king News Team Ever goes to Charlotte to look for a new slogan for President Obama and create a version of Will.i.am's iconic music video for 2012. [WATCH VIDEO]

Michelle Obama gives America 10 reasons to watch the Democratic National Convention. [WATCH VIDEO]

Jimmy Fallon debuts his Mayor Julian Castro impression on Late Night.

Jason Jones and Samantha Bee roam the halls in Charlotte to find out if there's anyone the Democrats would exclude from their convention. [WATCH VIDEO]

Conan O'Brien is sick of TV directors cutting to other, cuter people while someone's trying to make an important point.

But her speech just didn't ring true. [WATCH VIDEO]

Legendary stuntman Super Dave Osborne makes a surprise appearance at the DNC and talks to an empty chair that represents a dirty-joke-telling Mitt Romney.

Just as they did during the Republican National Convention for Mitt Romney, The Daily Show is premiering an exclusive video for the DNC titled, "Barack Obama - It Could Have Been Worse." [WATCH VIDEO]

Jimmy Fallon never got to play Bill Clinton on SNL, but he has a solid impression of the former President's speech from the DNC.

After two weeks of covering the 2012 conventions, Jon Stewart saved the best for last with this comparison of how Fox News covered the Republicans vs. the Democrats. [WATCH VIDEO]

The undeniable success of the DNC, which featured so many friends of the Colbert Report, means that the "Colbert Bump" has gone rogue and must be destroyed. [WATCH VIDEO]

Jimmy Fallon closes out his convention coverage with this parody of James Taylor's "Fire & Rain" and explicit Obama endorsement.
Follow Matt Wilstein on Twitter: www.twitter.com/TheMattWilstein