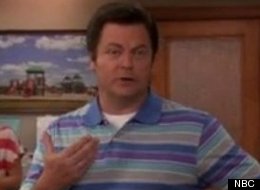 The 2012 Emmy nominations are here and while they got a lot of things right, there were plenty hilarious shows and performers overlooked. Here are 12 of the most egregious slights.
More comedy videos at: GotchaMediaBlog.com
The 12 Biggest Comedy Emmy Snubs of 2012
The only unacceptable omission in the "Variety Series" (AKA late night) category was Conan O'Brien, who should have been nominated for his epic return to NYC alone, in which he really "pushed the envelope" and hosted the first televised same-sex wedding on stage. [WATCH VIDEO]

It would have nice to give Community a Best Comedy nomination as a consolation prize for Dan Harmon. If they get one next year without him, that can only hurt. [WATCH VIDEO]

It appears those mailers that went out to "bloated, overprivileged Brentwood Jews" did not do the trick.

Parks and Recreation got nods for Amy Poehler and writing, but the show deserved a Best Comedy slot along with a nomination for Nick Offerman, who has created a legendary sitcom character in Ron Swanson. [WATCH VIDEO]

Yes, Louis CK set a new record for most nominations for an individual in a single year. Then why wasn't the show nominated for Best Comedy Series? [WATCH VIDEO]

Julia Louis-Dreyfus led HBO's Veep to a Best Comedy Series nomination (and one for herself), but the Emmys did not give credit where credit was due to Anna Chlumsky for making one of the best TV comebacks in recent memory.

Mad Men is definitely a drama, but John Slattery's acid trip episode was one of the funniest things on TV this year.

A huge congratulations are in order for Lena Dunham, who got nominations for best series, actress, writing and directing for the debut season of Girls. But how could they overlook Adam?

Kathryn Hahn has recently shown up on both Girls and The Newsroom, but her juiciest part was as Leslie Knope's nemesis on Parks and Rec. [WATCH VIDEO]

Eastbound & Down was back on top for what everyone assumed would be its last season, and as always, Danny McBride was the comic force who held it all together.

Adam Pally's Max is consistently the funniest part of Happy Endings.

Rob McElhenney gained a severely unhealthy 50 pounds to play Mac on It's Always Sunny. That's got to be worth a nomination.
Follow Matt Wilstein on Twitter: www.twitter.com/TheMattWilstein