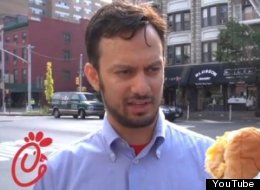 If yesterday was Chick-fil-A Appreciation Day, then we might as well declare today Chick-fil-A Vilification Day. Over the last few weeks, the nation's comedians have had a great time making fun of the company's antiquated stance on gay rights. Here are seven of the most biting Chick-fil-A parodies.
More comedy videos at: GotchaMediaBlog.com and Top5Funniest.com
The 7 Funniest Chick-fil-A Parodies
After The Muppets severed their ties with Chick-fil-A, Conan O'Brien presented a new puppet mascot, who's been so popular that he's made three appearances in one week. [WATCH PART 1, PART 2, PART 3]

Funny or Die enlisted John Goodman to play an ambiguously gay Colonel Sanders who wants you to know KFC is totally cool with the gays. [WATCH VIDEO]

Jon Stewart shows how Chick-fil-A's subversive cows might react to the company's stance on gay marriage. [WATCH VIDEO]

The first sketch from Nick Kroll's new Comedy Central show imagines what an even more offensive chicken sandwich would taste like.

Stephen Colbert breaks down all aspects of the Chick-fil-A controversy, including Rick Santorum's obsession with Chick-fil-A sauce, "a frothy mix of sweet and spicy." [WATCH VIDEO]

Jest hit the streets to ask "real New Yorkers" to choose between their belief in gay rights and a free chicken sandwich. [WATCH VIDEO]

Long before it became a national story, three drag queens sang about Chick-fil-A to the tune of Wilson Phillips' "Hold On."
Follow Matt Wilstein on Twitter: www.twitter.com/TheMattWilstein