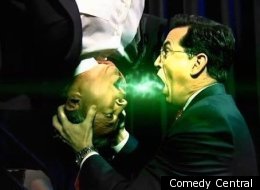 This week saw two major endorsements in the ongoing battle for the GOP nomination. First, Herman Cain did very little to help Newt Gingrich by endorsing him (in addition to, not instead of "the People") ahead of the Florida primary. Then, once Mitt Romney secured his victory in the Sunshine State, Donald Trump jumped on the bandwagon of his fellow one percenter.
Romney continued to dominate the news this week by confidently singing "America the Beautiful", getting glitter-bombed in Minnesota, and declaring that he doesn't care about the "very poor."
These stories and more fueled the late night shows this week. Below are my favorite late night clips of the week. What were yours?
More comedy videos at: GotchaMediaBlog.com
The Best Late Night Clips of the Week (January 30, 2012 - February 5, 2012)
After chasing Jon Stewart all over New York, including onto the set of The View, Stephen Colbert finally regains his super PAC. [WATCH VIDEO]

Taking a cue from the @GingrichIdeas Twitter account, David Letterman presents ten more big ideas from Newt Gingrich.

After praising her husband's version of Al Green's "Let's Stay Together," Michelle Obama commented on Mitt Romney's singing from last night in Florida as politely as she possibly could. [WATCH VIDEO]

On the evening of Mitt Romney's landslide victory in Florida, Jon Stewart breaks down exactly what it is about Romney's private sector experience that makes him qualified to be president. [WATCH VIDEO]

President Obama gets a surprise visit from an internet celebrity during his Google+ Hangout. [WATCH VIDEO]

Stephen Colbert finds nothing inconsistent about Herman Cain endorsing "the People," Newt Gingrich and everyone in between. [WATCH VIDEO]

After his devastating loss in Florida, Newt Gingrich releases an attack ad on the state.

John Oliver and Jason Jones personify the "very poor" and the "very rich" in response to Mitt Romney's most recent out of touch comments. [WATCH VIDEO]

Howard Stern helps commemorate 30 years of Letterman by getting to the bottom of the late night wars.

If you've never seen Jenny Slate do the Marcel the Shell With Shoes On voice, this is your chance. [WATCH VIDEO]

Jon Stewart figures out why Donald Trump endorsed Mitt Romney. [WATCH VIDEO]

Jimmy Fallon gets NFL stars Tony Gonzalez and Jerry Rice to reenact the famous "You complete me" scene from Jerry Maguire. [WATCH VIDEO]

To get back at Newt Gingrich for using "Eye of the Tiger" without permission, Survivor frontman Dave Bickler sings Gingrich's book "A Nation Like No Other." [WATCH VIDEO]

After shutting down the notion that atheism is a religion, Bill Maher performs the first un-baptizing ceremony for Edward Davies.

SNL looks forward to 2014 when Newt Gingrich finally gets his moon colony. "May divorce be with you." [WATCH VIDEO]
Follow Matt Wilstein on Twitter: www.twitter.com/TheMattWilstein