The Best Late Night Clips of the Week (VIDEO/PHOTOS)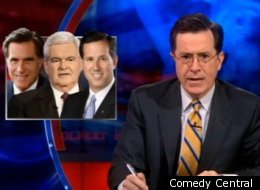 This week saw the the rise and ultimate, tragic, naked fall of the man behind KONY 2012. Romney, Santorum and Gingrich hit the zenith of their collective Southern pandering during the Alabama and Mississippi primaries. And Will Ferrell spoke a lot of Spanish.
Below are my favorite late night clips of the week. What were yours?
More comedy videos at: GotchaMediaBlog.com
The Best Late Night Clips of the Week (March 12, 2012 - March 18, 2012)
What's more offensive than Rush Limbaugh calling Sandra Fluke a slut? Republican policies concerning women. [WATCH VIDEO]

Adam Carolla describes Donald Trump's hair. [WATCH VIDEO]

Jon Stewart knows what Jeff Foxworthy's new material is going to be now that he's endorsed Mitt Romney. [WATCH VIDEO]

Rick Santorum suggested telling plants how dangerous carbon dioxide is, so Jimmy Kimmel consults one.

Stephen Colbert reviews Mitt Romney's claim that you can't drive a car with a windmill on it and Newt Gingrich's big idea for people to try putting algae in their gas tanks and comes up with his own incredulous reactions to modern technology. [WATCH VIDEO]

To promote his new movie Casa de Mi Padre, Will Ferrell conducts his entire interview on Jimmy Kimmel Live in Spanish. [WATCH PART 2 AND PART 3]

What's more offensive than Rush Limbaugh calling Sandra Fluke a slut? Republican policies concerning women. [WATCH VIDEO]

Martin Short and Paul Shaffer publicly endorse Mitt Romney with a rousing version of "It's Raining Mitt."

Stephen Colbert invites Kermit the Frog on his show for some political analysis. [WATCH VIDEO]

"The twice daily, non-prescription medication absolutely not covered by Obamacare."

John Oliver's field piece on the UNESCO Palenstine funding controversy is so epic that it takes up two segments, bumps the guest and brings him to Gabon. [WATCH VIDEO]

Stephen Colbert starts tweeting what's #InMyHeart about Rick Santorum, whether or not it's true. [WATCH VIDEO]

Conan O'Brien was on vacation this week, but still had the heart to post this video of his guest drinking terrible green beer.

Bill Maher says that if you only make Joseph Kony famous, he wins. [WATCH VIDEO]
Follow Matt Wilstein on Twitter: www.twitter.com/TheMattWilstein