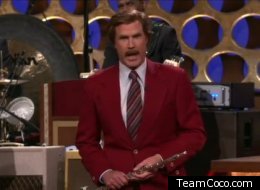 This week the hoodie replaced the Etch A Sketch as the most talked about item in the news media, with Geraldo Rivera standing by his outrageous comments and Rep. Bobby Rush illegally rocking one in Congress.
On the campaign trail, Rick Santorum lost his cool on a New York Times reporter and Mitt Romney had to explain why he brought his grandchildren to The Hunger Games. Off the campaign trail, Herman Cain released an ad in which a small child kills a bunny.
Below are my favorite late night clips of the week. What were yours?
More comedy videos at: GotchaMediaBlog.com
The Best Late Night Clips of the Week (March 26, 2012 - April 1, 2012)
John Oliver wears a hoodie in solidarity with Trayvon Martin, but Wyatt Cenac has to be more careful. [WATCH VIDEO]

Stephen Colbert spins the Romney Etch A Sketch analogy as a good thing and compares him to more classic toys. [WATCH VIDEO]

Stanley Tucci is the Conan O'Brien of Panem.

Mitt Romney works hard to not call Chris Christie "fat" and nominates Rick Santorum for Press Secretary in this fun game Jay Leno thought up. [WATCH VIDEO]

Jimmy Kimmel premieres the follow up to Herman Cain's goldfish and rabbit ads.

Mitt Romney and Rick Santorum enter the phase of their campaigns when they start desperately attacking the "Gotcha Media." Newt Gingrich has been way ahead of them for months. [WATCH VIDEO]

David Letterman gives you ten reasons to not spend $50 on a photo with Newt Gingrich.

Samantha Bee investigates the Park Slope Food Coop's ban on Israeli hummus. [WATCH VIDEO]

Will Ferrell as Ron Burgundy announces the sequel to Anchorman.

If the government can force you buy health care, why can't they force you to buy broccoli? [WATCH VIDEO]

Dana Carvey does four presidential impressions in three and a half minutes and gets to the bottom of Obama's communication problems.

Aziz Ansari talks about the fundraiser he did for the President a few weeks ago and debuts his Obama impression. [WATCH VIDEO]

Chris Elliott plays a clip of his role as the butler on Downton Abbey.

Since there are no cameras allowed in the Supreme Court, the Daily Show provides its own computer animated reenactments of the health care hearings. [WATCH VIDEO]

Stephen Colbert does some Mitt Romney-inspired stand-up comedy about firing people. [WATCH VIDEO]

Charlie Sheen joins his clone Jimmy Fallon to promote another new fragrance. [WATCH VIDEO]

Bill Maher blames Democrats, not hoodies, for creating the conditions that led to Trayvon Martin's death. "When are they going to stand their ground?"
Follow Matt Wilstein on Twitter: www.twitter.com/TheMattWilstein