The Best Late Night Clips Of The Week (VIDEO/PHOTOS)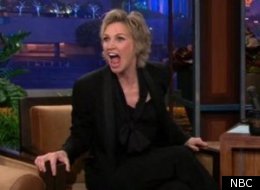 This was the week when we lost the last real barrier between Mitt Romney and the GOP nomination. Rick Santorum, you will be missed. In other news, Facebook dropped $1 billion to ruin Instagram, George Zimmerman finally got arrested a month and a half after murdering Trayvon Martin and a women named Hilary Rosen launched a new "War on Women."
These stories and more fueled this week's late night shows. Below are my favorite clips of the week. What were yours?
More comedy videos at: GotchaMediaBlog.com
The Best Late Night Clips of the Week (April 9, 2012 - April 15, 2012)
Stephen Colbert kicks off his Search for Mr. Right with Iowa's Steve King. [WATCH VIDEO]

Ricky Gervais gives Dave an age-appropriate gift for his birthday.

Jon Stewart does some selective editing of his own to show how removing the context of something can totally change its meaning. [WATCH VIDEO]

Jimmy Kimmel reveals Newt Gingrich's unconventional new strategy to raise money.

Or at least that's what the blogs would have you think. [WATCH VIDEO]

With Mitt Romney taking his seat as the de facto GOP nominee, David Letterman counts down the top ten words rarely used to describe him.

Rachel Maddow conveys some awesomely progressive rhetoric about the nature of modern war from her new book Drift: The Unmooring of American Military Power on the Tonight Show. [WATCH VIDEO]

In this segment about current tech news, Jon Stewart betrays his lack of understanding about Instagram. [WATCH VIDEO]

This may be the last we hear from Rick Santorum's brother.

All of Stephen Colbert's Lady Heroes are men. [WATCH VIDEO]

President Obama has been trying out increasingly desperate campaign slogans.

Jimmy Fallon reviews the pros and cons of a Mitt Romney presidency. [WATCH VIDEO]

Michelle Obama owes Stephen Colbert big time for getting the "Colbert Report" and becoming First Lady. [WATCH VIDEO]

Finally, Larry David speaks out about what happened in that parking garage.

The Daily Show dives head-first into general election coverage. [WATCH VIDEO]

David Letterman celebrates his birthday by counting down the "Top Ten Things I, Dave, Hoped To Do By The Time I Turned 65."

Jon Stewart and the Best F#@king News Team Ever anticipate the trial of the millenium. [WATCH VIDEO]

Stephen Colbert is so excited by the GOP's redefined "War on Women" that he gets up and dances. [WATCH VIDEO]

Jimmy Fallon premieres the first episode of Downton Sixbey with guest stars Brooke Shields and Fred Armisen. [WATCH VIDEO]

Bill Maher and his panel unpack the "meaningless controversy" surrounding Hilary Rosen's comments on stay-at-home moms.

SNL wraps up the 2012 GOP primary with a heartfelt sing-a-long reunion featuring all the major players. [WATCH VIDEO]
Follow Matt Wilstein on Twitter: www.twitter.com/TheMattWilstein