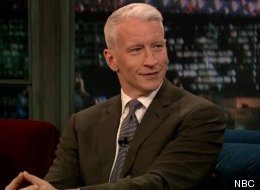 Mitt Romney launched his major general election ad campaign this week and the late night hosts (minus the still on vacation Stewart and Colbert) were there to brutally make fun of him.
In other news, Newark Mayor Cory Booker became the Obama campaign's #1 enemy and Donald Trump re-inserted himself into the national conversation.
These stories and more fueled this week's late night shows. Below are my favorite clips of the week. What were yours?
More comedy videos at: GotchaMediaBlog.com
The Best Late Night Clips of the Week (May 21, 2012 - May 27, 2012)
President Obama and Mitt Romney get in on one of the latest viral video trends. [WATCH VIDEO]

Tracy Morgan tells Conan O'Brien why he might vote for Mitt Romney, but will probably come around to "Gangbanger" Obama.

David Letterman shows the extended version of Mitt Romney's first general election ad, which also includes what happens on Day Two of his hypothetical presidency. [WATCH VIDEO]

Will Smith explains the impetus behind the slap heard 'round the world (most loudly by Donald Trump).

Anderson Cooper tells Jimmy Fallon that he celebrated his Jeopardy victory over Thomas Friedman by smugly rereading his columns. [WATCH VIDEO]

Jimmy Kimmel may or may not have seen David Letterman's "Day Two" parody of Mitt Romney's first general election ad, but he definitely one-ups him with the revised narration on this one.

People are always saying he doesn't curse in his act... More where this came from for only $5 at JimGaffigan.com. [WATCH VIDEO]

Thanks to George Zimmerman, this movie has a new title, release date and marketing strategy, but still looks pretty promising.

The last time Bill O'Reilly was on the Late Show he refused to high-five David Letterman. This time he seriously resists the fist bump.

Conan O'Brien revisits an old Twitter game from the set of Community. "I don't know what to be attracted to here."

Jimmy Fallon's Downton Sixbey returns, with Questlove as the new heir and Lady Whoopi as his mother. [WATCH VIDEO]

President Clinton's run-in with porn stars in Monaco can only call from some outsourced jokes from India.

To counter the Birthers, Mitt Romney launches "Wiferism." Where's Mitt Romney's original marriage license? [WATCH VIDEO]
Follow Matt Wilstein on Twitter: www.twitter.com/TheMattWilstein