The Best Late Night Clips of the Week (VIDEO/PHOTOS)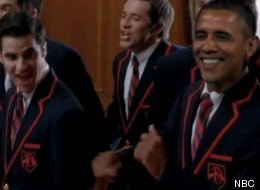 This week kicked off with the Sunday political talk shows obsessing about Anna Wintour's Obama endorsement, then CNN couldn't get enough of England's Diamond Jubilee, but soon the focus shifted to the big recall election in Wisconsin (AKA the "death of unions"). All of the late night shows were back in full force this week (unlike last) to cover these stories and more.
Below are my favorite clips of the week. What were yours?
More comedy videos at: GotchaMediaBlog.com
The Best Late Night Clips of the Week (June 4, 2012 - June 10, 2012)
Jon Stewart just cannot get enough of CNN's Diamond Jubilee coverage. [WATCH VIDEO]

Conan O'Brien put together this montage from the first four seasons of Breaking Bad. 

"If you use big words, no one will know you aren't doing jack squat." [WATCH VIDEO]

Joan Rivers tells David Letterman about the first time she met the Queen.

Martin Short tells Jay Leno his thoughts on Mitt Romney. "For a party that seems to fear gays as much as they do, now the Republicans have fallen head-over-heels for a big stiff one." [WATCH VIDEO]

Conan O'Brien reveals the portrait of President Bush that is now hanging in the White House.

Jay Leno gets President Obama and Mitt Romney together again, this time to perform "Let's Stay Together" on Duets. [WATCH VIDEO]

Andy Samberg may be done at SNL, but he's still making funny videos, like this one that premiered on Jimmy Kimmel Live.

It's not as catchy as "Tight Pants," but this is still bizarrely hilarious. [WATCH VIDEO]

What's better than Conan O'Brien petting, feeding and snuggling with a baby jaguar?

Jon Stewart uses the Mad Men intro to preview cable news' inevitably hyperbolic Wisconsin recall coverage. [WATCH VIDEO]

Live from the White House, Michelle Obama presents the "Top Ten Fun Facts About Gardening."

Denial, denial and denial. [WATCH VIDEO]

Jimmy Kimmel shows how Mitt Romney's (mis)spelling problem has extended into his TV campaign ads.

Until his union crew refuses to drop balloons on him and opts for a dead fish instead. Also, President Obama is Billy Elliot. [WATCH VIDEO]

Now that Mitt Romney's Hotmail (of course) account has been hacked, David Letterman presents the "Top Ten Subject Lines Of Emails Received By Mitt Romney."

Jay Leno shows how President Obama lived a "Teenage Dream" at his Glee-themed fundraiser. [WATCH VIDEO]

Bill Murray follows in Tupac's holographic footsteps, touring the country playing music as a hologram. "Well, I don't play banjo yet."

Jon Stewart tries to reconcile Mayor Bloomberg's soda ban with Governor Cuomo's marijuana decriminalization bill. "This soda is twice as illegal as this much weed." [WATCH VIDEO]

Bill Maher wants the Occupy movement to "be our Tea Party" and occupy Congress.

Of course, Carly Rae Jepsen was joined by Jimmy Fallon and The Roots on tiny instruments for "Call Me Maybe." [WATCH VIDEO]
Follow Matt Wilstein on Twitter: www.twitter.com/TheMattWilstein