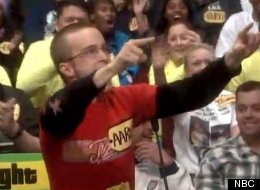 We'll have to wait until next week to see if and how the late night shows tackle the tragic shooting in Aurora, Colorado (except for Craig Ferguson, who delivered a heartfelt speech Friday night). This past week, after several hosts were on their 4th of July vacations, the action mostly focused on the various issues plaguing Mitt Romney, from his inconsistent Bain Capital timeline to his mysterious tax returns and his search for the anti-Sarah Palin.
Other late night highlights this week include Louis CK clearing up his unintentional defense of Daniel Tosh, Newt Gingrich finally coming face-to-face with Snooki and Aaron Paul's secret past as a contestant on The Price is Right.
Below are my favorite clips of the week. What were yours?
More comedy videos at: GotchaMediaBlog.com
The Best Late Night Clips of the Week (July 16, 2012 - July 22, 2012)
Jon Stewart came back from two weeks of vacation armed with two weeks of ammunition against Mitt Romney. [WATCH VIDEO]

As expected, Stephen Colbert returned from vacation enthralled by the Romney campaign's rhetorical masterpiece of "retroactive retirement." [WATCH VIDEO]

Though she won't be representing the Green Party on the ballot in November, Roseanne Barr is taking her fight against President Obama's anti-medical marijuana policy in California to the Late Show.

Louis CK explains to Jon Stewart that he was not defending Daniel Tosh's rape joke. [WATCH VIDEO]

Another great local news mashup from Conan O'Brien.

Only Jay Leno could bring together these two. [WATCH VIDEO]

Jimmy Kimmel takes on the Mitt Romney as Bane from The Dark Knight Rises motif with a pair of sketches: Rush Limbaugh as The Penguin from the old Batman cartoon and a commercial for Bain Capital that ends with the slogan "We're Gotham's Reckoning."

When Mexico banned negative ads for the their presidential race, Al Madrigal saw an opportunity. [WATCH VIDEO]

David Letterman gives Mitt Romney a hand with his VP vetting process.

Stephen Colbert proposes that Mitt Romney pick "None of the Above" for his running mate. [WATCH VIDEO]

Jimmy Fallon challenges The Newsroom's Jeff Daniels to a dramatic glasses-off, turn-and-speak competition. [WATCH VIDEO]

Jon Stewart wades into the witch hunt against Huma Abedin by creating a new conspiracy theory about Michele Bachmann. [WATCH VIDEO]

While Jay Leno paired Snooki with Newt Gingrich this week, Jimmy Kimmel had her on with the far more appropriate Charlie Sheen, which led to this fun game with the audience.

Jay Leno uncovers Aaron Paul's Price is Right appearance. "You're the man, Bob!" [WATCH VIDEO]

Craig discusses the tragic events that took place in Aurora Colorado.
Follow Matt Wilstein on Twitter: www.twitter.com/TheMattWilstein