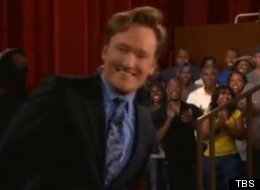 This week found Jon Stewart and Stephen Colbert trying to delicately deal with the mass shooting in Aurora, Colorado and the other late night hosts mostly staying away from it. The Daily Show took a fairly serious look at the politics of gun control, while The Colbert Report focused on the futility of President Obama and Mitt Romney pausing their negative campaigns for a few days.
Other topics that appeared this week on the late night shows included Mitt Romney's trip to London, the continued obsession with Obama's "you didn't build that" remark and Chick-fil-A.
There were a few Olympic previews, but we'll have to wait until next week to see how the late night shows react to the insanity that was Friday night's Opening Ceremony.
Below are my favorite clips of the week. What were yours?
More comedy videos at: GotchaMediaBlog.com
The Best Late Night Clips of the Week (July 23, 2012 - July 29, 2012)
Jon Stewart wants to talk about gun control, but everyone seems to be telling him it's too soon. [WATCH VIDEO]

Stephen Colbert asks how President Obama and Mitt Romney can ever, in good conscience, run attack ads in a country that has almost 9,000 gun homicides a year. [WATCH VIDEO]

Conan writer Deon Cole comments on the under-reported story about Mitt Romney bringing his own black cheering section to the NAACP conference.

Lewis Black takes a look at some recent campaign ads from Obama and Romney and uncovers rampant hypocrisy and lies. "Running a business is something you do by yourself. Running a four minute mile--that takes a village!" [WATCH VIDEO]

Eric Andre and his friends were dressed slaves and Abraham Lincoln didn't do anything. [WATCH VIDEO]

After David Letterman hosed down Zach Galfianakis in the green room at the Late Show, he was forced to wear the same suit as Paul Shaffer. "I got this suit off CanadianPimp.com.

Jimmy Fallon weighs the good and the bad of the 2012 London Olympics. [WATCH VIDEO]

Conan O'Brien shows a clip from President Obama's VFW speech in Nevada.

Jon Stewart spends a good 10 minutes unpacking the new centerpiece of Mitt Romney's "You really want to hang your entire campaign on a willful, out-of-context misunderstanding?" [WATCH VIDEO]

The Chia Pot is Jimmy Kimmel's solution to LA's marijuana dispensary ban. 

Somehow, Conan O'Brien got an exclusive preview of the London 2012 Olympics opening ceremonies on his show. [WATCH VIDEO]

"I have noticed that you always gain weight for every role, but then you don't lose it after. So you just keep getting fatter."

To prove that Mitt Romney is right and people don't need any help to build their businesses, Stephen Colbert does "The Word" without the help of his crew. [WATCH VIDEO]

Joel McHale recaps some of the issues he's had with Chevy Chase over the years. 

Fred Willard does his first interview after his Hollywood arrest with Jimmy Fallon and it's predictably hilarious. "It's the last time I'm going to listen to my wife when she says, 'why don't you go out an see a movie.'" [WATCH VIDEO]

If Jon Stewart was going to interview these two comic heavyweights together, he was going to need some back-up. [WATCH VIDEO]

Conan O'Brien introduces the new puppet mascot for Chick-fil-A. "There's only one great chicken sandwich, and only one way to love." [WATCH VIDEO]

Stephen Colbert weighs in on Romneyshambles and corrects David Cameron's geography. [WATCH VIDEO]
Follow Matt Wilstein on Twitter: www.twitter.com/TheMattWilstein