The Best Late Night Clips of the Week (VIDEO/PHOTOS)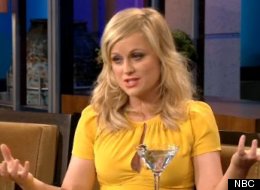 It didn't take long this week for the political media (and the late night shows) to shift away from Libya and Egypt and towards Mitt Romney's leaked fundraiser videos. While Jon Stewart, Stephen Colbert, David Letterman, Jimmy Fallon, Conan O'Brien and SNL were hammering Romney for his dismissal of the 47 percent, Jimmy Kimmel's focus remained on his Emmy Awards hosting gig.
Below were my favorite late night clips of the week. What were yours?
More comedy videos at: GotchaMediaBlog.com and Top5Funniest.com
The Best Late Night Clips of the Week (September 17 - September 23, 2012)
How Ira Glass has wronged Stephen Colbert by never having him on This American Life, in two acts. [WATCH VIDEO]

David Letterman thanks everyone who helped him along to way to becoming one of this year's Kennedy Center Honors recipients before reading a list of things he will receive.

Jon Stewart shows damning clips of Sean Hannity and Sarah Palin, but saves the worst of it for Mitt Romney's foreign policy advisor Dan Senor. [WATCH VIDEO]

Jimmy Kimmel proves that people in LA don't know anything about Emmy nominee Benedict Cumberbatch.

Stephen Colbert catches up on the international news he missed last week by defending Mitt Romney's response to the attacks across the Muslim world and the rights of American filmmakers to make bad movies. [WATCH VIDEO]

Conan O'Brien shows footage of Clint being Clint on Good Morning America.

President Obama makes his first public response to the leaked Mitt Romney fundraiser video on the Late Show tonight, reiterating that "if you want to be President, you've got to work for everybody, not just some."

With President Obama talking about the fundraiser video leak on Letterman, it's only fitting that Mitt Romney is delivering another exclusive press conference on Fallon. [WATCH VIDEO]

Jon Stewart spent a large portion of The Daily Show Tuesday night unpacking Mitt Romney's "47 percent" comments and other unfortunate statements from the leaked fundraiser videos. [WATCH VIDEO]

Conan O'Brien releases some more shocking video from the Mitt Romney fundraiser.

Stephen Colbert does Mitt Romney a favor and conveys his takedown of the 47 percent in the elegant manner it deserved. [WATCH VIDEO]

If you watch the full leaked Mitt Romney fundraiser video, you'll discover a less newsworthy section where he explains that David Letterman hates him because he's been on the Tonight Show more than the Late Show. Dave makes a point to debunk this theory and invite Mitt and Ann Romney back on his show anytime they want.

Amy Poehler tells Jay Leno about the comedy ghost that causes all of those Parks and Rec bloopers. [WATCH VIDEO]

David Letterman might not hate Mitt Romney, but Mitt Romney hates a lot of things about America.

SNL's first Weekend Update Thursday of the campaign season opened with Fox and Friends' defense of Mitt Romney's leaked videos, complete with Jason Sudeikis recreating the "47 percent" comments and some other secretly taped moments. [WATCH VIDEO]

Mitt Romney's desperate new ad goes way beyond the Birthers.

Mitt Romney tells the kids he was "just joshing" in the latest edition of his vlog. [WATCH VIDEO]

Stephen Colbert pulls a Mitt Romney, donning brown face to better communicate with Hispanic voters. [WATCH VIDEO]

Bill Maher asks his new iPhone 5 some questions and gets some unexpected answers from the new Mitt Romney-inspired personal assistant.

We caught a glimpse of it on Thursday, but one of the SNL's newest cast member finally got the breakout role she deserves with this spot-on Ann Romney impression. [WATCH VIDEO]
Follow Matt Wilstein on Twitter: www.twitter.com/TheMattWilstein