"When I'm going out to drink, I look for bars with a sense of camaraderie centered on music, either live or a good jukebox or iPod. Personally, I think the less TVs the better." -- 1st Ward Alderman (and lovely boss) Proco Joe Moreno.
The 1st Ward has a notorious history and after being relocated to rid it from mafia influence, in a remap 20 years ago, it's now, in my not-so-humble-opinion, up there as one of the most diverse wards in the city. Obviously, I'm a touch biased because I've worked (still do, most of the time) and lived in it during the first five years of my Chicago existence. If it isn't the most diverse ward in this here town, it's at least, and for sure, a ward of stark contrasts.
Between 2000 and 2010 A.D., the 1st Ward went from 50 percent latino to 30 percent. The neighborhoods that comprise this ward are often used by people who write, talk, and complain about gentrification. Even I, who typically don't pay attention to anything not wearing yoga pants, noticed the rapid gentrification of well-lit parts of Humboldt "no se vende" Park, when I lived there between 2007 and 2011. I used to be the only white guy on the Division bus after Western Avenue. Now, that shit's at least 50-50.

Still, Western Avenue acts as the fairly sharp knife separating the 1st Ward between its two slices. On the east side of Western, a voyager will see running strollers, a magnificent excess of yoga pants, Starbucks, the North Face fleece uniform, so typical of the white faces, etc. Many people believe this part of the 1st Ward to be a less oppressive version of Lincoln Park. A Lincoln Park-lite, if you will. I'd tend to agree, to a point. There is a lot of the deep-rooted pre-boutique 1st Ward left, east of Western. Which takes me to the bar, I'll be discussing in these words.
Zakopane at 1754 W. Division has been, and will probably always be, my fave Chicago, Ill. bar. The foremost reason for this is a pretty Polish lady called Monika. The fabled Monika, who has delivered happiness here for nine years, is probably the best drink-serving creature on the planet. With Zyweic and Zubrowka in hands, I often struggle to figure out if she actually likes me, or hates my guts. I think she likes me, but this self-regard struggle is what makes her so goddamn magnetic.
This place is impressively dirty too. Zakopane embodies no frills, no bullshit. The bathrooms are disgusting. If you go on a good night (when Monika is there and it's not full of obnoxious white pricks, like me) the bar is typically full of legitimately miserable old bastards, escaping monotonous jobs, wives and lives at the bottom of a glass. There's a pool table, which is always available and a jukebox with an agreeable mix of weird Euro dance garbage and Springsteen Americana. I have never had a bad time here. More importantly, after stepping in this place, I haven't been able to maintain sobriety for longer than 20 minutes.
Zakopane is simply what a proper bar should be... It's a trip back in time, when the 1st Ward was a Polish area; "The Polish downtown." It's like a little Division Street time capsule and I unequivocally love it.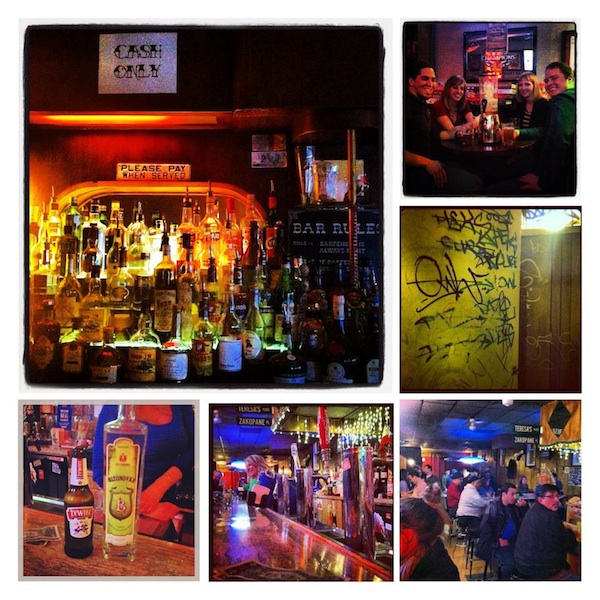 Honorable mentions (places we visited and liked): Moonshine, The Shambles, Happy Village, Bar DeVille and West on North.
Alderman and/or staff choices: Gold Star (Alderman Choice), The Crocodile, Pint, Nick's Beer Garden, Roots and Revolution Brewing.
Follow Matthew Bailey on Twitter: www.twitter.com/@mpbaileymp