For the first time in a decade-long fight against a garbage site slated to be built in surreal proximity to public housing, a report has been published that exposes not just the absurdity of this one site, but the absurdities and weaknesses of the entire plan it is a part of.
"Talking Trash" should be read not just by politicians and journalists, but by all New Yorkers, in fact by anyone who is interested in the environment.
The 91st Street Marine Transfer Station -- the spark that set off this inquiry -- is routinely described by reporters as being "in the Upper East Side." Usually, they'll then go on to say that the only people who will suffer from it are rich white people.
As you can see from the report's map and table below, it is actually four blocks shy of East Harlem and is being built in front of public housing.
It is also being built in the most polluted and asthmatic area in the five boroughs and hundreds of trucks a day, carrying thousands of tons of garbage, will drive through it to dump their loads into barges.
And the people who'll suffer most are -- clearly -- poor minorities and city children.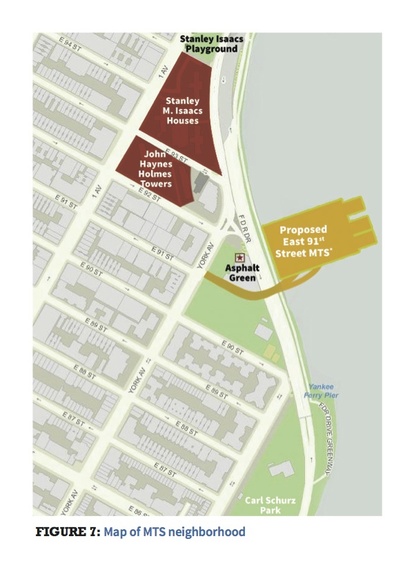 It seemed so improbable, I didn't want to mention it before you saw the map, but, yes, the garbage site does abut a public park and the access road does cut Asphalt Green, a city-sponsored children's athletic facility, in half.
As the table below shows, this is a very densely populated neighborhood. 22,056 people live within a quarter mile of the garbage site, 15,000 more than live near any other site, and there are 1,173 units of public housing within a quarter mile compared to 33 units for all the other sites combined.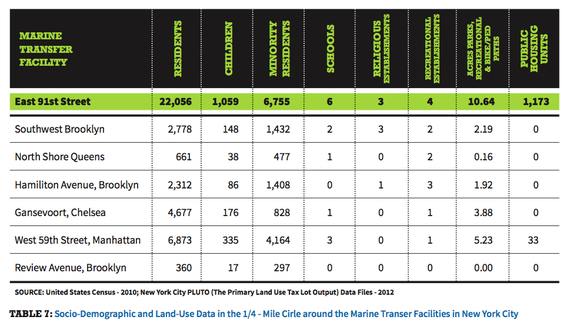 But "Talking Trash" is about far more than this. Commissioned and published by Pledge2Protect, it is a detailed, well-researched, calmly argued 43-page critique of ex-Mayor Bloomberg's Solid Wast Management Plan (SWMP), his heavy-duty 19th Century "vision" for how New York should handle its garbage.
Environmentally progressive cities invest in a pyramid of strategies with "Source Reduction and Reuse" being the best strategy, "Disposal" being the worst.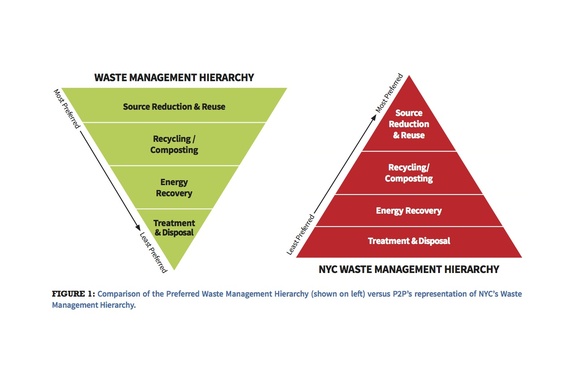 Los Angeles recycles 45% of its waste. Countries like Austria average 63%. Some modern American cities are aiming for 100% recycling within a few years.
After 12 years in power, Bloomberg couldn't get New York City's recycling rate above 15%.
This shows, I believe, how uninterested the otherwise competitive Mayor was in this issue, and may explain why the plan he signed off on is such a disastrous mess.
The SWMP puts garbage sites in the city's worst flood zones, uses old-fashioned transportation methods, and signs long term contracts (20 years) with already troubled garbage disposal companies.
Garbage will be trucked to marine transfer stations, barged down a narrow river, put on trains or bigger trucks, then buried or burned somewhere else in the state.
This is not a solution, it just jostles the garbage around the state and then dumps it on another community. Under Bloomberg's plan, currently approved by de Blasio, much of it will end up in the picturesque Niagara Falls area of New York State.
It is a mystery why the State Department of Environmental Conservation approved all this.
The plan is not just environmentally outdated and reckless, it is also expensive. The estimated cost of the marine transfer stations, for example, has already increased by 265%, and other parts of the plan are ballooning out of control too.
Opposition to SWMP is also ballooning. When Pledge2Protect president Kelly Nimmo-Guenther invited people to hear about the report from some of its supporters, well over 600 people turned up despite a massive snow storm bearing down on the city.
Among the speakers were Bertha Lewis, a black activist represening the 2,400 residents of the soon-to-be-blighted public housing units, State Senator Liz Krueger, Borough President Gale Brewer, Congressmember Carolyn Maloney, Assemblyman Micah Kellner, NY State Assembly Member Robert Rodriguez, and City Council Members Ben Kallos and Daniel Garodnick. All of the above (and Mario Cuomo) are against the SWMP as it stands.
If you live in Brooklyn, Queens, or the Bronx and have been told this plan (which you will pay for) is going to relieve your pollution problems, read page 16 of the report. At great economic cost, truck miles will only be reduced in your districts by one or two percent, if that.
And while the plan solves only a tiny fraction of your problems (which can be solved in far better and cheaper ways), it heavily burdens another even more environmentally stressed area.
It suited Mayor Bloomberg very well that reporters portrayed residents of public housing in Yorkville and East Harlem as rich and white. But this isn't just careless racism, it is symbolic of the failings of the whole plan: it is so ill-conceived it can only be sold through distortion.
To quote "Talking Trash", it's time for de Blasio to "hit the pause button" and find a more environmentally sane and socially progressive solution before any more money is wasted on misplaced and outdated infrastructure that will eventually have to be scrapped.
Read the report or at the very least, scan it. And feel free to comment, because this is not just a New York City problem, but a state, national, and global one.
This Blogger's Books and Other Items from...
SUBSCRIBE AND FOLLOW
Get top stories and blog posts emailed to me each day. Newsletters may offer personalized content or advertisements.
Learn more